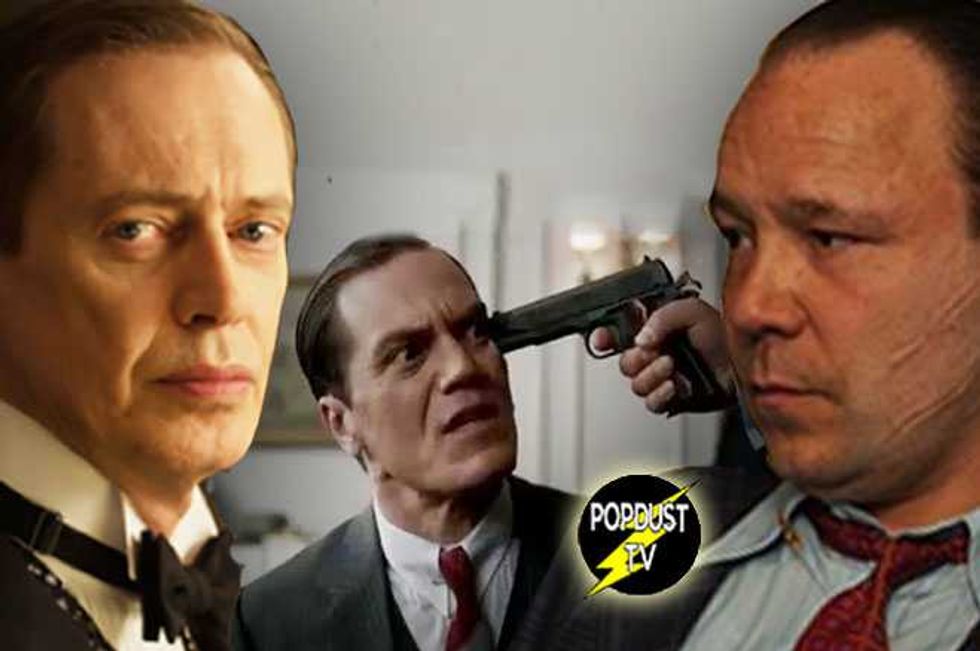 In case you were wondering what's going to happen to your favorite characters on the final season of Boardwalk Empire, they're probably all going to die in the worst possible way. Dead as dirt…that is if tonight's episode was any kind of precursor.
Nucky awakens from a monster hangover to find Margaret in his sitting room with Joe Kennedy, just shooting the shit. Joe seems to have taken a fancy to the Irish lass, and that really crawls right under Nucky's skin. That a-hole Kennedy just came around to officially refuse Nucky's offer with Bacardi, as if we didn't get the hint last week. Later, Nucky and Margaret discuss "their" problem with Carolyn Rothstein. Nucky is impressed that Margaret was able to finagle an apartment deal with Arnold Rothstein (considering he was a crooked crook) but is disappointed that she didn't demand a cut of the money from Bennett. They reminisce and begin to rekindle at least a mutual admiration for one another, although the cheap red wine probably helped things along. Nucky tells Margaret that she needs to go to Carolyn and offer her ¼ of the $111,000, and he's pretty sure she'll take it.
Lucky Luciano is in Chicago to see Al Capone. Basically Lucky wants Capone to consider joining forces with the major mob bosses from around the country to for a union of sorts. Capone isn't really interested because he's doing juuuust fine on his own, but he tells Lucky that he'll think it over. While meeting with Capone, Lucky notices Van Alden (aka Mueller) walk into the room and a bit later tells Capone that he recognizes him as a fed. Capone calls "Mueller" in and begins questioning him about who he is and where he's from. Van Alden made something up about Minnesota and a wheat farm, and around this time Capone shoves a pistol into his mouth. Van Alden doesn't confess though, and instead tells Capone that he thinks Lucky is being disrespectful coming into Chicago and starting problems between him and his men. Capone apparently agrees because he lets "Mueller" live. The same cannot be said for one of his minions who made one too many fat jokes at Capone's expense. He ends up with an Empire State Building replica paper weight bashed into his skull about 25 times.
And poor little Sally Wheet. Nucky couldn't make it to Cuba to handle the Bacardi transaction because it was raining in New York and his flight got cancelled. (It's 1931, people. Rain cancels flights.) Sally takes care of the money exchange, then on her drive back to Havana that night she's stopped by a group of army officers. She tries hard to pay them off but they tell her to get out of her car, things get hostile, and one of the officers shoots Sally in the chest. Another one bites the dust.
What did you think of this week's episode of Boardwalk Empire? Sound off in the comments below!