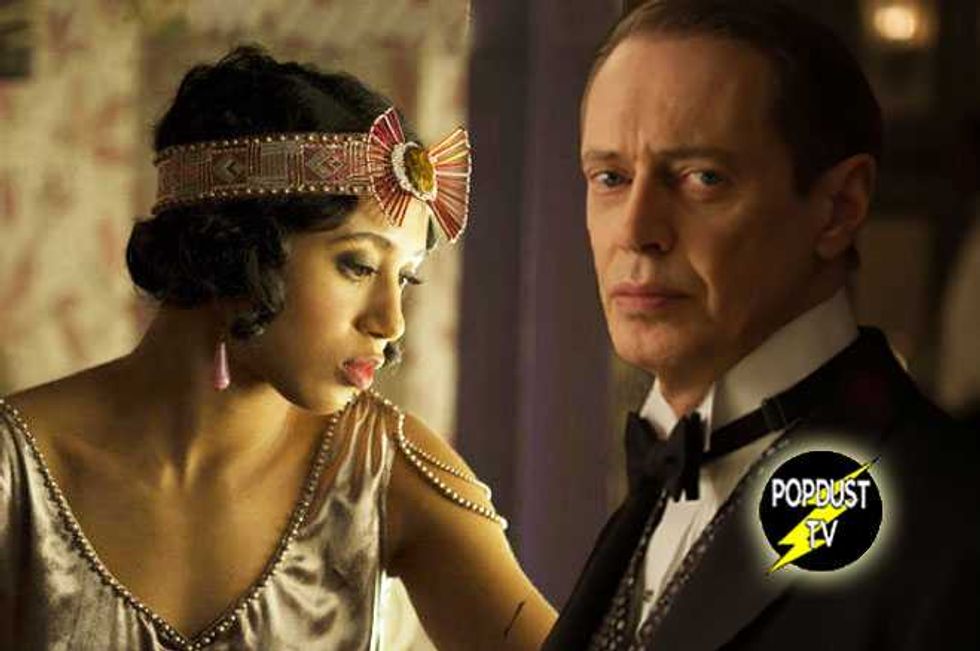 Seriously? What the hell went down this week? Considering there's only two weeks left of Boardwalk Empire, the head people in charge wasted a good hour with a bunch of nonsense!
Let's start with our main man Nucky. Basically he spent this entire episode getting wasted in a bar an trying to arrange a menage a trios with some questionable women in a bar. When that goes bust, he gets rescued by a minion who's trying to protect Nucky and get himself ahead. Very reminiscent of a 1800s Atlantic City childhood Nucky.
In Chicago, Van Alden and Eli are on a mission to get Capone's ledger books for the feds. They go to Capone's office, but there their cover is blown. It's not like they tried to cover it up very hard! In the middle of a shakedown by D'Angelo (the other fed) Van Alden breaks down and confesses to Capone that he's a federal agent. D'Angelo has no  choice but to blow Van Alden's brains out to protect his and Eli's cover. Literally. Brains everywhere.
Meanwhile, some weird shit is going on in Harlem with Chalky, Daughter Maitland, and Valentin Narcisse. Chalky shows up to the brothel and finds Daughter with his supposed child. In an effort to get her and the little girl out of the brothel and back into the life he knows she should be leading, Chalky convinces Narcisse to let Daughter go back to the jazz circuit, and in return Chalky sacrifices himself for her and is shot via firing squad. Again… seriously? There has been entirely too much sacrifice in this episode!
What did you think of this week's crazy episode of Boardwalk Empire? Sound off in the comments below!