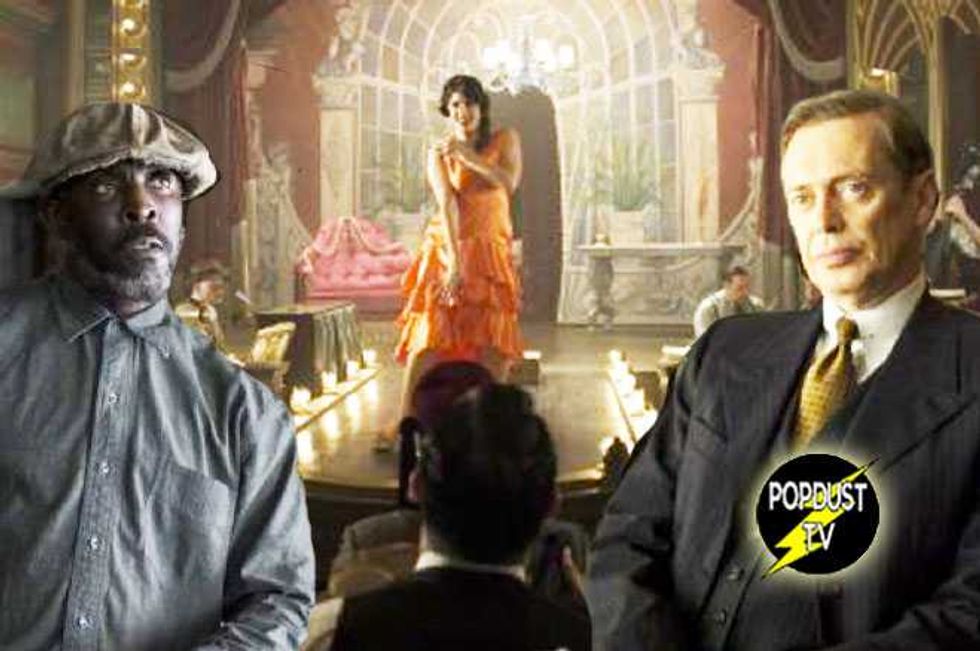 We're moving right through the final season of Boardwalk Empire, and it almost feels like there's not going to be enough time to wrap up all of the many, many, many plot lines that are trying to come full circle.
Poor Nucky always gets screwed. He hosted Joe Kennedy in New York to sort of wine and dine him into investing in the Bacardi deal. Joe takes full advantage of "amenities" that Nucky offers, including a stripper named Kitty. But in the end he basically insults Nucky for being a low class crook and for not having kids to leave a legacy to, and he peaces out.
Margaret's in a bit of a pickle, a very expensive pickle. She's called into her boss's office and is questioned about the Abe Redstone account, aka Arnold Rothstein. She plays dumb and denies remembering anything at all about Mr. Rothstein except that he was a client of Bennett's and he liked milk. They tell her that he's been dead for a while, but his account is miraculously very alive and Bennett had been stealing Rothstein's money. Duh. They also inform Margaret that her signatures are all over some very incriminating documents and Rothstein's wife plans to sue.
Margaret goes to see Carolyn Rothstein, who knows that Margaret is living in one of Arnold's apartment buildings. Margaret confesses that he let her live in the apartment rent-free in exchange for stock tips. Carolyn doesn't buy it, thinking Margaret was one of his whores, and threatens to sue her. Margaret plays innocent and says she has no money and she's a widow, blah, blah, blah but Carolyn knows that Margaret's married to Nucky and that there's plenty of money. Shit. Now she has to go see Nucky.
Then some other really weird stuff happened with Chalky White. Basically the guy he escaped the chain gang with, Milton, is psychotic and decides to break into a house to rob it. There's a mother and teenage daughter in the house that they take hostage and demand money from their safe. In the end there's no money and Chalky takes a hammer to Milton's head to keep him from killing the women. Seriously the weirdest, most unnecessary scenes.
Valentin Narcisse is visited in Harlem by Lucky Luciano. Lucky informs him that due to the passing of Masseria, Maranzano is eager to take his place in the heroin business with Narcisse. Narcisse isn't too eager to get in bed with Lucky or Maranzano and tells him to get lost. Later, two men show up at Narcisse's brothel and whack all the poor little hookers. That's one way to put him out of business.
What did you think of this week's Boardwalk Empire? Sound off in the comments below.