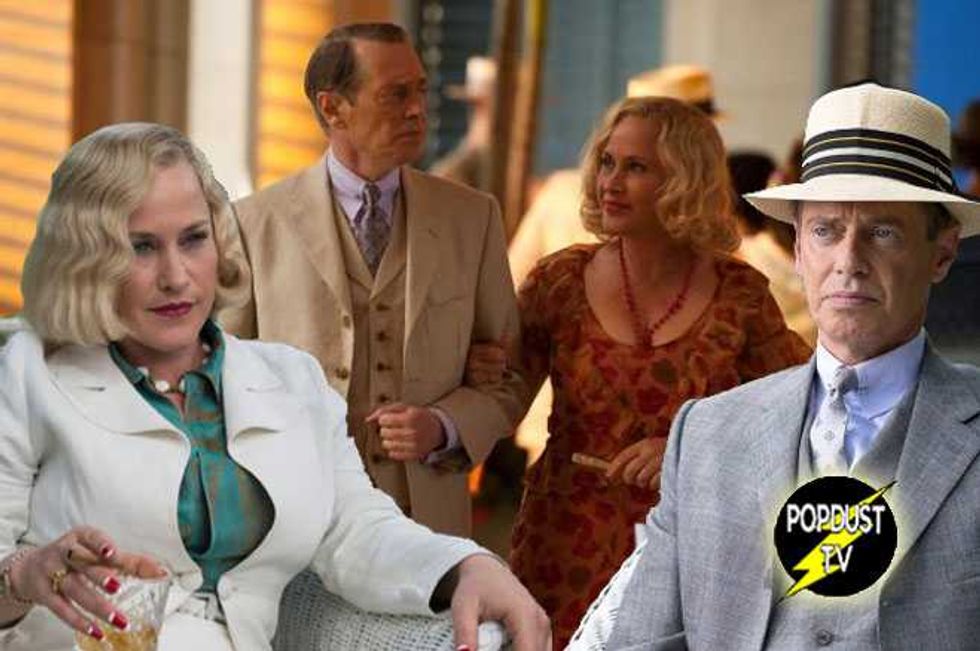 The final season of Boardwalk Empire has begun and if this first episode is any indication, it's going to be pretty freaking amazing.
The show opens with a flashback of Nucky's childhood in Atlantic City, 1884 as scrawny kid getting picked on by bullies. By the way, the kid they cast looks exactly like Steve Buscemi. Poor thing. The flashbacks continue throughout the episode and we learn that Nucky's mother is a sweetheart and his father is a dick. Even as a child, Nucky realized that there's always ways to make money but you have to make sure you're the first one there so you don't get beat out. He finds a wealthy man's hat with a $50 bill shoved in it. Instead of keeping the money, he returned the hat with the $50 still in it. When the man asks him why he didn't take the money, he says it's because he wants to get ahead. Well it works because we find out that this is how he meets the Commodore and gets a job sweeping the sand off the decks of The Corner Hotel.
Flash forward to 1931 Havana, Cuba where Nucky is sweet talking Senator Lloyd trying to get information about exactly when prohibition is going to be repealed. He's there with Sally Wheet (brilliantly played by Patricia Arquette) who sets the Senator up with a hooker to make him feel a little more at ease. The next day, Nucky and the Senator have a meeting with the head honcho from Bacardi rum. Nucky wants to work out a deal to bring Bacardi to the States exclusively through him, and he wants to make sure that everything is set up so that on the exact day of the repeal he can be the first to open for business. Nucky and Sally use the hooker as a bribe and get the Senator to assure the Bacardi guy that liquor will definitely be legal very soon in the US, AKA the thirstiest country on earth.  Later in Cuba, Nucky is attacked by a crazy dude with a fucking machete, but he's rescued by his scary mute Cuban bodyguard who proceeds to hack into the attacker's skull with the machete. What a shitty way to go.
Back in Brooklyn, Lucky Luciano and his crew take out mob boss Joe Masseria and is then welcomed into a new family by Salvatore Maranzano. As a sort of initiation, Lucky slices his palm and shakes hands with his new blood brothers. Because if the mob doesn't kill you, the gnarly 1930s' diseases you just passed on will.
Margaret is still working as a secretary on Wall Street. Her boss Bennett gathers everyone and gives them some weird ass pep talk. Something about the country and the stock market being strong mixed with something about Mickey Mouse. The guy clearly wasn't in a good state of mind because during his spiel he whips out a gun and blows his brains out in the middle of the office. Later, a shaken Margaret is questioned by the main boss about having the key to Bennett's file cabinet. She lies and says she doesn't have it but later unlocks the files and tries to take the Rothstein file labeled "A. Redstone." But before she can take it her boss walks in and she pretends to have found the key.
Oh, and Chalky is on a prison chain gang?! No idea why yet, but he's not taking very kindly to being shackled and called "stripey." While the gang is chopping trees in the forest, a riot breaks out and Chalky winds up shooting a guard in the face with a sawed off shot gun. Again, a really shitty way to go.
What did you think of Boardwalk Empire? Sound off in the comments below!