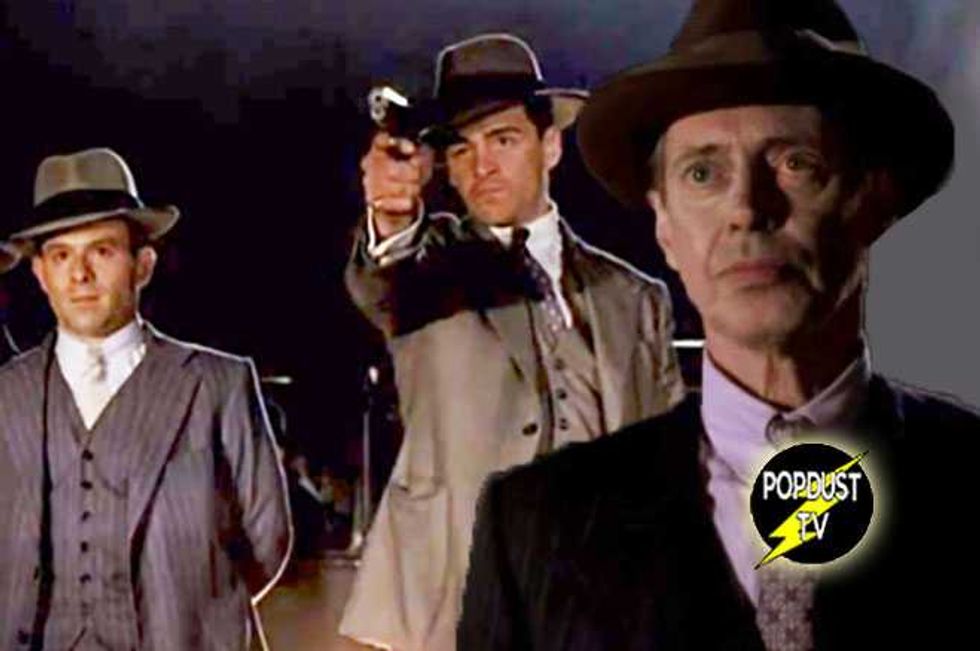 This week marks the second to last episode ever of Boardwalk Empire, and as you might have expected, a shit ton more people wound up sleeping with the fishes.
Nucky's world is crumbling. Between him and Maranzano they've lost 19 men and over $1 million in revenue in this all out turf war with Luciano and Lansky. They're running low on man power but in an effort to "string Luciano up by his ball sack," Nucky sends two men to New York City to kidnap Bugsy Siegel, Luciano's bff, to send a message to back the hell off.
Meanwhile, Eli is back in town from Chicago, and he goes to see Willie outside his law building. Willie is taken aback, both by his father's  awful physical appearance and by the fact that he's back in NY at all. Willie doesn't want to hear much of anything that his father has to say because it's incriminating evidence. Willie tells Eli to go to his apartment, clean up, and wait for him to get home, but Eli decides that his son is doing fine and is better off without him. As Eli crosses the street and walks away, a car pull up and two men grab Willie and throw him in the back seat. Eli witnesses it and is forced to go to Nucky for help.
Nucky, who loves Willie like a son, calls Luciano and they decide to meet in person. In the middle of the night (and in the middle of nowhere) both sides pull up in their cars with guns drawn for the exchange of Bugsy and Willie. As the two are being exchanged, Bugsy punches Willie in the stomach and he's immediately recaptured by Luciano's men. Shots are fired, more people are capped, and there's Nucky in the middle begging for Willie's life. Nucky offers Luciano everything he has, from his strip joint to his business dealing in Cuba, all to get his nephew back. In the end, he even offers to take care of Luciano's biggest problem, Maranzano, within 24 hours.
Nucky delivers when a group of his men go to serve Marazano with a "subpoena", but instead he's served with about 20 stab wounds and a bullet to the forehead. In return, Willie is dumped in front of his law office where everyone is hard out work investigating the Maranzano murder. Whoops.
Meanwhile, back in 1887, Nucky finds an orphaned Gillian Darmody stealing under a boardwalk. He feels  sorry for her and takes her home to Mabel who instantly takes a liking to her. Later that night, Sherriff Lindsey brings Nucky to the Commodore's mansion and handed him his badge as if to say, "I'm done with this asshole. You take care of it." When Nucky enters the mansion, he's instructed by the Commodore's minion to take a young girl home to her parents, and to tell them not to expect any further compensation. It seems that that sick f*ck has a penchant for young girls. Girls almost exactly Gillian Darmody's age.
What did you think of this week's Boardwalk Empire? Sound off in the comments below!