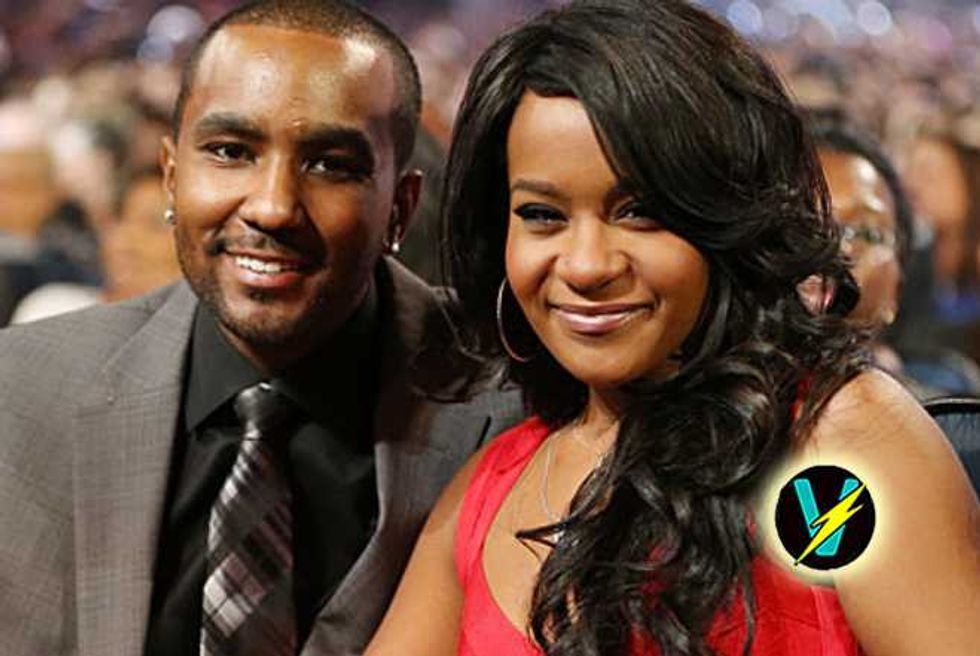 As if the short life of Bobbi Kristina Brown isn't tragic enough already, now her best friend has come forward with allegations that the 22-year-old suffered horrifying physical abuse at the hands of her boyfriend, Nick Gordon.
Alex Reid claims Gordon beat, choked, and punched Bobbi Kristina in the jaw—and that three weeks before she was found unconscious in a bath tub, Brown ran and hid from her alleged attacker, placing a distress call to her best friend from an upstairs closet in her Atlanta home.
"She was sobbing. Nick had hit her and she was scared," Reid alleges in an interview with E! News.
"She was very upset. She didn't know what to do. It was as if, she didn't have anyone else to turn to. It was heartbreaking."
Alex says that she and Krissi first met during Grammys week two years ago and became fast friends.
"I love her. I would never have betrayed her and spoken out before now," Reid says, visibly choking back tears. "But as she lies there, I feel there is no one else to speak on her behalf. I feel like I have to be a voice for her now."
Alex goes on to make yet more gut-wrenching allegations.
"Pretty soon after we met she started telling me about the times [Gordon] had been physically abusive and it just kept escalating," Reid says. "It just kept getting worse and worse. ... He was known to choke her. Throw her on the walls, punch her in the jaw. Just unbelievable stuff. It was really this off the handle temper.
"I would ask her 'What started this?' and it would always be nothing. He just couldn't control himself. To understand Krissi, you have to understand that she is a very soft soul. She's very soft. She hasn't been hardened by any of the experiences that she's had. She was always looking, ya know, for somebody to connect to, especially after she lost her mom.
"She used to tell me, like, 'Alex there's no one in the world who loves me. Like there's no one who just loves me. My mom. I used to just lay in my mom's arms in bed and just know that I was loved'."
On Wednesday June 24, the same day that comatose Bobbi Kristina was moved into a hospice, her conservator filed a $10 million lawsuit against Gordon.
The suit claims that Gordon made himself out to be Bobbi Kristina's "surrogate brother" and only assumed the "position of Brown's boyfriend" after Whitney Houston died and Bobbi became the sole beneficiary of her estate.
The suit also alleges that Gordon "would limit with whom she could interact," answering her phone and changing her appointments, and would frequently transfer money from Bobbi Kristina's account to his own without telling her.
"He has this weird, empty smile," Alex replies when asked how she feels seeing pictures of Gordon. "And so now, that has such a different impact on me. To look at him, it sends chills and I'm horrified. It's like terror. I see pure evil."
Meanwhile, Reid says that she hopes to help police find answers.
"There are things that I know that no one else does," she says. "And I hope that by speaking out I can help the investigation in some way."
Joseph Merrick "The Elephant Man" Died by accidental dislocation of his neck while sleeping,