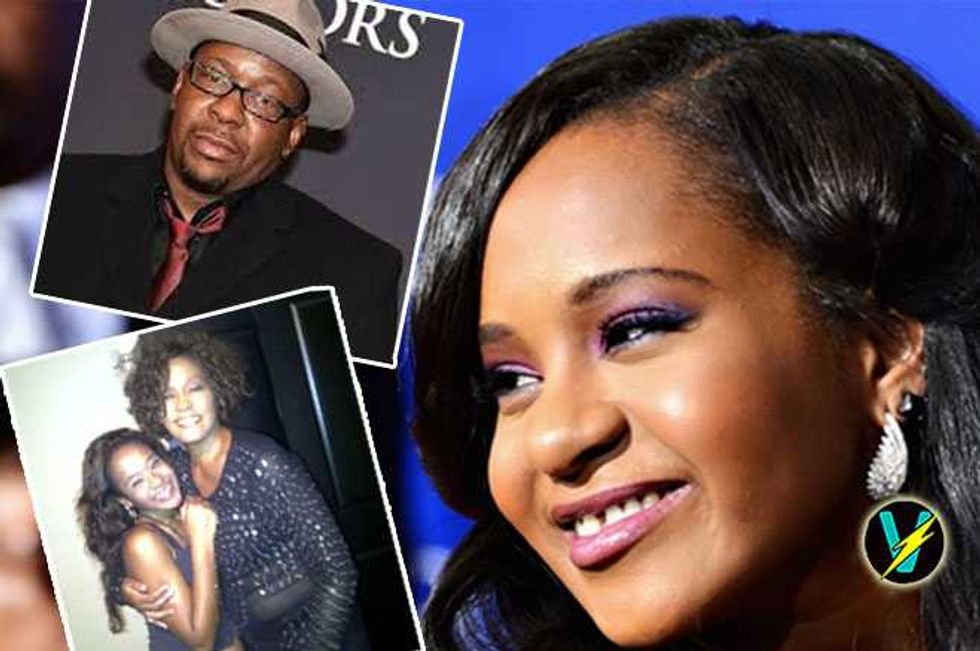 ****UPDATED****
Tina Brown
, Bobbi Kristina's aunt took to
Facebook
on Sunday to confirm Bobby's news and express her excitement and joy.
"So many messages,sorry can't answer them all right now but I will get to them later.." Tina posted. "Just allow me this time with my family,,yes,she woke up and is no longer on life support!!!!!:):)God is good!!thanks for your prayers,,still a process,but she is going to be ok:):):):)."
While no official statements have been released about Bobbi Kristina recently, her family is clearly celebrating and continues to be hopeful at this time.
********
This comes nearly three months after she was found unresponsive face down in the bath at her Georgia home, her condition and how she got there has been the subject of a very public argument between the family members.
Bobby, 46, was performing in Dallas and announced;
"Bobbi is awake, she's watching me"
..sending the crowd wild.
It is unclear however, if Bobby meant tragic Bobbi Kristina has literally come out of her medically induced coma or if he was referring to her 'spirit'.
Recent reports indicate that while Bobby would like for Bobbi Kristina to stay on life support for as long as possible, her aunt Pat Houston and grandmother Cissy Houston, both believe the time has come to switch it off as the 22 year old has shown no signs of improvement.
Sources close to the family say there has been no change in Bobbi's condition since she was moved to a long term care facility in Georgia in mid March and are keen to ensure Bobby remains available to make any necessary emergency medical decision for Bobbi Kristina as he may head to Australia next month.
Bobby made his first public appearance since Bobbi's January 31st hospitalization on April 11 at the Soul Food Festival in Los Angeles. He gave an emotionally charged performance but did manage to get himself together enough to promote his range of BBQ sauces.
As Popdust previously reported, whilst poor Bobbi fights for her life, her husband Nick Gordon is under criminal investigation for the strange bruises found on her body and her father's family is shooting a reality TV show chronicling her fight for life.
Poor Bobbi Kristina is going to need all her strength to deal with the challenges that will lie ahead in this family if she does wake up.