CULTURE
"BoJack" and "The Good Place" may be over, but the lessons they taught us will be important for the rest of our lives.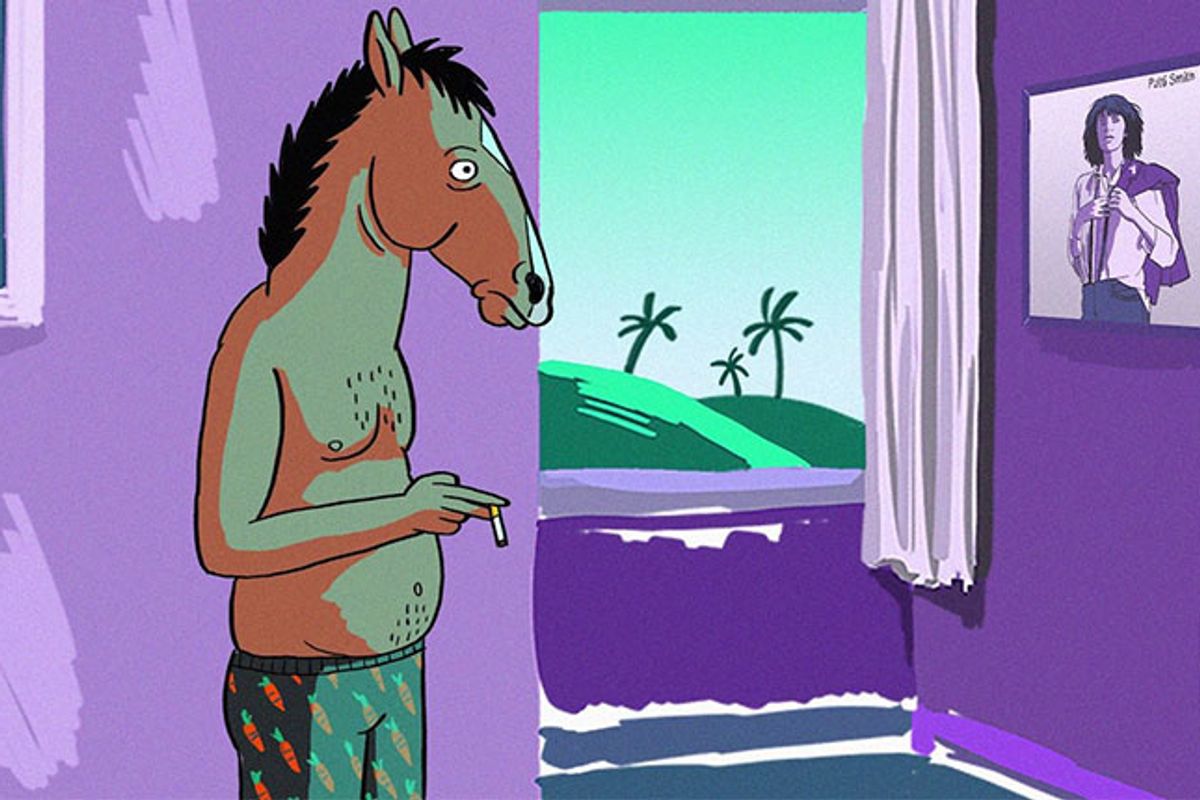 Two incredible shows—BoJack Horseman and The Good Place—have just released their final episodes, and the Internet is awash with emotion.
Both TV shows revolve around two not-very-good people. The former is about BoJack, a successful Hollywood movie star (and anthropomorphic horse) who struggles with addiction and the demons of his past; the second stars Eleanor Shellstrop, a self-proclaimed "Arizona dirtbag" who lived her life completely devoid of a moral compass, until she died and wound up in a skewed version of heaven.
By the end of both shows, both characters have been put through the ringer—BoJack nearly dies countless times, and Eleanor literally dies multiple times along with the rest of her cast mates—and both have been forced to stare themselves and their pasts in the face, all the while questioning what matters and whether change is possible.
Good place finale and bojack final season are both on Netflix the same day? https://t.co/22efzxE2pq

— Osahon (@Osahon) 1580479871.0
Tonight, both The Good Place and Bojack Horseman ended. Both shows, IMHO, are about people trying to become their b… https://t.co/JfTMkSsIDI

— Linkara (@Linkara) 1580470935.0
While the shows might be over, they're indicative of a strong bend towards morality, existentialism, and critical thinking in media that can be seen both on the Internet and in culture at large. Socially conscious down to the last excruciating detail, the shows interrogated the consequences of fame and digital culture, redefined comedy, explored the nuances of moral philosophy, and asked its viewers to question the way they were living their lives.

If mass media reflects a culture's internal desires, then perhaps BoJack Horseman and The Good Place reveal that despite all the bad things happening in the world—climate change, gun violence, massive income inequality and the like—people really do want to change.
Despite the trash heaps and dumpster fires that constitute so much of the news, the Internet, and these protagonists' lives, there's a feeling of palpable transformation and change afoot. Sometimes change happens so slowly that you forget to step back and take in the view, but the past few years have seen an explosion of activism and political change. Even online call-out culture—for all its dangers and negative consequences—reveals a mass shift towards intolerance for injustices and cruelty. We can see this frustration reverberating in the real world, thanks to explosion of populist politics around the globe, in the success of Bernie Sanders' campaign, in the rise of #metoo, in the rise of frank conversations about mental illness online, and in the success of fundamentally hopeful plans like the Green New Deal.
That doesn't mean that everyone's more cheerful; if anything, the times are harder than ever. BoJack Horseman and The Good Place reflect this. They're both about characters dealing with their own guilt, traumas, depression, and shame (BoJack goes harder on the depression), processing their own apathy and learning how to move through it. A lot of people have likely had similar revelations of late, as they understand the problems with the ways humans have been living and struggle to figure out new visions of the future. These shows offered empathetic views of human suffering and the trauma that creates it while refusing to forgive its protagonists until they actually change. They also remind us that sometimes you need to let go of unattainable visions and negative people so you can make room for true growth.
Ultimately, we're grateful—for BoJack's starlit, trippy ramblings, for Eleanor and Chidi's universe-bending love, for all the sadness and sorrows and tentative hope their writers let us share in—even though we knew at some point we'd have to let go.
just watched the entire last season of Bojack Horseman nobody touch me oh god fuck https://t.co/arfuC7XAcD

— Gab 🌿 (@Gab 🌿) 1580485110.0
Bojack Horseman (2020) https://t.co/3oQjoMcnGo

— Anung Un Rama (@Anung Un Rama) 1580492671.0
BoJack Horseman and The Good Place are both available to stream on Netflix now.