MUSIC
The new project is guaranteed to be awesome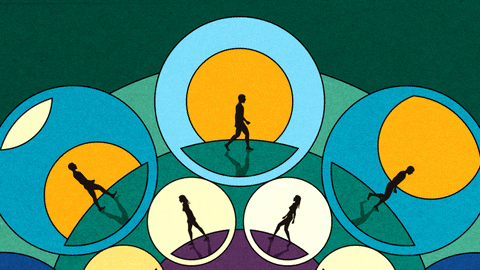 Bombay Bicycle Club's 2016 hiatus brought with it a sense of missed opportunity. Much like the cancellation of Pushing Daisies, fans felt the break came too soon.
With the eclectic electro-pop sound of 2014's So Long, See You Tomorrow fitting the band like a tailored suit, it seemed the group had only just begun to scratch the surface of their immense potential. But in 2017, when asked if he missed the band, bassist Ed Nash said, "No, not particularly...It's not a bad thing—it's going to be a bad thing for fans of the band because we won't be doing much for a long time, but for us, we're all still friends."
Bombay Bicycle Club - Eat, Sleep, Wake (Nothing But You)www.youtube.com
Now, four years later, the release of "Eat, Sleep, Wake (Nothing But You)" is a comeback only BBC could muster. The band's chemistry is as strong as it was in 2014. The track itself isn't a grandiose announcement or a groundbreaking revolution in the indie pop/rock landscape: It's just a damn good song. The band's put forth the cinematic video, hilariously poking fun at the "seismic event" that was their hiatus. After taking such a long break, it's common for bands to try and revamp their identity, but a "new BBC" is, thankfully, nowhere to be seen. It's the same band, same guys, same "friends," just picking up right where they left off in their signature style.
The band's fifth album, Everything Else Has Gone Wrong, has finally been given a release date of January 17, 2020, and fans are ecstatic. Unlike listeners' dread at the announcement of a new Tool album, or The Strokes' new song, no one seems nervous that Everything Else Has Gone Wrong will be anything other than awesome. That may be because the band is just as wise and easy-going as they once were. "Regardless of what we do after this album," said guitarist Jamie MacCoil, "having taken that time to appreciate what we've done before and not take it for granted has been really important." Check out the band's upcoming tour dates below.
Everything Else Has Gone Wrong Tour 2020
20 January – Corn Exchange, Cambridge
21 January – Academy, Bournemouth
23 January – De Montfort Hall, Leicester
24 January – University SU Great Hall, Cardiff
25 January – Academy, Leeds
27 January – Academy, Newcastle
28 January – Barrowlands, Glasgow
31 January – Academy, Birmingham
1 February – The Centre, Brighton
3 February – Victoria Warehouse, Manchester
7 February – Alexandra Palace, London
10 February – Vicar Street, Dublin
12 February – Ulster Hall, Belfast