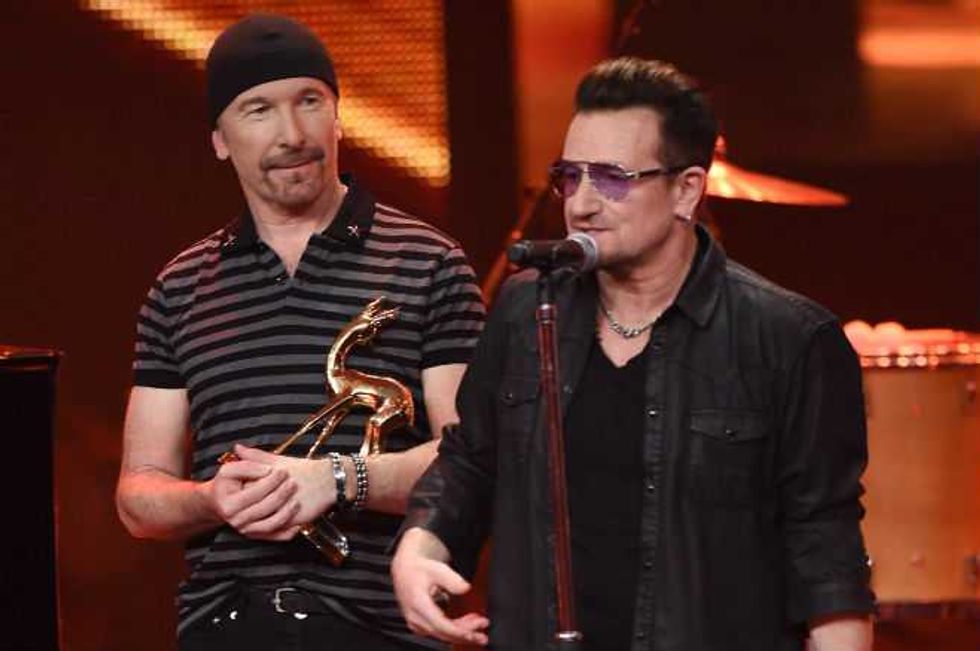 Bono says he may never play the guitar again thanks to a titanium elbow he sustained after a New York City cycling accident.
The U2 frontman was in what doctors referred to as a "high-energy bicycle accident" in Central Park in November, and suffered fractures to his left eye socket, shoulder blade and left elbow. This required hours of surgery and the aforementioned titanium elbow.
"On the day of my 50th birthday I received an injury because I was over indulging in exercise boxing and cycling, which was itself an overcompensation for overindulging on alcohol coming up to the big birthday," Bono wrote on the band's website.  "I promised myself I would be more mindful of my limits, but just four years on, it happened again - a massive injury I can't blame on anyone but myself, mainly because I blanked out on impact and have no memory of how I ended up in New York Presbyterian with my humerus bone sticking through my leather jacket. Very punk rock as injuries go.

"Recovery has been more difficult than I thought... As I write this, it is not clear that I will ever play guitar again. The band [The Edge, Adam Clayton and Larry Mullen] have reminded me that neither they nor Western civilization are depending on this.

"I personally would very much miss fingering the frets of my green Irish falcon or my (RED) Gretsch. Just for the pleasure, aside from writing tunes. But then does the Edge, or Jimmy Page, or any guitarist you know have a titanium elbow, as I do now? I'm all elbows, I am."
Poor Bono! To read the rest of his message (including a very blatant 'sorry I'm not sorry' about the iTunes Songs of Innocence debacle) click here!
U2 will be going on tour in the beginning of May with the first stop occurring at the Rogers Arena in Vancouver on May 14th. According to TiqIQ.com, the average ticket price for the opening show is $184 with the cheapest tickets beginning at $33. Room rates for Vancouver hotels located near the arena begin at $90, according to Hipmunk, so it's possible to get a room and a ticket for less than $125.  Fans who are discussing flying into Vancouver for the opening show should make sure to check out Hipmunk for information on Vancouver flights and any other potential travel options.