Culture News
Actors and their stunt doubles coordinated to make some next level social-distancing action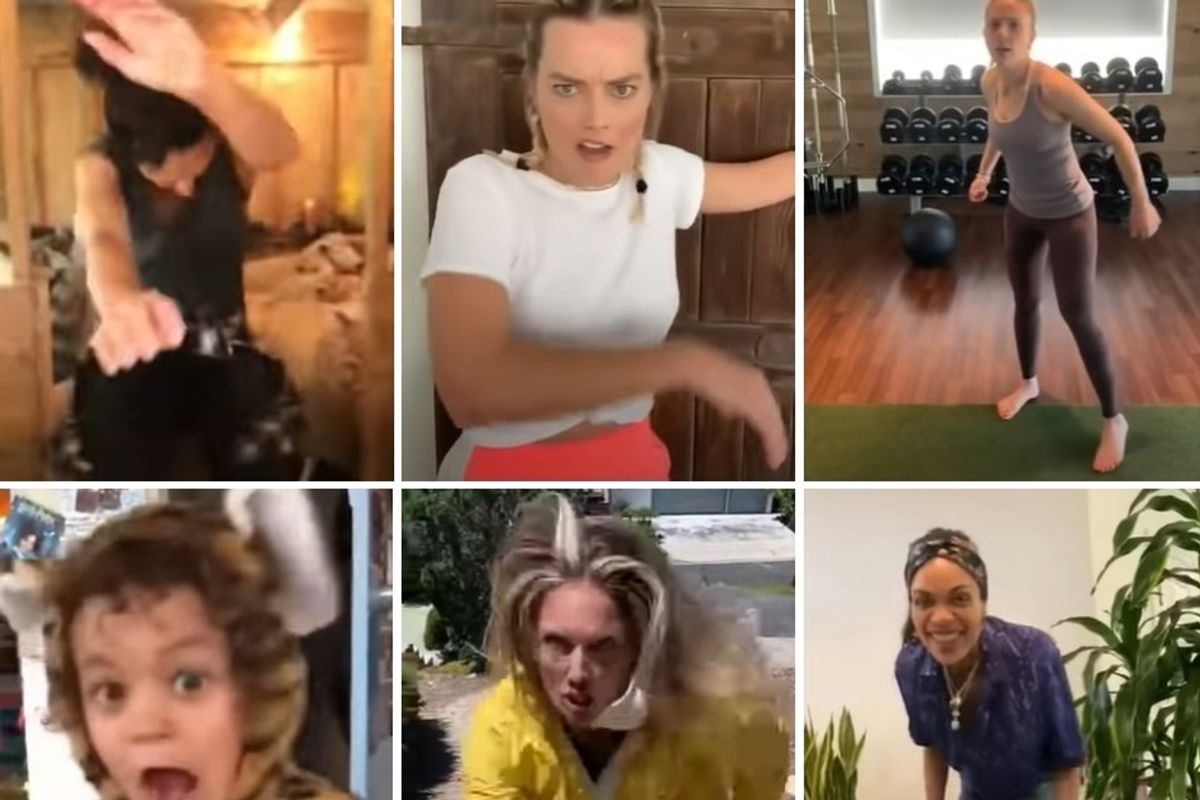 One of the things that has kept quarantine from being completely dull has been watching different media figures adapt to the new restrictions.
SNL has had fun with minimal at-home wardrobe and makeup and green screen silliness. Talk show hosts are making video calls work for interviews and sketches, and abundant free time has made it possible to organize massive, virtual cast reunions from various beloved TV shows and movies. But no other group has had quite as much fun with the challenge of social distancing content as the star-studded cast of Zoë Bell's elaborate new fight scene, "Boss B**** Fight Challenge."
---
Shot from the shifting point of view of the next person to get hit, the camera jumps from one setting to the next as stuntwoman and actor Zoë Bell—you might recognize her as the woman who kicked Brad Pitt's character off the set in Once Upon a Time in Hollywood—sets off a string of teleporting violence. One woman attacks the camera, then the perspective flips as we see the victim knocked back by the blow before getting up and attacking the camera right back. The variety of settings, costumes, weapons, and stunts makes the constant flow of action continually entertaining, through five minutes of chaos with fireballs, stunt wire, and a cast of nearly forty vicious combatants—including Florence Pugh, Halle Berry, Drew Barrymore, Rosario Dawson, and KT Tunstall.
BOSS BITCH FIGHT CHALLENGE - Zoe Bell www.youtube.com
To give a sense of the utter insanity that unfolds, the climactic sequence involves stuntwoman Heidi Moneymaker fall down a flight of stairs, then climbs back up to headbutt Scarlett Johansson, who stumbles backward into her home gym, then hurls an exercise ball into stuntwoman Dayna Grant, who falls backward into a herd of sheep, then punches Margot Robbie in the face in her home, prompting Robbie to pick up a bat and knock Renae Moneymaker—wearing a hazmat suit—tumbling down a hill, only to finally tackle Zoë Bell, who rolls her (someone else, also in a hazmat suit) into a ditch.

As messy as it all sounds, Zoë Bell and her friends clearly know what they're doing when it comes to stunt choreography, so the action always feels smooth (even as Cameron Diaz throws her groceries through the camera). As an added little easter egg, it turns out that many of the performers have actually worked as stunt doubles for the celebrities in the video (the Moneymaker sisters have doubled for Scarlett Johansson's Black Widow and Margot Robbie's Harley Quinn).
The video ends with a promise of more action next week. We'll have to wait and see what that looks like, but the first installment of "BOSS B**** FIGHT CHALLENGE" has already raised the bar for Quarantine content.