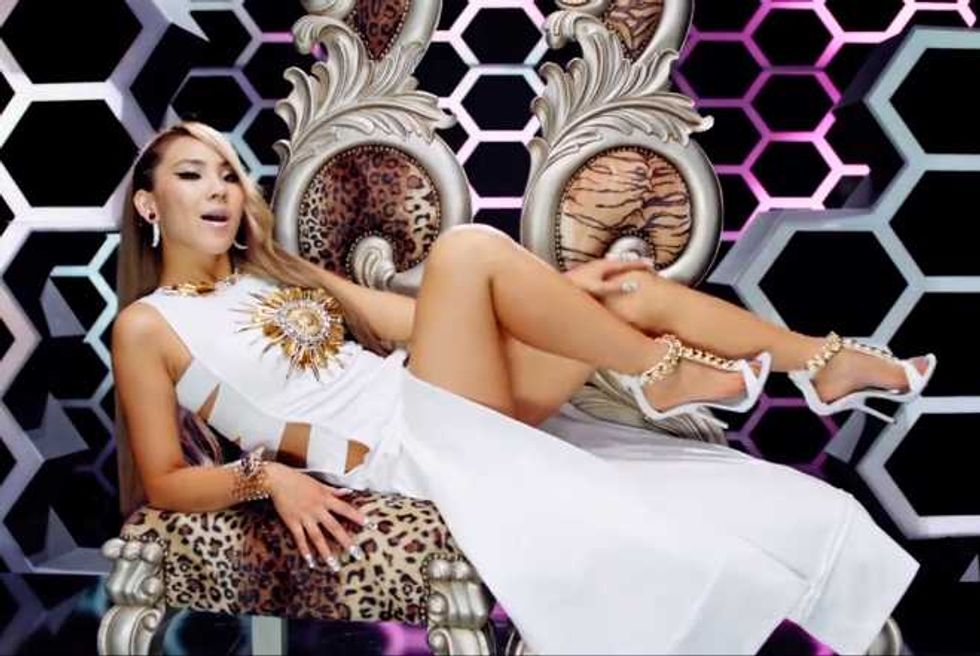 Like Diana Ross, Beyonce, and Lee Hyori before her, CL is the undeniable star of her girl group, so it's only natural that her first real solo single would be a knockout, competition-killer, just like "Crazy In Love" and "10 Minutes" were back in the day.
CL's solo debut, "The Baddest Female," is a swaggariffic, hip-hop stomper that's so unbelievably cool it could probably make Rihanna look lame by comparison. YG Entertainment originally described it as "dougie dubstep," which left us scratching our heads a little bit, but after hearing the track we've figured it out: there's a badass dubstep break, and the second you hear it you'll want to start dougie-ing. There's also squiggly electro, military drum breaks, wind chimes, and a monstrous bassline that could shatter the windows of even the most pimped-out lowrider.
That's not to say that it's hugely original or anything, though. "The Baddest Female" is basically just G-Dragon's "One Of a Kind" sung by a woman instead of a dude, but that's not really a terrible thing -- especially given how much better "The Baddest Female" is to GD's hit.
Like the song, the music video is typical YG fare, but CL's taken only the best parts from the YG blueprint and turned it into something amazing. There's few female pop stars on the planet with the kind of attitude and cool factor that CL possesses, and the 22-year-old proves that she's truly in her own lane when posturing as a fly b-girl or kicking it with Japanese fashion icon, Mademoiselle Yulia.
As Beyonce would say: Bow down, bitches!