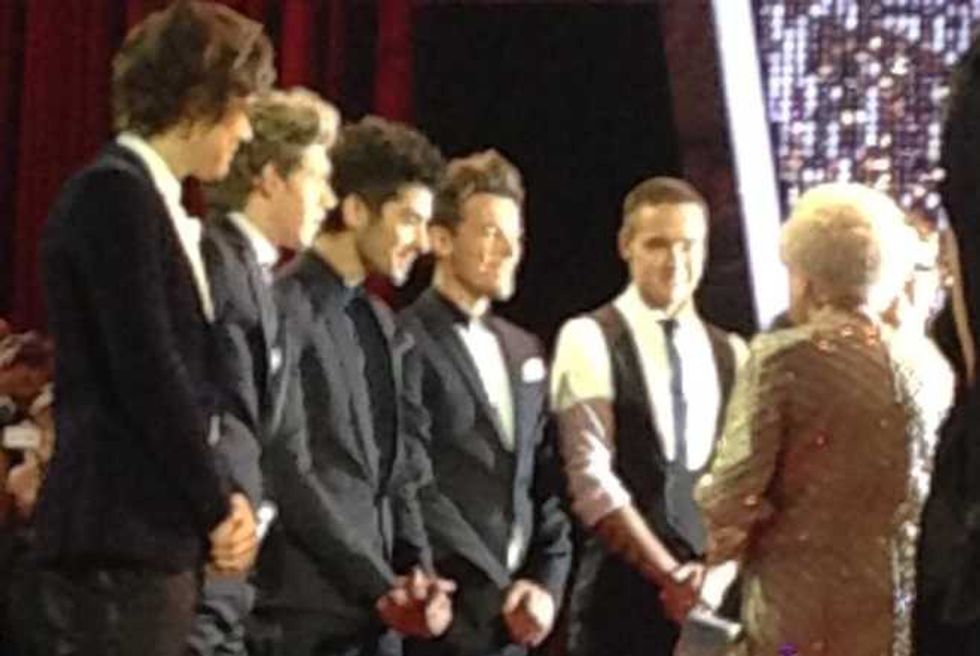 If selling half a million albums wasn't enough proof that One Direction is currently on an unstoppable ride, the boys met Queen Elizabeth II during the 2012 Royal Variety Show in London on Monday. Such an encounter is a non-factor to us Yankees, but imagine finding yourself within 10 feet of Abraham Lincoln and Beyoncé. Aha! Now you're on their level.
And like the good English chaps they are, the guys were tickled by the idea of such a royal interaction.
Having a great time at the royal variety show !! :D

— zaynmalik1D (@zaynmalik) November 19, 2012
Today, I met The Queen.

— Harry Styles (@Harry_Styles) November 20, 2012
Amazing night.. Can't believe it. Night!! .xx

— Harry Styles (@Harry_Styles) November 20, 2012
Of course to Niall, The Irish One, Elizabeth is just one of many "legends" he's had the pleasure of shaking hands with. She's not his queen!
Great evening ! Met some legends! Happy to be invited

— Niall Horan (@NiallOfficial) November 20, 2012
While the boys were preparing to nervously bow just like their mums had always instructed them to do, the Queen clearly wasn't briefed on the proper way to act when one comes in contact with members of 1D. Where are the mascara tears and hysterical screams?