FILM & TV
NOVEMBER 30TH - DECEMBER 1ST | Kick off the holidays with horror and hysterics, plus everything in between!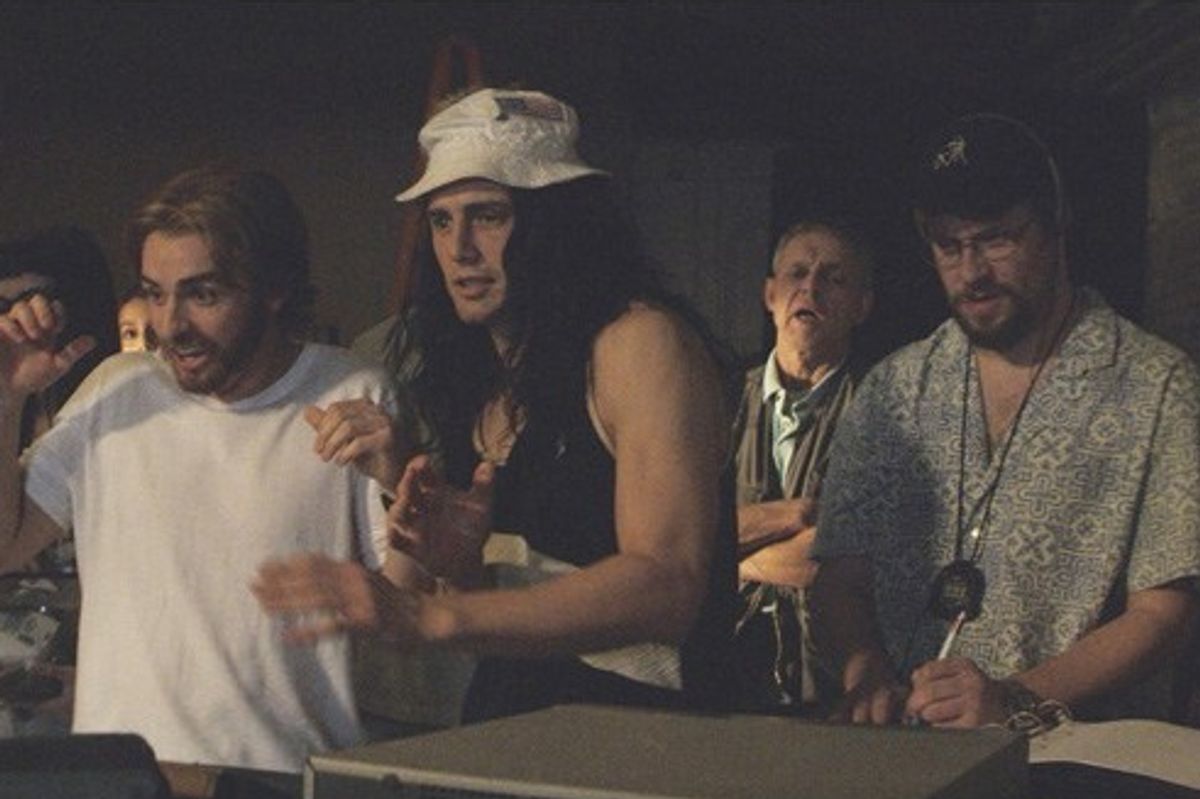 Laugh, love, and live on the edge of your seat with this week's selections at your local movie theatre.
In Popdust's new column, Box Office Breakdown, we aim to inform you of the top flicks to check out every weekend depending on what you're in the mood to enjoy. Looking to laugh? What about have your pants scared off? Maybe just need a little love? Whatever the case may be, we have it.
Take a peek at our top picks for this week...
---
Coney Island has never looked so dreamy...or depressing. In the latest flick from Woody Allen, we find another cast of characters who are disinterested in their lives and looking for some magic in an everyday world with some confusing results. A waitress at a fish shack finds a new sense of purpose when she begins an affair with a graduate playwright/lifeguard, but this bliss goes into chaos when her husband's daughter comes to town, on the run from her gangster husband. Oh, when and how did love get so complicated? Kate Winslet is amazing in the role, showcasing all of her talents. If you can deal with Justin Timberlake's attempts at being a storyteller, then you'll be able to make it all the way through this drama. Allen's gotten less optimistic in his later work, so be prepared for less of a feel good film then you might originally suspect.

PG-13 | Running Time 1hr 41m | Amazon Studios | Director: Woody Allen | Starring: Kate Winslet, Justin Timberlake, Juno Temple, and more! | Purchase Tickets for Wonder Wheel!
---
If you were thinking a nice holiday in a secluded cabin in the woods would be a relaxing idea, you might want to think again. A woman and her two young daughters have the same thought and end up sharing their vacation with a nightmare of a situation created by a psychopath where they are unable to escape (let alone get a refund). Critics haven't quite weighed in yet on whether or not this is a hit or miss, but it comes in a string of scary films being released around the holidays. At the very least, these real-life horrors will distract you from the terrifying lines at the malls. For fans of NBC's Chuck as well as the daytime soap All My Children, you'll see from familiar faces, while everyone else will have the opportunity to discover some new talent.

Rating NA | Running Time NA | Screen Gems | Director: Dennis Iliadis | Starring: Yvonne Strahovski, Justin Bruening, Abigail Pniowsky, and more! | Purchase Tickets for He's Out There!
---
Coming-of-age stories have been popular this season, and here's another with a California background setting. A family moves to the affluent suburb of Palos Verdes and has to find a way to adjust. The women of the family feel particularly out of place in the overwhelming gorgeous place filled with equally stunning people. What the children have in common, however, is the love they develop of surfing, and their need to prove themselves among the Bayboys who already rule the scene. Based on a 1997-novel of the same name and plot, it's a drama that won't be as shiny as some of the other releases this fall with Oscar-buzz. However, it's sympathetic all the same. Watch as siblings with very different wirings find ways to love each other, and the struggles of a family to stay together when they're given every reason to fall apart.

NR | Running Time 1hr 45m | IFC Films | Director: Brendan and Emmett Malloy | Starring: Jennifer Garner, Maika Monroe, Cody Fern, and more! | Purchase Tickets for The Tribes of Palos Verdes!
---
What do you do when you find your passion but your parents don't understand? This is the plight of a young woman who wants nothing more than to break into the world of hip-hop music despite her family's wishes that she'll finish college first. Going through the motions of completing school, the young rapper finds a way to make her music powerful inside the classroom through work in her poetry class. A cast of musically-included stars who are also killing it in the acting scene makes for a strong enough reason to seek out this film that is only in limited release, but the fact they'll be singing will make it even more worth it. Whether you're a fan of hip-hop tracks or not, give the film a go and see the power of the arts in school (and then call your government representatives and remind them federal funding for the arts is important, too).

R | Running Time 1hr 46m | Lionsgate | Director: RZA | Starring: Azealia Banks, Common, Lorraine Toussaint, and more! | Purchase Tickets for Love Beats Rhymes!
---
And our ⭐️ TOP PICK ⭐️ ...
A film about one of the worst films ever made in the history of cinema — yep, you read that correctly! Any film school student has heard about Tommy Wiseau's passion project The Room and knows it is one of the worst films of all times, but not everyone knows about the history of how this awful film came to be created. Based on the biography of Greg Sestero, an actor who worked on the film, this movie will have you laughing at the stupidity that went into making this cult classic. You might wonder for a while why this is the first film the Franco brothers decided to work on together (and I can't promise you an answer to such), but at the very least you'll see some funny faces that are known for bringing a smile to your face when they're acting completely ridiculous. What happens when a bad movie gets some great press? Be prepared to find out...

R | Running Time 1hr 45m | A24 | Director: James Franco | Starring: James Franco, Dave Franco, Seth Rogen, and more! | Purchase Tickets for The Disaster Artist!
---
Really like a film you see or know of one coming soon that we should check out? Shoot me an email and let me know!
---
Rachel A.G. Gilman is a writer, a radio producer, and probably the girl wearing the Kinks shirt. Visit her website for more.
---
POP⚡ DUST | Read More About Film...
Oh My! Is George Takei the new Kevin Spacey?
SATURDAY FILM SCHOOL | The Familiar and Chilling Politics of 'The Handmaid's Tale'
REVIEW | The view from "Wonder Wheel" isn't so grand at New York Film Festival