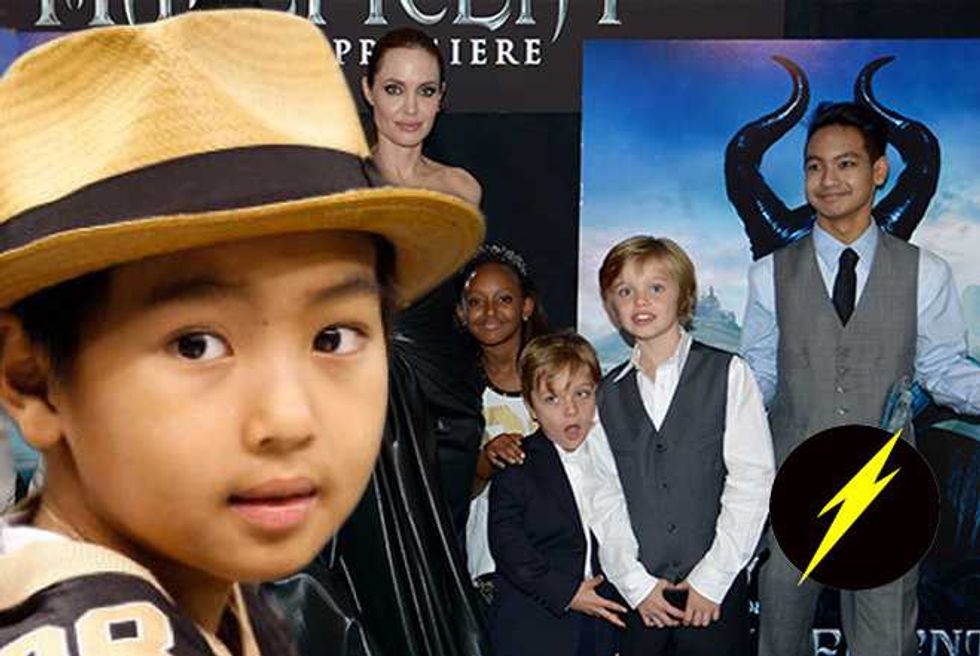 Brad Pitt and Angelina Jolie's kids made a rare red carpet appearance Wednesday—joining their famous folks at mom's Maleficent premiere in LA.
Although Angelina stole the show in her jaw dropping black leather bustier dress, little Maddox—who is no longer quite so little—got his own fair share of attention too!
Maddox, who turns 13 this August, went and got himself all grown up—and he was looking every bit the man about town, dressed in a very dapper gray waistcoat and matching pants, blue shirt and tie.
Dad Brad also grabbed the attention of the world's media—albeit unwillingly—after a pesky rogue "reporter" stormed the red carpet and smacked him in the face.
Ouch!
It was the same moron who attacked America Ferrera two weeks ago in Cannes—Ukranian "prankster" Vitalii Sediuk.
As Popdust previously reported, Sediuk was dragged away by security from the How To Train Your Dragon 2 premiere on May 16 after running onto the red carpet and attempting to stick his head up Fererra's skirt.
Last night he was led away in handcuffs, booked on suspicion of misdemeanor battery and hit with a temporary emergency restraining order, demanding he stay at least 500 yards away from Pitt.