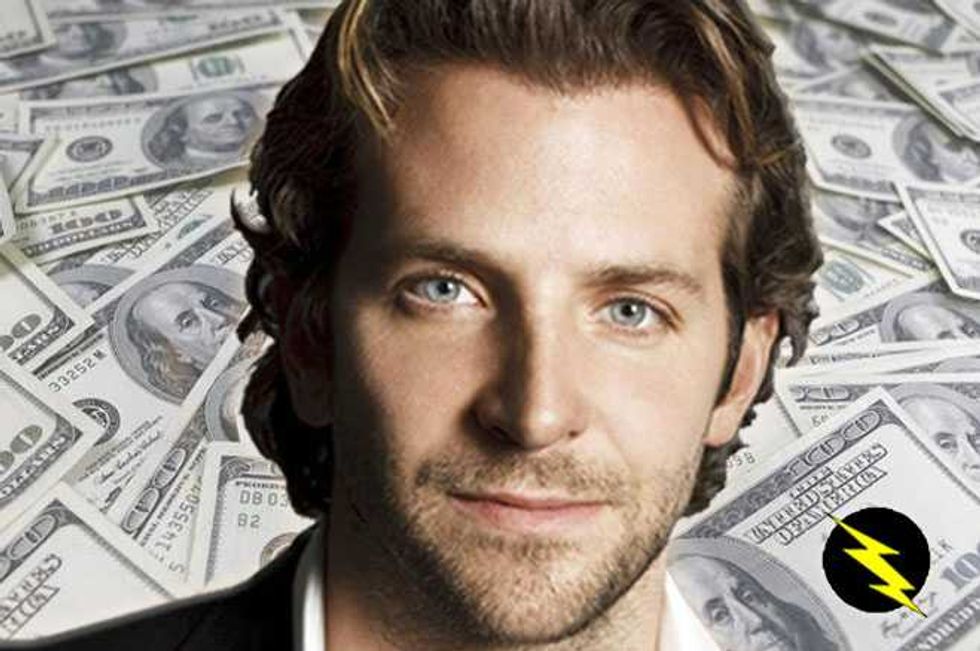 Bradley Cooper is stepping up to the plate and putting his money where his mouth is in trying to ensure his female co-stars get equal pay.
Jennifer Lawrence published an essay last week on the gender pay disparity in Hollywood that everyone knows exists but no-one will do anything about, and that essay has prompted Cooper to take action.
Barbara Walters Finds Bradley Cooper 'Very Screwable' Apparently
It all came to light during the Sony hack when it was revealed that the female leads in American Hustle were paid significantly less than their male co-stars.
Both JLaw and Amy Adams received far worse deals than, Christian Bale and Jeremy Renner despite playing leading roles.
Kristen Stewart Talks Feminism, Dreams For the Future
Adams has remained steadfastly silent thus far on the subject, but Lawrence has finally addressed it in her essay for Lennys Letter, saying;
"When the Sony hack happened,  and I found out how much less I was being paid than the lucky people with dicks, I didn't get mad at Sony, I got made at myself.  I failed as a negotiator because I gave up early."
She goes on to explain that she didn't feel comfortable pushing back too much in the negotiations over her pay package, partly because she actually doesn't need the money but also more tellingly;
"If I'm honest with myself, I would be lying if I didn't say there was an element of wanting to be liked that influenced my decision to close the deal without a real fight.  I didn't want to seem 'difficult' or 'spoiled'.  At the time, that seemed like a fine idea, until I saw the payroll on the Internet and realized that every man I was working with definitely didn't worry about being 'difficult' or 'spoiled'.

...I don't think I'm the only woman with this issue.  Are we socially conditioned to behave this way?...Could there still be a lingering habit of trying to express our opinions in a certain way that doesn't 'offend' or 'scare' men?

...I'm over trying to find the 'adorable' way to state my opinion and still be likeable!  Fuck that.  I don't think I've ever worked for a man in charge who spent time contemplating what angle he should use to have his voice heard."
She's got a good point.
How many times do women get called emotional or pushy when they are trying to express their opinion?  I know of a female boss who was legitimately voicing her disappointment to a male subordinate over his failure to deliver on a task, when he told her to "calm down and stop being emotional".  Seriously. No-one would ever speak to a male boss like that, nor would it even occur to anyone that the man was being emotional.
Connie Britton, Laura Benanti Teach Feminism In Hilarious New Short—Watch Now!
Cooper has also recently appeared in a couple of films with Sienna Miller who recently backed out of a Broadway play after she learned that her salary would be just half that of her male co-star's—in a play where it was going to be just the two of them on stage!
Jennifer's essay was praised by Oprah herself and BCoop has obviously decided to do what he can to help his female counterparts.  He has pledged to help his future female co-stars negotiate their salaries before any film he is interested in working on goes into production. He was shocked to discover what American Hustle co-star Adams was paid for her role in the film, telling Reuters;
"She worked every day on that movie and got paid nothing.  It's really horrible actually, it's almost embarrassing.  She should have been paid more than everybody.

I don't know where it's changing otherwise but that's something that I could do.

Usually you don't talk about the financial stuff, you have people.  But you know what?  It's time to start doing that."
We will gloss over the fact that the issue is only now being taken seriously because a man is making the point.
Cooper is willing to walk the walk and try to find some way forward with this, his heart is definitely in the right place so he should be embraced as an ally.
Check below for some of the top female earners in the entertainment business today!