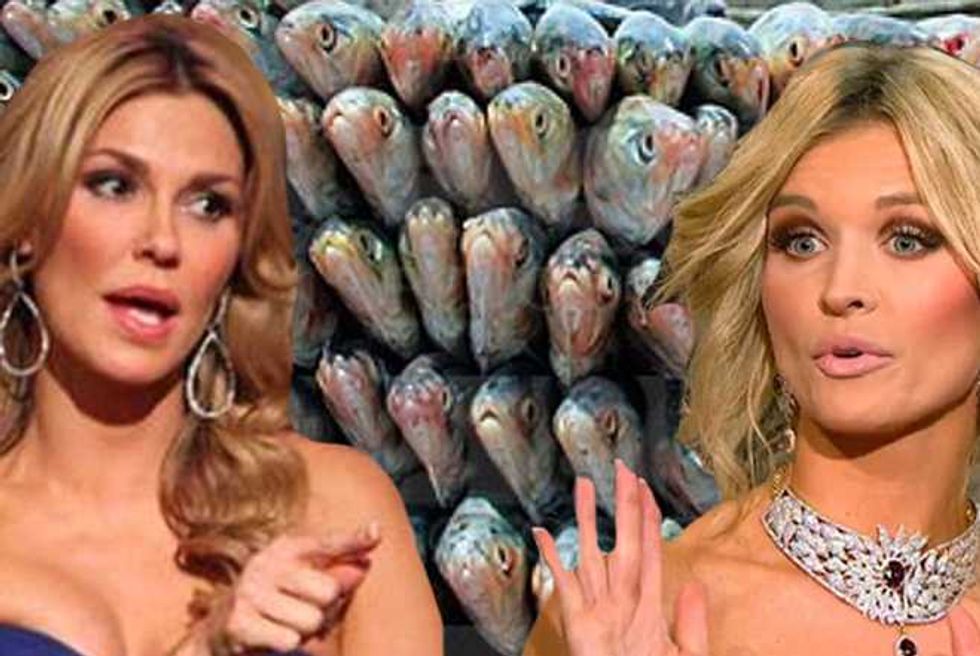 Joanna Krupa looks like she smells of a smoothing blend of peach cobbler and rainbow mist—but, her Real Housewives of Beverly Hills adversary, Brandi Glanville says, No. Bitch smells like fish down below.
It all kicked off after Glanville went on Watch What Happens Live and claimed an "inside source" told her that Krupa's honey pot smells like a kettle of fish.
How Real Are The Housewives? RHOBH Plastic Surgery Exegesis
"She's a beautiful girl, but you just can't help the odor situation," Glanville told Andy Cohen.
And how might she know such an intimate fact?
Well, as Popdust previously reported, Joanna allegedly slept with Yolanda Foster's husband Mohamed Hadid—and Mohamed may or may not have told Brandi that Krupa smells a bit more like rainbow trout than she does rainbow mist.
How Real Are The Housewives? RHOM Plastic Surgery Exegesis
When a Twitter fight between the rival Real Housewives escalated to trash-tastic heights, Brandi tweeted, "Well, Mohamed did tell me that her pussy smelled" and Lisa Vanderpump was there when he said it"
Krupa was incensed, and expressed as much to a paparazzi, when she was snapped out and about, saying, "She's so obsessed with me. She can't stop talking about me. Why would Andy talk bad about me when she's making stuff up to make herself famous? I don't know what she's doing. Stop with the injections in your cheeks. You're never going to be Eastern European. Maybe you're trying to be me, but you're never going to be me, bitch!"
How Real Are The Housewives? RHONY Plastic Surgery Exegesis
She was so incensed in fact that she hit Glanville with a defamation lawsuit—now, generally, in the legal world,'defamation' is followed by the words "of character." So what is this? Defamation of genitalia?
Whatever it is, Glanville and her legal team believe they have a strategy that will save their pocket books—putting Krupa's pussy on the stand.
How Real Are The Housewives? RHOC Plastic Surgery Exegesis
The 42-year-old's lawyer has sent Krupa an invasive list of written questions which she must answer under oath!
"Is it your contention in this lawsuit that your vagina and/or vulva are odorless? If yes, please explain with specificity why your vagina and/or vulva are odorless."
How Real Are The Housewives? RHOA Plastic Surgery Exegesis
I knew I should have gone to law school.
Alaskan Woman Used Her Vagina To Stash Her Cash