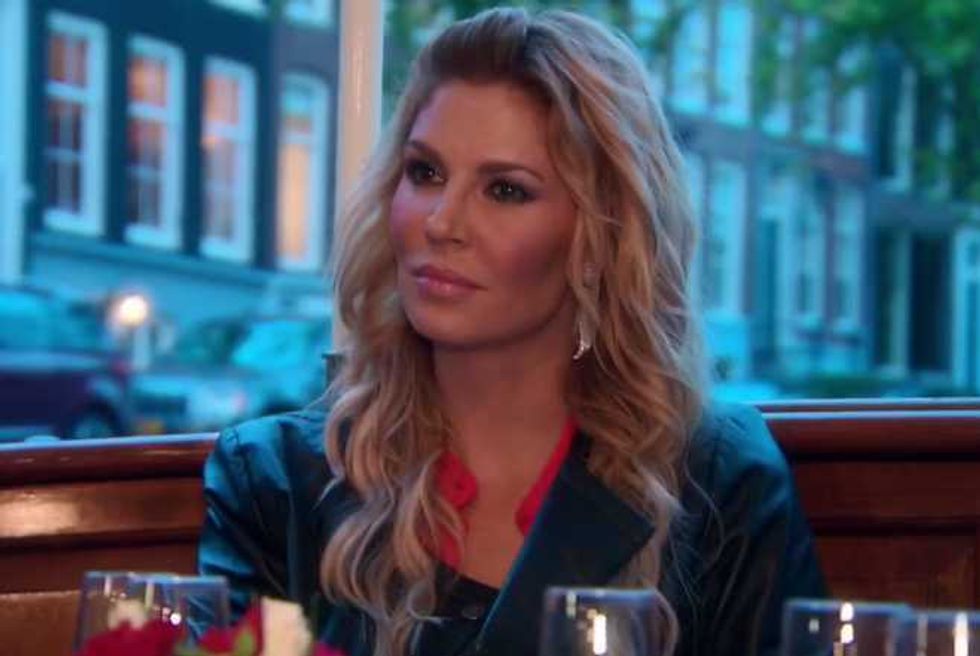 We're still a few weeks away from the season five reunion of the Real Housewives of Beverly Hills, but it's already shaping up to be the most explosive reunion in the show's history.
Andy Cohen has called it "super dramatic and emotional" and revealed that a "smoking gun" was revealed at the 11th hour, while Kyle Richards recently told E! that it was "worse than Amsterdam."
Now Beverly Hills' most controversial Housewife Brandi Glanville has thrown in her two cents about the reunion—and as expected, it doesn't sound pretty.
"I have post traumatic reunion syndrome. I'm telling you, I don't think I was on my best behavior that day," Brandi told her friend and Celebrity Apprentice co-star Leeza Gibbons on the latest episode of her podcast.

"Isn't that when it would pay to be an actress, when you could just put on a character?" asked Gibbons.

"Well let's ask Lisa Rinna, because that's what she did," Brandi quipped back.

Brandi continued, "You want to fight the fight, and I went in there saying 'I'm going to be quiet the whole time. I'm not giving them anything,' and then I lost my temper. And it was craziness. Like crazy. But having said that, I've gotta own what I did and said."
Even Lisa Vanderpump has commented that Brandi came off badly on the reunion, tweeting last month: "She didn't do well at the reunion for sure."
Besides Brandi, the feuding Kim Richards and Lisa Rinna reportedly get into another "vicious" physical fight on the RHOBH finale and then in an "intense" shouting match at the reunion.
Andy has already revealed that the reunion taping was the first time that Kim and Kyle had spoken to each other in four months, while TMZ is reporting that there's "little hope" of a reconciliation between the two sisters.
Holy cow. This reunion is going to be horrible amazing!