MUSIC
The "In The Grey" singer-songwriter talks to Popdust about her new project The Great Escape, a sweet and joyful exploration of romance and growth.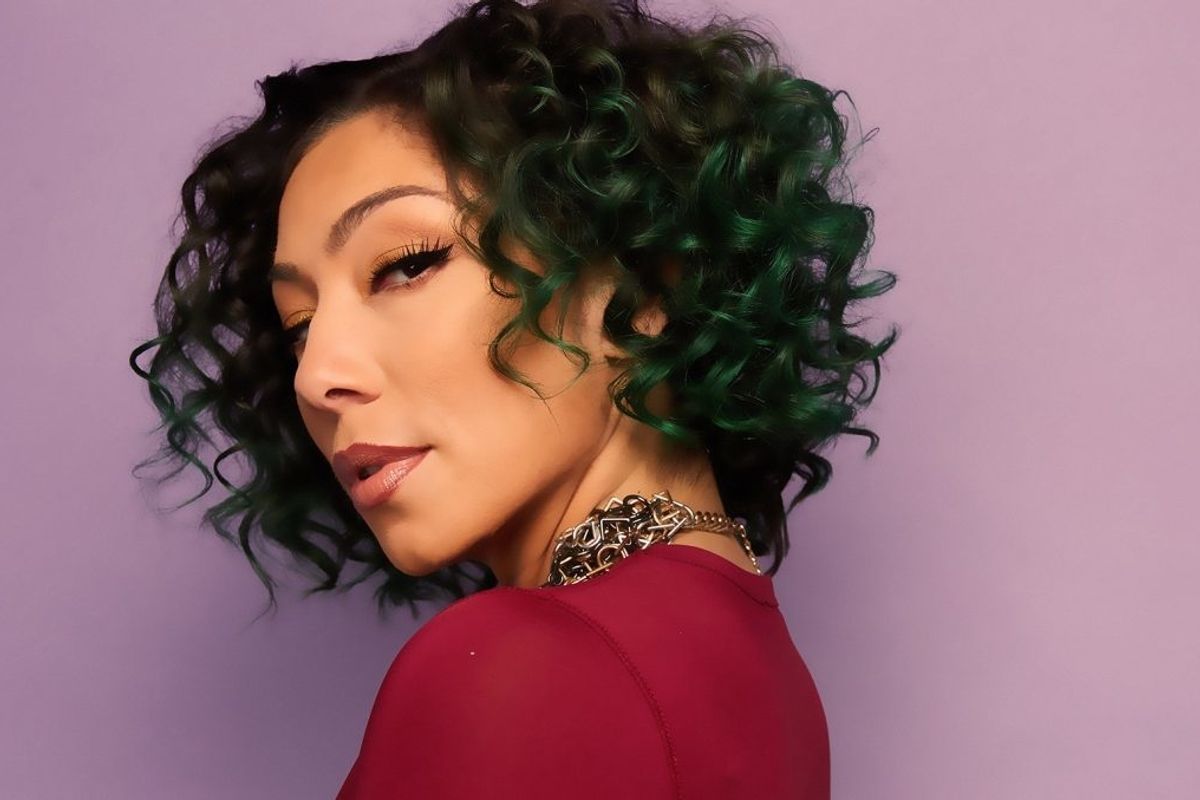 Billboard
Bridget Kelly takes love seriously, and she thinks you should too.
That's not to say her new EP, The Great Escape, takes itself too seriously. The New York native's latest project examines love in its many facets, from the first excitement of a crush, into self-assured lust, and down to the heartfelt apologies. Kelly writes less about specific relationships and more about how her love reveals itself, what she values and what she has to offer. Produced by industry mainstays Ayo n Keyz, the project bubbles with Kelly's joy and playfulness, the sleek R&B desire of lead single "Lucky You" flowing perfectly into the sweeping vastness of "Don't Wait."
It's fun to hear how Kelly, a former Love and Hip-Hop: Hollywood and Roc Nation alumna, puts herself centerstage on The Great Escape. The project sounds different than her previous work, but her voice is strong and wrapped in a new tenderness, and she sounds like she relishes the opportunity to write outward. The Great Escape is about what she's willing to give, and what it feels like when she gets it back, for better and for worse. Popdust was able to reach out to Kelly to talk about her inspirations for the EP, and how her focus and priorities have grown along with her sound.
What was different for you going into the studio for The Great Escape? What was something new you wanted to focus on?
I felt really sexy and confident on this project. It was meant to showcase the excitement of a new crush or new love, which is always so hopeful. I'm a mushy romantic anyway.
You're a born-and-raised New Yorker, and there are elements of this EP that feel like they pull on classic New York-rap-R&B sound, especially on "It's True" and "Just Playin." How intentional was it to bring a hometown sound with you onto The Great Escape?
My favorite time of the year is summer, and there's nothing like a New York summer. I've lived in L.A. for a few years now, but the heavy basslines, percussion and pianos are big New York elements I've always loved. Every song on this project was meant to drive down the West Side Highway to.
You take a really close look on this project at how love, desire and trust can overlap and get messy. What inspired that focus on love here, and what do you hope a listener hears in it?
Love is ever changing, that's part of why I'm so fascinated by it. I'm always inspired by my own experiences and the ones of those close to me, so there's plenty of different perspectives to take as a writer. I want listeners to be filled with the endless optimism of summer. The idea of a "great escape" is really about finding joy and freedom, whether you find love or not.
What was behind the decision to make "Lucky You" the single, and how do you feel it fits in context with the rest of the project?
"Lucky You" was the obvious choice. All the songs on this EP have a variety of personalities, but that personality, that sexy carefree assertiveness, is a side of myself I haven't shared with the world. Felt right to make a splash like that right outta the gate.
So I was watching the "Special Delivery" and "Street Dreamin" music videos before the interview today; those songs feel a long way off from The Great Escape, not just in time, but in how your voice and sound have developed. What's changed about your music, and what you want from it, since you first arrived in the industry?
I'm glad the evolution hasn't gone unnoticed! I make music that feels good to me. My album Reality Bites, as well as my Summer of 17 EP, were both thematic. I'm a storyteller, I doubt that will change where my songwriting is concerned. When I first started, I didn't feel like I had as much say in what was being released. Now that I'm independent, I'm able to create what I want and drop it on my own terms. My goal with my music now is to broaden my audience, one short-form project at a time.
What do you have lined up next? How are you hoping to expand The Great Escape and bring it to fans?
Up next is a follow up EP called Single Player Game, figure I'll drop another song in a few months and then the rest at the top of the year. I've been in my songwriting bag lately so I want to keep cranking out as many projects as I can. I'd love to hit the road and perform, get some of the records on TV shows and commercials. Then get back to hosting on TV again. I really love interviewing other artists, and hosting panels about love and relationships. I'd love to host my very own late night show someday.
To you, is The Great Escape about growth as much as it is about love? What do you want it to say about your future as an artist?
The Great Escape represents a couple of things for me. The growth comes from finding wholeness and feeling complete whether I'm in a relationship or not. But I find that my disposition in life as well as my music always comes back to love. I read something recently about how some people are just on an endless search and never really find the love that they're looking for. I think I find new things to love about life whenever the love I'm seeking doesn't work out. That's the ultimate escape.
Listen to The Great Escape below!