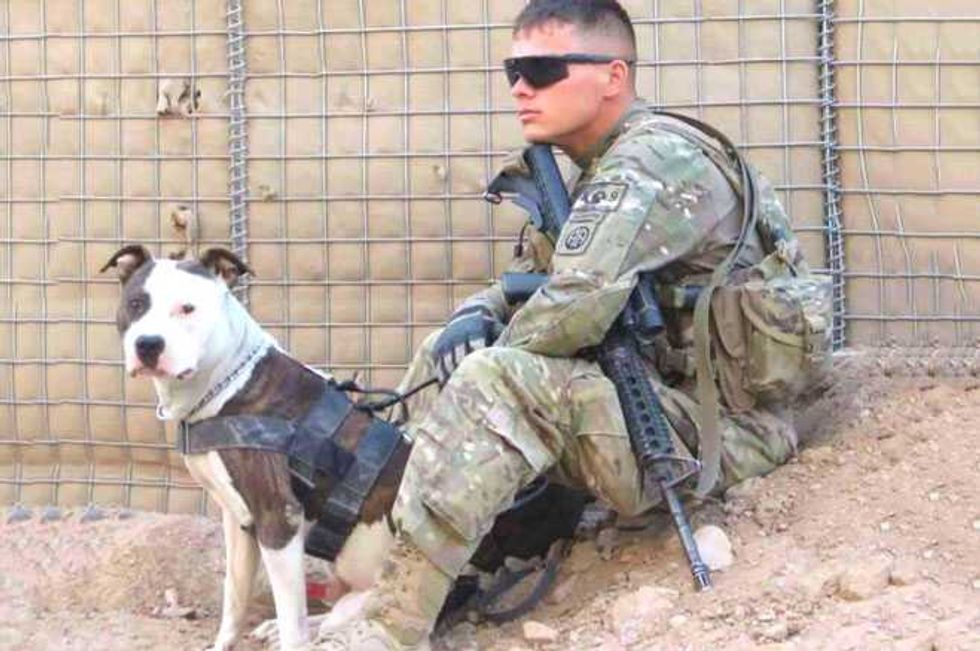 Bring Howard Home
Howard the pit bull is a bomb sniffing national hero.
He and his handler, former soldier Alex Reimer fought together in Afghanistan and formed an unshakable bond.  Howard was originally rescued from a pound and brought to train with Alex, becoming the first ever military pit bull.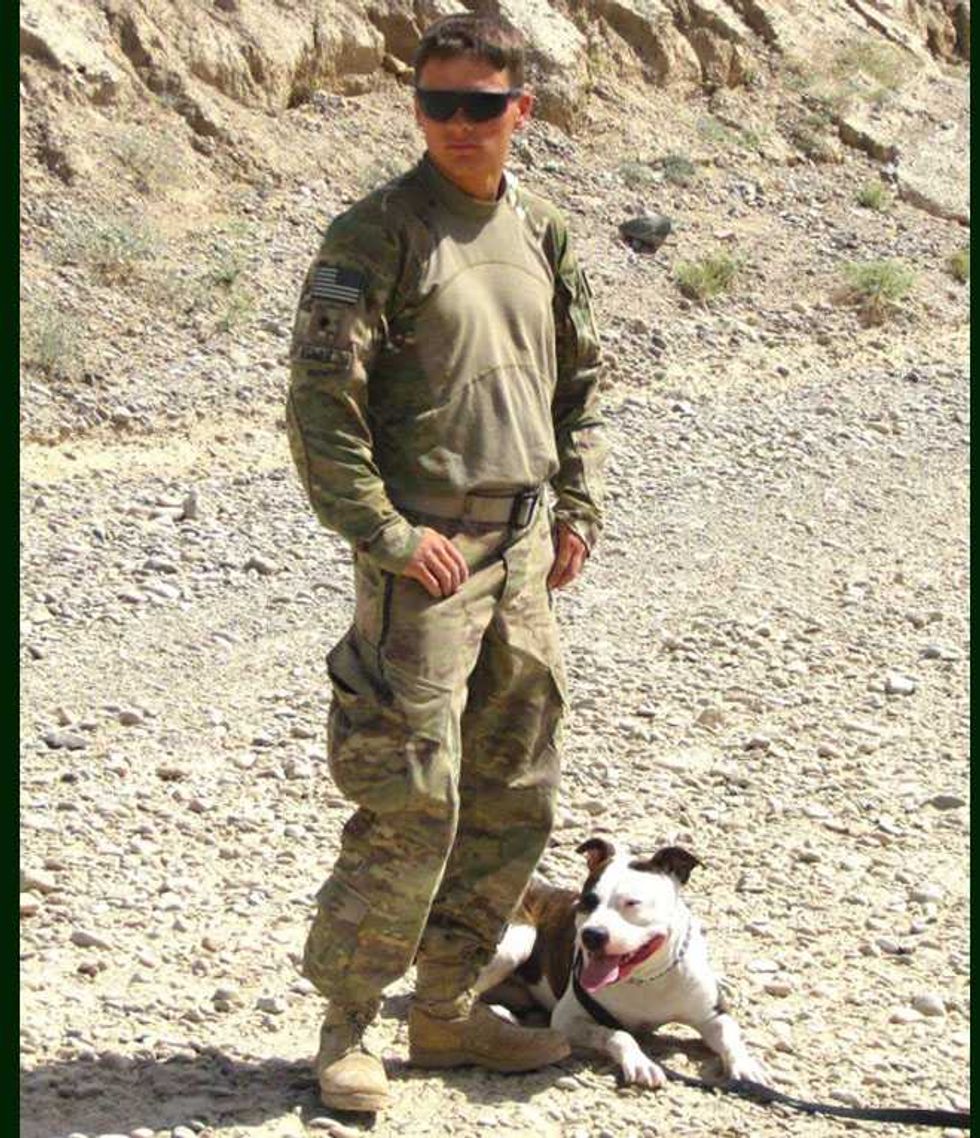 Howard was the first military pit bull
He faithfully served by his master's side—saving Reimer's life when he alerted him to a van with weapons and explosives inside.  Reimer said;  "He saved not only my life, but there were weapons in that van that night that could have been turned on us and there could have been an IED in there."
Band Bills U.S. Military $666K For Using Their Music As Torture In Guantanamo
After retiring from the military, many veterans try to keep their K9 charges with them, but sometimes this isn't possible, and Howard and Alex were tragically torn apart and have not seen each other since 2013 when Alex returned home.  He tried to keep track of Howard's deployment and retirement status but sadly lost touch.
Recently, his desperate search finally led him to Fayetteville, North Carolina where Howard is living with a new owner—Alex tried to make contact to arrange a visit but didn't get a response.  He sent a friend to make sure Howard was being well cared for and the friend discovered Howard tethered to a tree in a back yard, he also saw him locked in a cage and muzzled.
Supermodel Katie Cleary Is A Kick Ass Animal Rights Activist
Reimer, who now lives in Colorado, was appalled—surely a dog, particularly one who saved so many American lives is entitled to way better?  He is determined to give Howard the home he deserves.  Alex also revealed that he now suffers from PTSD and feels that having Howard back would help him recover.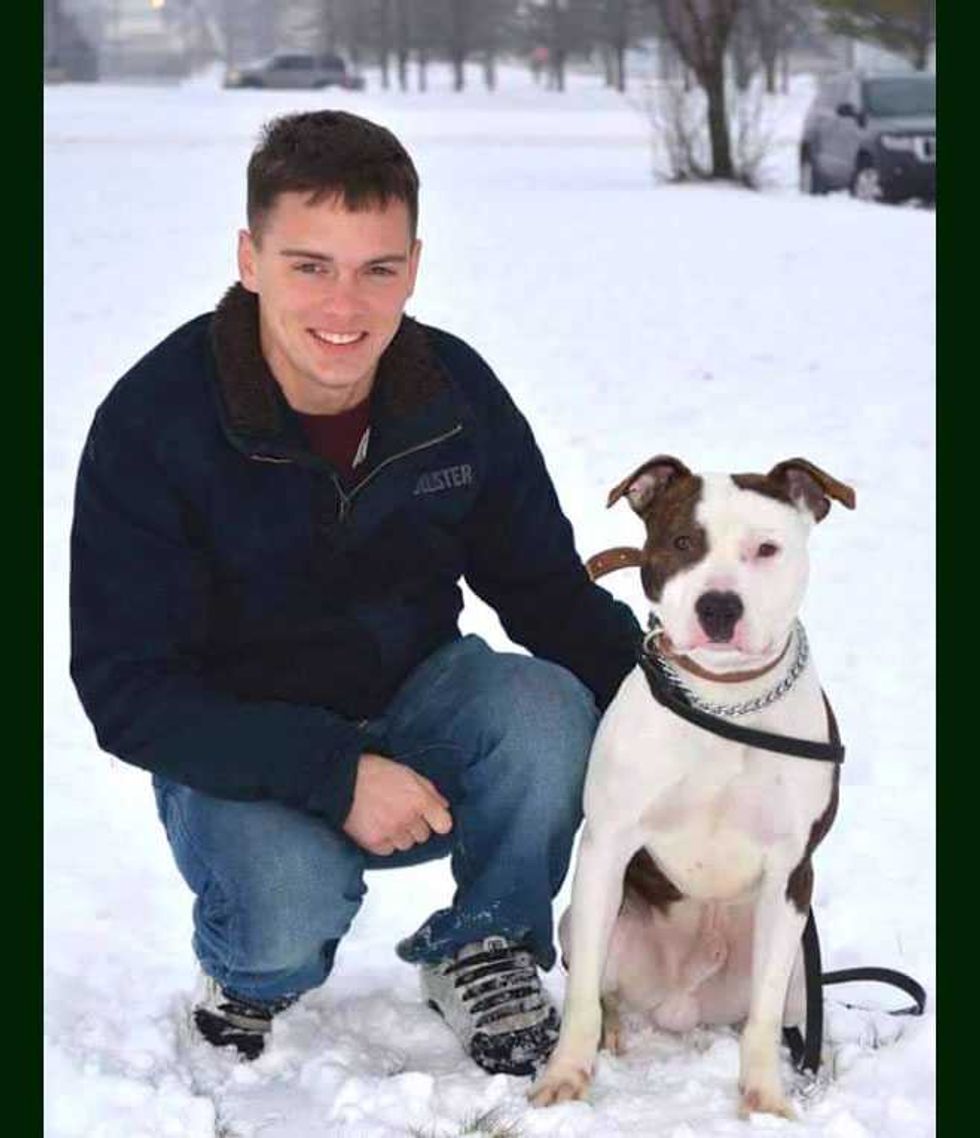 Alex has PTSD and feels that having Howard with him would help
"I dream about the times that me and Howard had together. The rough times and the good times," said Reimer. "It's just tough knowing your best friend is out there tied to a tree and not being taken care of."
Reimer also claims that Howard was adopted incorrectly and that he, as his first handler, should have been notified first of Howard's retirement and given the opportunity to take him in, which he gladly would have.
Reimer has set up a Facebook page called "Bring Howard Home" which currently has over 31,000 likes, to try to raise awareness about Howard's story.
Who Knew?!! 90s' Sex Symbols Barbi Twins Are Awesome Animal Rights Activists!
However Howard's new owner,  sheriff's deputy Deon Fuller says that the war hero pooch is no longer a part of the Army and is now a member of his family. He said;  "As of right now, I'm saying Howard is my dog and he is home with myself and my family".
He also insists that claims that Howard is being mistreated are unfounded.  Animal control officers investigated the allegations and agreed with him, saying that Howard is living in a good home and is being well cared for.
Fuller said that the Facebook page is filled with threatening messages aimed at him and his family; "There's so much going on [on the site], I think a lot of damage has been done".  He went on to say that he's not totally opposed to returning Howard, but for now he is staying with him.
We think that after all they went through together, these two veterans certainly deserve to be reunited.
Click here to donate now to Bring Howard Home!
Bring Howard Home