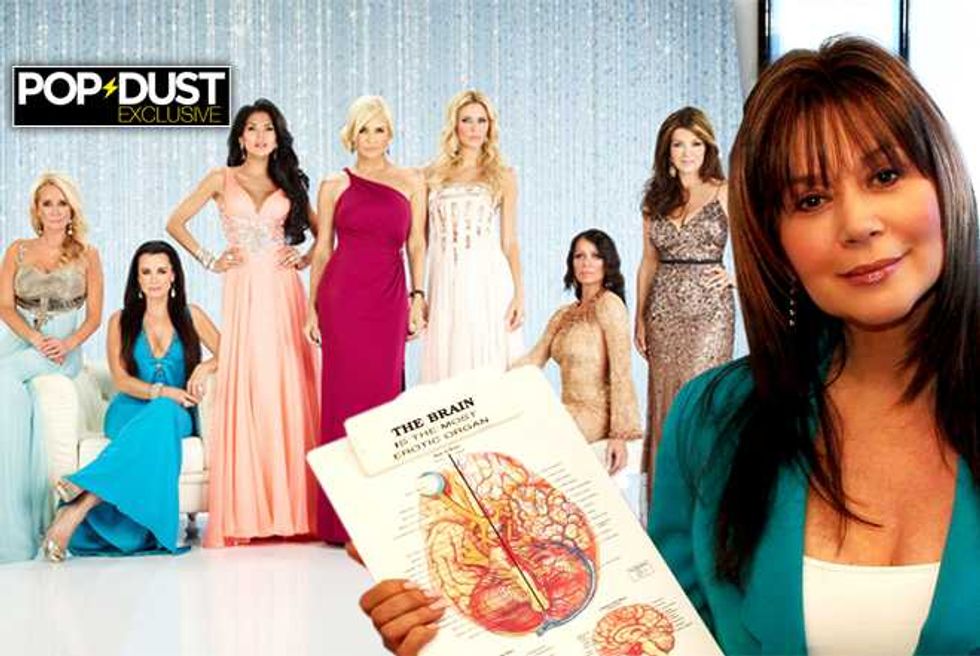 Looks like the 90210 is about to get a whole lot sexier!
Real Housewives producers are in talks with famed sex therapist Dr. Ava Cadell to join the Beverly Hills cast, a well placed source tells Popdust exclusively.
Reports have been rife that there's a major cast shake up in the works following falling ratings for the once smash hit show—with Kim Richards definitely on the chopping block and several other cast members being assessed.
RadarOnline recently reported that producers are looking for at least two "more dramatically inclined stars next year."
"In any event, producers will be looking for ladies with over the top lifestyles, who bring the drama," a source told Radar. "The Brandi-Joyce feud is really the only storyline so far this season that the audience is engaging with."
According to Popdust's source, producers are confident Dr. Ava definitely fits the bill.
"[RHOBH production company Evolution] has actually been trying to get Ava to join the cast for two years now, but it hasn't been the right time for her previously," the source says.
"She would be great for the show, she's really outspoken, she doesn't shy away from being controversial or outrageous and she has a very aspirational lifestyle.
"She's top of the producers' short list and if they can agree terms she will definitely join the cast next season.
"Kim is definitely on the outs and it's very likely Kyle will go with her, so there's going to be two spaces to fill."
Meanwhile, don't believe reports that Brandi Glanville may be heading to the unemployment line.
"Brandi is totally safe—there's no way anyone is even going to consider letting her go, she's pretty much the life blood of the show right now."