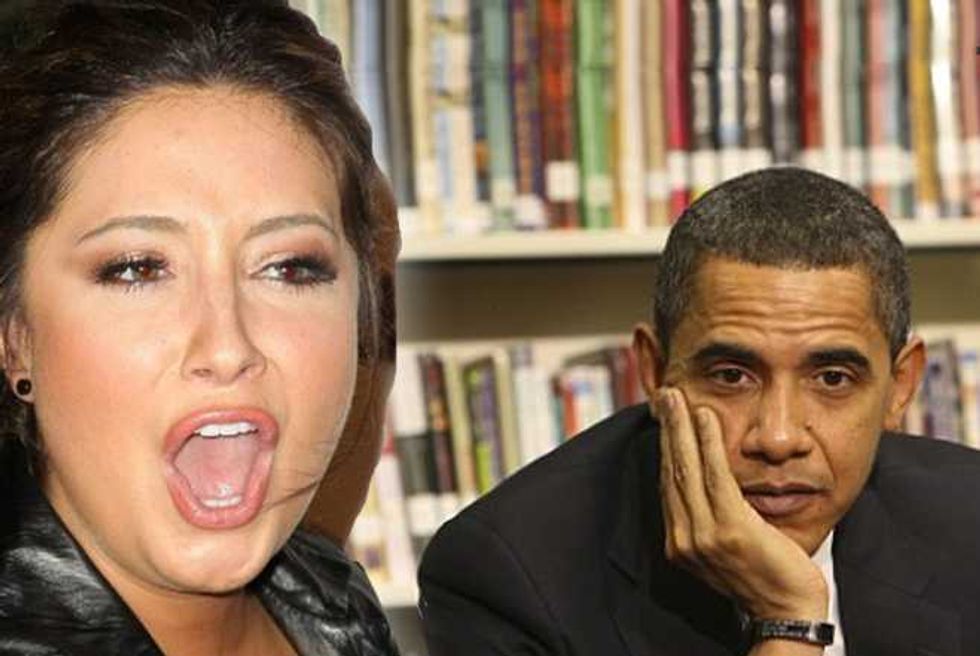 Pregnant abstinence spokesperson Bristol Palin is mad as hell about Ahmed Mohamed's invitation from President Obama to visit the White House.
Why? Because Palin.
While the whole world has rushed to support the 14 year old Muslim boy whose handmade clock was construed by authorities to be a terrorist bomb, Bristol has managed to view the support as encouraging 'racial strife' and 'victimhood.'
Bill O'Reilly Says #BlackLivesMatter 'Radicals' Should Partner With Him To Affect Change
The Texas student, who was subjected to arrest and interrogation in a clear case of racial profiling, has received support from Mark Zuckerberg, Steve Wozniak, Hillary Clinton, and MIT, as well as twitter users all over the world who are using the hashtag #IStandWithAhmed .
But Bristol isn't having it. President Obama's tweet of support, along with a friendly invitation to the White House, is just more proof to Miss Palin that Obama has ruined her beloved country. The offending tweet says,
Cool clock, Ahmed. Want to bring it to the White House? We should inspire more kids like you to like science. It's what makes America great.
Most of us found that tweet lovely and touching. Ah well.

Bristol's blog post reads as follows:
In case you missed it.  The President invited Ahmed Mohamed to visit the White House to show the President his homemade clock.  The fourteen year old was arrested after someone reported that he was building a bomb.

This is the kind of stuff Obama needs to STAY out of. This encourages more racial strife that is already going on with the "Black Lives Matter" crowd and encourages victimhood.

The police made a mistake, clearly.

But why put more people against them? Why egg it on?  Childish games like this from our president have divided our country…  even more today than when he was elected.
What can we do for poor Bristol? Is there any hope for this poor young woman, or is her upbringing too much to overcome?
Perhaps she inherited Sarah Palin's hunger for the spotlight, no matter how unflattering.
That Alabama University Alpha Phi Recruitment Ad Is Actually VERY Diverse Y'All!
Luckily for Ahmed Mohamed, he will probably be too busy to notice this moronic rant from Alaska.
But it's a reminder of the delusional racism that still infects too many American hearts and minds. I don't know who stands with Bristol Palin, but without wanting to sound all racial and victimmy, #IStandWithAhmed .