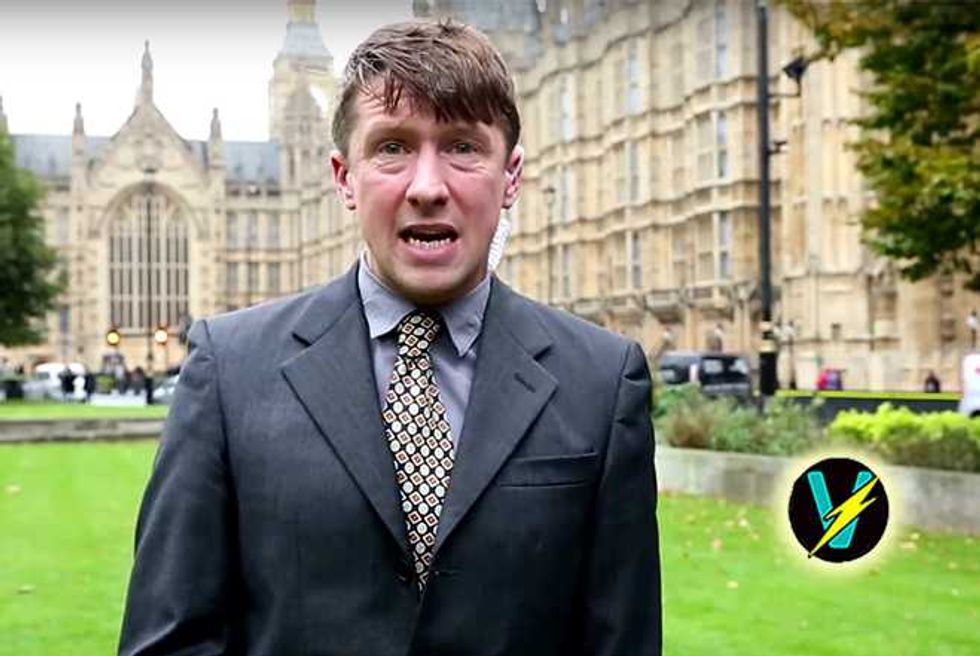 british reporter truth telling meltdown
This ballsy British reporter gets a little too real for TV when he suffers an epic, truth-telling meltdown!
It all starts off innocently enough—Jonathan Pie simply wants to know why the powers-that-be are insisting that he shoot his news segment in the rain when clearly it's much easier to shoot it in the studio.
A Bunch Of Things UK Politicians Consider Less 'Luxurious' Than Tampons
At which point the voice in his earpiece tells him for once in his life to just do the fucking news, giving us our first clue that perhaps Pie is something of a diva.
But diva aside, Pie breaks into a tour de force of poetic fury and exquisite veracity, tearing through the political cover-ups, unbridled avarice, war mongering, and rampant douchebaggery that plague our planet.
Reporter Reveals She Runs Cannabis Club, Spectacularly Quits Live On Air
It's basically Cliff Notes for what has been happening in the world for the last few years, served up sans the bullshit and with a helpful and heaping dose of profanity.
He lets loose on British Prime Minister, David Cameron, self-made millionaire-turned-TV host, Lord Alan Sugar, nuclear weapons, Matt Damon's shabby portrayal in the press, opposition leader, Jeremy Corbyn's unfavorable treatment by the press, Syria, terrorism, refugees, poverty, and even the God damned bloody rain!
Note To Reporters: Don't Put An Effing Microphone In Rihanna's Face!
"It's like someone took John Oliver, Gordon Ramsay, and Eric Idle and threw them into a blender to create this delightful cocktail of crazy cable news honesty," raves Youtube viewer Alex-Zander Browne.
But, just who is this short-fused yet highly articulate Jonathan Pie? Well, actually, he's a spoof reporter created by British actor and comedian Tom Walker. And his explosive rage seems to be striking a nerve with thousands of viewers.
Porn Star Has Insane and Violent Meltdown Aboard Delta Flight
"Generally in comedy you laugh at things that you recognize, that's generally the truth," Walker tells RT online. "I mean it's fiction, and I made it to be funny, I made it to be a piece of entertainment.
"But if people recognize something in it and go, 'actually he's articulating the way that I feel' then more the better. Yes, I think you're right that there is certainly an element of truth there—that is why people have enjoyed it so much."
Most Insane And Crazy Celebrity Meltdowns
Watch the sublime two minute and forty-seven second rant right here, right now.
You're welcome.