MUSIC
Please, let there be gay Disney princesses.
A new musical based on Britney Spears' discography is coming to Broadway. It's called Once Upon a One More Time, and it follows everyone's favorite Disney princesses as they sing, dance, and—read Betty Friedan? That's right, feminism has come for cinema's most helpless damsels in distress at long last, and it's to the tune of Britney, Bitch.

Although Britney seems like an odd choice for a musical about female empowerment—after all, she literally has songs about loving someone toxic and being a slave 4u—hopefully, whoever's writing this show will alternate stunningly sexy dance numbers with a couple hard-hitting lines about the importance of leaving toxic relationships and possessing a strong sense of self.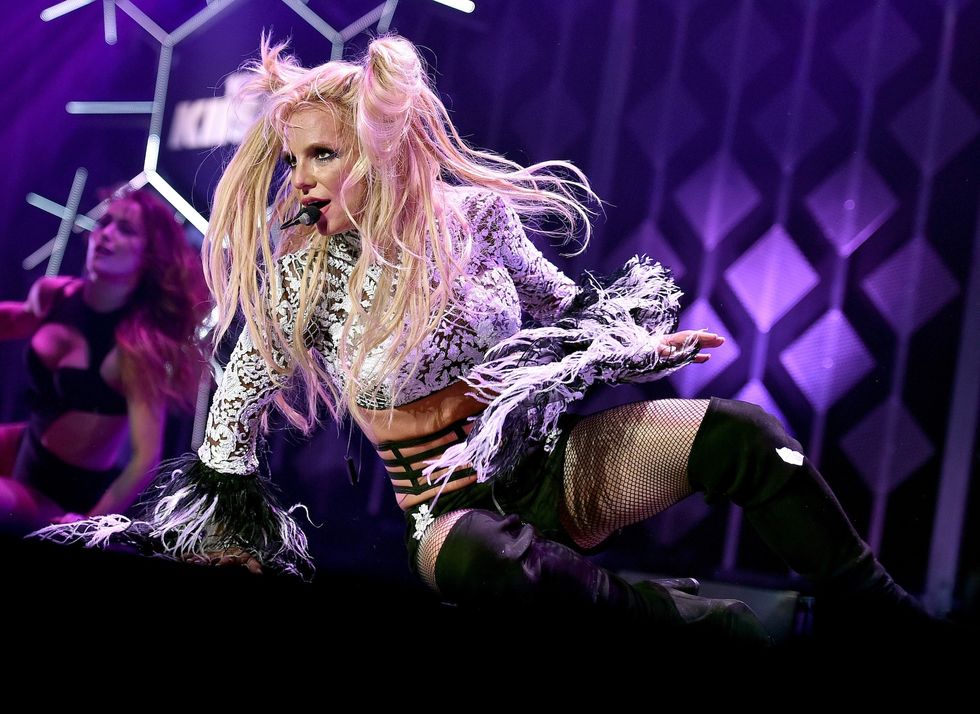 Image via Stereogum
As we wait with bated breath for the musical to premiere in Chicago and eventually take Broadway by storm, we couldn't help but speculate about which iconic Britney songs will soundtrack which princess's ascension to independence and liberation. All we currently know about the plot comes from this quote from the writer, Jon Hartmere—a white dude (suspicious) who admittedly sounds somewhat woke. "Cinderella is having an existential crisis, and she has a posse of famous princesses, and her stepmother is the main antagonist," he told The New York Times, "and there's also Prince Charming and a dwarf we've never met—the eighth dwarf—and a narrator who is unhappy his system is being dismantled before his eyes. These women have been in this hermetically sealed world, and then they start to get deeper into modern ideas—second-and third-wave feminism—and also explore how stories are passed down to us, and where we get our norms from."

Given this information, here's our dream song list and plot. (Hint: it's gay).
"Born to Make You Happy": This song would work well as a satirical opening number, featuring Cinderella, Tiana, Mulan, and Snow White singing in harmony. Ideally, it would build up to a climax of despair as they lament the patriarchal, hierarchical system that binds them to lives spent in their respective castles, having vanilla sex with their perpetually absent, womanizing Prince Charmings.
"Work B**ch": This song would be the perfect theme for the Evil Stepmother character, who celebrates her riches and relishes watching our girls toil away (and who also embodies the evils of white feminism). Possibly it could also feature the Beast, Shen from Mulan, and the many, many other characters who have forced Disney princesses to work (or temporarily put them to sleep and/or killed them) until princes save them.
'Once Upon A One More Time' is scheduled to debut in 2020, @AliciaCPowell reports https://t.co/y3knaOpMvq

— Reuters Top News (@Reuters Top News)1553110200.0
"I Wanna Go": This song would be a great solo for Cinderella (played by Carly Rae Jepsen) as she experiences her existential crisis. Reimagined as a slow-burning ballad that culminates in a dramatic dance sequence, this would be a perfect song to mark the start of Cinderella's spiritual awakening.

"What You Need": As the Fairy Godmother inevitably descends from the rafters, decked out in glittering wings, she should definitely be singing this song, turning Cinderella's lamentations into an all-out party complete with backup dancers, backflips, and tons of glitter. Ideally, it would be broken up with smart passages from feminist theory texts. And this time, instead of shoes and a fancy dress, Cinderella would, of course, receive a gorgeous, larger-than-life copy of Betty Friedan's The Feminine Mystique.
"Brave New Girl": This song could soundtrack Cinderella's transformation from subservient wife to second-wave feminist. Perhaps its verses could be broken up by a fight with her husband in which she tries to weigh in on some political policy, and when he tells her that he only wants her to be a wife, not a person, Cinderella leaves in a huff to meet up with her girls.
"Circus": This song is perfect for when the princess posse meets up at a masquerade ball-themed club, and we meet each character, each dressed more fabulously than the last.
"If U Seek Amy": Just hear me out on this one: wouldn't this not-at-all-explicit song be the ideal soundtrack for the moment Cinderella meets a female love interest (Mulan?) and, as a trick, says her name is Amy, leading to a flirtatious chase?
"Toxic": This masterwork of modern composition must have a starring moment in the show. It may be perfect for the moment when Prince Charming returns to seduce Cinderella, tricking her with promises of money and Happily Ever After if only she keeps her head down and follows the rules. Stripped down to a tragic piano ballad, this song and its presentation in the show should emphasize the true dangers of staying in toxic relationships.
Britney Spears - Toxic (Official Music Video) www.youtube.com
"Stronger": This would be great for the moment when Mulan, critical of the second-wave feminists, decides to go rogue. While on the way, she meets the seminal Eighth Dwarf, who teaches her all about intersectionality and third-wave feminism while calling attention to people who have been left out of traditional narratives; here would be a good place for Mulan to realize that she might be non-binary.

"Oops… I Did It Again": This song would work well for the moment the audience discovers that the Eighth Dwarf is actually a traitor in allegiance with the narrator and the evil stepmother. Together, they're dedicated to passing down the same narratives through generations, to preserve tradition, order, and white supremacy; and once again, they've succeeded...or so they think.
"Baby One More Time": The musical is called Once Upon a One More Time, after all, so this song will almost definitely be the finale and/or curtain call. It will hopefully feature the slaying of the musical's villains, a dance number, and a reconciliatory kiss between Cinderella and Mulan. Perhaps, at the end, they'll get married onstage (hopefully both wearing suits) and their vows could include denouncing gender and proclaiming their allegiance to intersectional feminism and environmental activism. Weary but full of love, they could promise each other that they will always be willing to jump back into the fight, no matter how many times the patriarchy hits them, baby, one more time.
Hopefully, the Broadway team takes note of the nuanced and cohesive narrative outlined in this article and utilize it to tell the most meaningful story possible. Hopefully, they won't misuse their massive platform to create a tribute to white, capitalist-based feminism, and will instead transform these historically oppressive fairytales into stories that actually empower all women, especially those left out of the traditional narratives.
Once Upon a One More Time opens April 12 in Chicago. Until then, we'll be pumping Britney full-volume.
---
Eden Arielle Gordon is a writer and musician from New York City. Follow her on Twitter @edenarielmusic.

---
POP⚡DUST | Read More...
Amy Schumer's "Growing" Is Stunted
How is Grime Different from Hip-Hop, and Is Drake Ruining It?