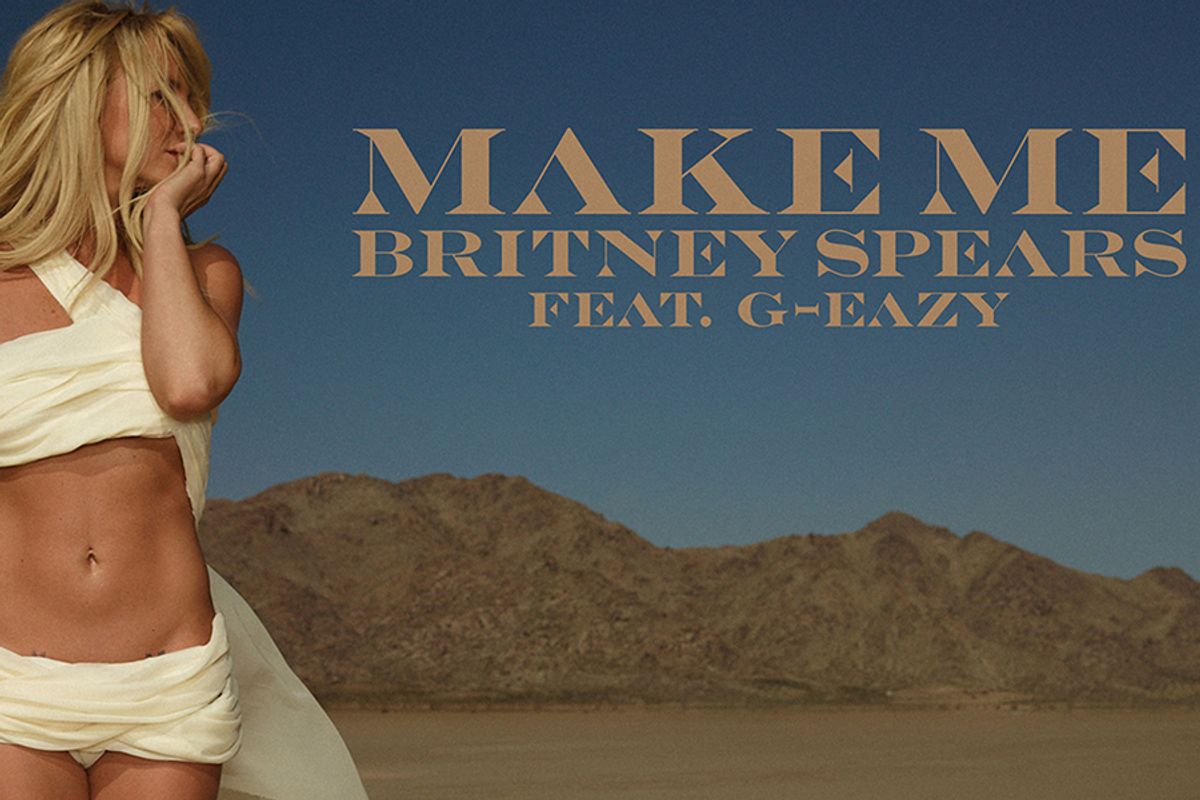 There's no way you are escaping Britney Spears' brand new slow-jam Make Me today. The blustering new track -- which the pop-legend co-wrote with BURNS, Joe Janiak and Gerald Gillum -- is the first taste from her forthcoming ninth studio album, the apt follow-up to 2013's scruffy Work Bitch-led Britney Jean LP. Tapping into that well of caldron-hot slink and a '90s-reflected glimmer, Make Me takes cues from Selena Gomez and Nick Jonas, but with the sex and maturity only Spears knows and could possibly deliver authentically.
Make Me is available now on iTunes. Since its release at midnight on Thursday (July 14), the track has found itself snuggled nicely at No. 1 on the singles chart, just ahead Katy Perry's new song, Rise (an inspirational gem for summer Olympics coverage).
"Friday, I'm dreaming a mile a minute 'bout somebody. This feeling, I wanna go with it, cause there's no way we're hiding away from this tonight, oh, this tonight," Spears whispers on the first verse, and it is clear she means business -- there is less autotune these days, allowing her vocal to pierce through the clutter. "Can tell you want me. By the way I see you starin' 'cross the room, babe. No shame in the game. Just cut the shit, be honest. Yeah, you know what you gotta do tonight, do tonight."
She then is even more candid about what she wants on the pre-hook. "I just want you to make me move like it ain't a choice for you, like you got a job to do. Just want you to raise my roof. Something sensational (oh yeah)..."
In other Spears music news, her track Private Show is the background theme for her new fragrance commercial (of the same name).
Spears' new studio album is expected to arrive later this year.
Listen to Make Me below:
---
READ MORE ABOUT MUSIC...
Katy Perry Drops Simmering New Olympics Track
Postmodern Jukebox & Melinda Doolittle Remake Britney Spears' 'Toxic'
Popdust's 20 Best Albums of 2016 (so far)
---
Christina Aguilera: Dirrty
—When it came to the music video for her 2002 hit, Xtina wasn't afraid to live up to the title. The then 22-year-old got down and real dirty, leaving nothing to the imagination in her booty baring ensemble. The overtly sexual video included plenty of scenes of Christina dirty dancing with both hot dudes and hot chicks—there's a reason why the video's director, David LaChapelle, referred to it as "a post-apocalyptic orgy"   Watch Christina get down and Dirrty
in her video here
Britney Spears: Toxic
—Brit Brit's 2004 iconic masterpiece seriously upped the sexy ante when it came to female performers' music videos. After pushing the boundaries with a sexed-up Catholic school girl get-up in
Baby One More Time
, and tight red latex jumpsuit in
Oops! I Did It Again
, Spears decided to ditch the clothes and go fully naked, aside from some serious bling, for
Toxic
.   Watch Britney's
Toxic
video here
  And then, watch this truly bizarre
video of a chick lip synching Toxic while having a food shower
Britney Spears: Womanizer
—Oops…she did it again! Brit Brit took the nekkidness yet further with her
Womanizer
comeback video in 2008. Foregoing the diamonds in favor of total unadulterated nudeness, Spears let it all hang out…..all in the name of "art"… natch…..   Watch Brit Brit flaunt her wares
in the video here
D'Angelo: Untitled
—The R & B singer showed how low he's willing to go, flashing his man junk, as well as his washboard abs, in the 2000 video for
Untitled
  Watch the full, oh so damn
sexy video here
  And, check out video of D'Angelo performing Untitled, live,
right here
Gotye: Somebody That I Used To Know
—Wouter Andre "Wally" De Backer enlisted the services of New Zealand born fellow musician, Kimbra, for 2011 hit. The couple held nothing back when it came to the super arty accompanying video—stripping down to fully naked, covered in just body paint   Watch the original
version here
  Then watch Goyte's supercut
version here
  And, watch the nerdiest Star Wars parody
cover video ever, right here
Chris Isaak: Wicked Game
—Any straight dude, or lesbian chick, that was a teenager watching MTV back in 1989 very likely remembers only too well a topless Helena Christensen frolicking on a beach with Chris Isaak. The super sexy video, combined with a semi-naked supermodel and moody black and white imagery pretty much ruined every real life beach make-out sessions from that point on—pretty much like
From Here to Eternity
… on steroids..   Watch the super sexy
video here
Madonna: Justify My Love
—Madge was at her scandalous best in the infamous 1990 video. Shot in moody, atmospheric black and white, the
Justify My Love
video really pushed the sexual boundaries envelope at the time—with Madonna cavorting around in lingerie with a number of different male companions, bondage, race mixing, group sex.. it was all there. The video doesn't seem so outrageous by today's standards, but it was so groundbreaking back in the day that MTV banned it for being too sexy..   Watch Madge's super steamy
video right here
Miley Cyrus: Wrecking Ball
—Miley's well documented descent into pretty much permanent nekkidness kicked off with her infamous 2013
Wrecking Ball
video and just proceeded downhill from there on in. Hannah Montana was gone forever from our collective minds once we all got a view of the totally naked Miley swinging from a canon ball. Renown super perv photographer Terry Richardson was the mastermind behind the video, which has been the subject of a whole slew of parodies.   Watch the original Miley
video here
  Then, watch a masterful parody of the
Wrecking Ball
video here
  And, finally, watch the hedgehog version of
Wrecking Ball
right here
Katy Perry: California Gurls
—A lilac hair hued Katy Kat fearlessly flaunted her totally naked bod—and looked amazing while at it—during her super girly candy-packed, cotton candy 2010 video for
California Gurls
….Snoop Dogg added his vocal skills to the track, but, thankfully spared us his nakedness…   Watch the original Katy Perry
video here
  And, an amazing Bollywood
version here
Robin Thicke: Blurred Lines
—The 38-year-old pro douchebag was at his very douchebag best in the video for his 2013 controversial hit. As if a song justifying date rape isn't douchey enough, the video basically comprises of Thicke frolicking around with topless models and boasting about his supposed big dick. Hmmmm…. wonder why Paula Patton eventually dumped his sorry ass…   Watch the full uncensored
video here
  And watch a genius gender swap parody
video here
Rihanna: Stay
—RiRi's never been known for her shy, retiring nature, so, nobody was shocked when she dared to bare all for her 2013 atmospheric music video for
Stay
. Moody and super sexy, splashing around naked in the bath, a "raw" and emotional Rihanna showed off her acting skills every bit as much as her God given goods..   Watch the original Rihanna
video here
  And then, watch Vin Diesel's utterly bizarre
cover version here
Robbie Williams: Rock DJ
—Britain's very favorite boy band export generously treated his female and gay fans to a steamy and sexy Magic Mike style strip down, resulting in a tantalizing glimpse of his rock hard bod in the 2000 video for
Rock DJ
. Sadly, we didn't get a glimpse of Robbie's man bits as they were censored out…. but, lets face it, the abs made up for all in all..   Watch the sizzling, stripped down
video here
The White Stripes: I Just Don't Know What To Do With Myself
—When it came to the band's music video for their 2003 hit, we're pretty sure that plenty of teenage boys knew only too well what they wanted to do with themselves after watching British born supermodel, Kate Moss, pole dancing in lingerie…. Pass the tissues please….   Watch the super sexy
video here
Sigur Rós: Fjögur Píanó
—The ever controversial Shia LaBeouf is known for his love of pushing boundaries, so he was the perfect fit for Icelandic post-rock band's 2012 artsy, super steamy video/short film. Kicking off in bed, wearing a pair of tights whiteys, LaBeouf soon stripped down to totally naked, letting it all hang loose, before donning a pair of nylons and a fake fur bolero jacket. With plenty of weird interpretive dance moves, naked flesh, and simulated sex moves, the video is bizarre to say the least…   Watch the full and incredibly
exposed video here