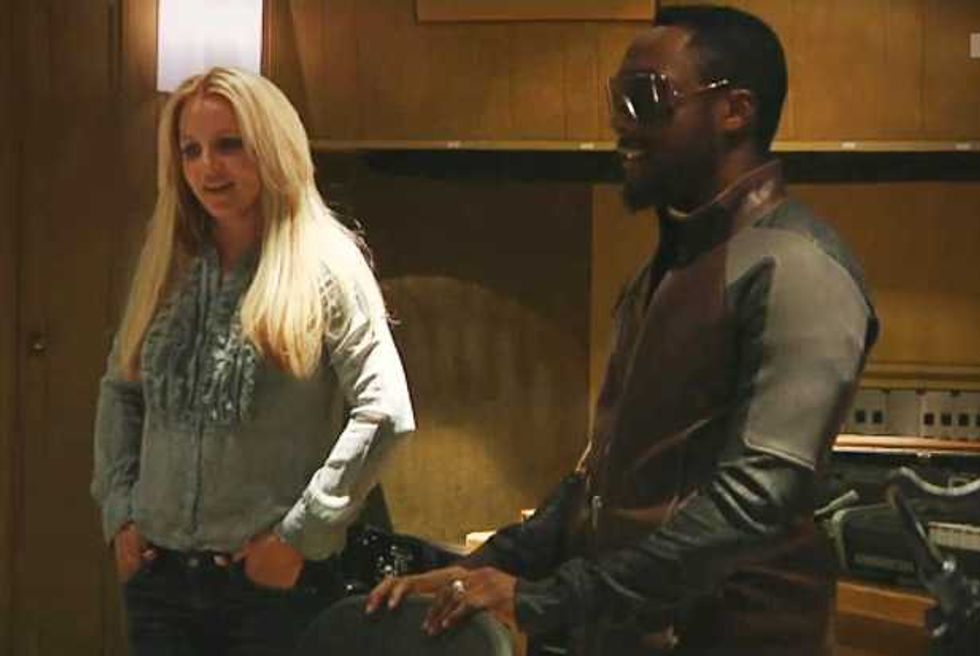 So, did you know Britney Spears is at the point where she genuinely wants to enjoy herself?
If you watched the MTV special I Am the Femme Fatale last night, you'd better know, because she said it twice—once in a promo, once for real. And in case you missed that, Britney ended the show with pretty-much-the-same "I genuinely love what I do. This is what I love to do." It's not just a sound bite—it's a mantra. Britney's okay, honest! All those reports of her being distant, unengaged and kinda sad are wrong. And you can totally disregard any icky feelings you might have about her zombie career, because she genuinely loves it. She said it herself! See, she's smiling!
As a documentary, I Am the Femme Fatale was a failure. It's haphazard, goes off on tangents and reveals nothing juicier than Britney sometimes wearing Uggs—yes! Uggs!—when the camera's not on her feet. But this was never supposed to be a documentary. Even the promotional material calls it a "special," which could mean anything. No, this is crisis PR.
There've been some rumors going around that things aren't okay in the Britney zone, as well as some only semi-authorized interview answers, and her management wants to shut that right down. We don't blame them! Once the public hears that her album's "just good energy" or that she's supposed to be going on tour, the Britney brand is ruined forever. Just ask Carson Daly.
So instead we've got I Am the Femme Fatale, a quasi-sequel to 2008's For the Record. But the two aren't much alike at all. The personal drama on For the Record was airbrushed and quantized, but at least it was there. I Am the Femme Fatale doesn't acknowledge that drama ever existed. It's the unspoken premise, of course, but the content is chipper, chipper, chipper. The plot, such as it is, follows a few carefully curated moments leading up to Britney's Vegas concert. But the real focus is Britney herself. She is, has always been and will always be fantastic, the video says. She's got a great team, amazing fans and an exciting life. The word "exciting" is said a lot. Her first Moment, after the epic music and crowd cheering her arrival on stage, is a smile—or wince—after her name is announced. Britney's back, and she's happy.
Not everyone buys it, of course—just check out the comments on MTV's article. The first—posted by someone who's obviously Team Gaga, but still—starts out: "HAHAHAHHA Sorry Larry [Rudolph, Britney's manager], but people aren't buying into this load of crap." Even the guy proclaiming that "Britney is back" admits she really isn't performing better than ever. But the special would still ring false even if people hadn't already begun to notice the cracks in the Britney edifice.
Let's start with the "enjoy herself" line. Whenever performers say they just want to enjoy themselves, you know they've given up. It's an implied "oh well, my show might be subpar, but hey, I'm having fun, right?" There's a more sinister reading, too, if you choose to hear it—if now is the point where they want to enjoy themselves, what were they doing before?
But forget the exact words; the cracks really start to show whenever Britney speaks at all. Throughout the interview, she sounds nothing like herself. You know her voice: high-pitched, coquettish, kittenish. You probably heard it multiple times in Britney's perfume expand=1] commercial, played about four times against the broadcast and whose glossy advertising fantasy is particularly jarring in comparison. In the special, Britney sounds tired and throaty; at worst, she sounds like she's seconds away from tears. It doesn't matter how sweetly she talks up her life or how many times she seal-claps after seeing something (by our count, twice); her voice says it all.
Let's break down the special's most harrowing and/or mindless moments, with clips, after the jump:
Leading-est Questions: MTV News correspondent Sway doesn't interview Britney so much as mark the spots where she's supposed to daub a little platitude onto the footage. But we'll limit ourselves to two offenders: "I've heard that when you go into the studio, you get straight to business," and "When the screen came out, you had to have butterflies." Any guesses as to how Britney answered those? (Hint: in the affirmative.)
AWOL Awards: I Am The Femme Fatale is supposedly an "intimate peek inside [Britney's] world," but an awful lot of people are missing, including: Max Martin. Dr. Luke. Mother, father, kids, or any other family. Friends not on payroll. Most people, in fact, not involved in the Britney assembly team. Telling, no?
Creepiest Scene: Britney is busy-busy-busy, but she's still got time to share a moment of blissful, scripted nonversation with assistant Brett Miller. The two trade awkward lines about how wonderful it is to finally get a moment to relax, and Britney mumbles something about "embracing the moment before the chaos." The two compare shoes, Britney nearly crying over her assistant's studded heels. Then they talk about how they should totally see a movie, except they don't know what's playing, and Brett would rather stay in anyway. "I'm a bad girl," Britney agrees, more punished-child than vixen. And then they leave, and we're left to wonder if all of Britney's social life is like this.
Biggest WTF: Toward the beginning, Britney and crew meet up with will.i.am at the studio. You'd expect him to talk about his Femme Fatale track, "Big Fat Bass," and he does. But before that, we get a preview of the custom car he's supposedly building, a flash of his Intel badge (he's "director of creative innovation") and a monologue about how he'd love to work with the company full-time because he likes how they're "the people who are responsible for the computers" who "[make] new devices and stuff." We're still not sure whether he was just nerding out or whether he's collecting a check now from Intel, but we do know this: nothing in this segment has anything to do with Britney Spears, who just stands there, blankly looking on.
Most Unintended-Or-Is-It-Actually-Intended? Moment: We see Britney in the car heading to the studio, so you'd expect B-roll of the California road. You wouldn't necessarily expect part of that road to be the part with a nice big billboard reading "Sexually Reckless?" It's a real billboard by the AIDS Healthcare Foundation, but we can't help but think that in light of Britney's tabloid drama, maybe this bit of footage could've been left on the hard drive.
Oh Wait, There's A Concert Too: OK, we're saying it: Britney is galaxies beneath the performer she once was. It isn't her age. It isn't her competition. It's partly her choreography—middle-school cheerleaders have attempted more complex routines—but mostly it's her execution: uninvolved, not really there. Her Vegas routine consists of the following: moving her hands while standing, walking downstage, moving her hands while swaying a bit, pulsing her body, doing aerobics jumps, engaging in some watered-down burlesque with the backup dancers, climbing up some scaffolding to clutch at the bars. Any given backup dancer, fan or even techie would be more compelling to watch, and the camera knows it; much of the final chorus of "Till the World Ends" is shot extremely wide, Britney a distant figure occasionally blocked by her dancers.
Best Performance by a Pulse: Britney's not completely listless throughout the special—a few times, she legitimately sounds happy! The first is silly; while talking about the muggy "Till The World Ends" shoot, she giggles and shares that the set felt like there was "poop everywhere." Mature? No, but it takes a certain mental spark to jump from humidity to poo. Later, while she talks about performing, we get this quote: "When you get off the stage, you just want to go somewhere! You just want to go somewhere! You don't want to watch TV—you can't explain it." OK, it's pretty much a preteen's emotion—but it's still an emotion!
Saddest Quotes Out Of Context: We admit these may be unfair. Far be it from us to cut out such critical framing as Britney's creative spark and the crazy, crazy weeks ahead of her. But, well, these are things Britney said: "I have so much going on, I can't really explain it. Just butterflies, I guess." And later on, talking about her song-and-dance-filled childhood: "My mom's friends were like, 'Does she ever shut up? What is wrong with your child?'"
But the saddest quote of all can keep its context. It's toward the end, right after Sway asked whether Britney hoped she'd still be performing at nearly thirty. Pause. Sway rushes to steer Britney back on course, and eventually, after prompting, she says it all: "I… I think I hoped I would be."