Music Features
The singer-songwriter sat down with Popdust for an exclusive interview.
In a 2018 profile of Bruno Major, the headline read: "Bruno Major's Music Is Designed to Make You Cry."
When I spoke to the British crooner, he laughed at the prospect, but after two buzzing LPs, Bruno Major remained leery of the idea that his music was inherently sad. "There's something sort of Machiavelli about that," he said of the headline. "But I cry when I'm writing songs, and if I'm translating that to fans, then it's really only a compliment."
Major's sophomore effort, To Let a Good Thing Die, is still soaked in slow-burning neo-soul ballads, but when further dissected offers fleeting glimpses of hope. "I'll Sleep When I'm Older" basks in life's little wonders: from conversations with strangers to the views from an airplane window. Meanwhile, "She Chose Me" is a soft-spoken diddy that merely thanks his beautiful partner for loving him.
As easy-going as To Let a Good Thing Die sounds, Major admits the process behind the album was anything but. "It was definitely tricky," Major said. "When you're making your first album, no one is waiting for it. You generally don't have anything to do, and you have your whole life to write it."
---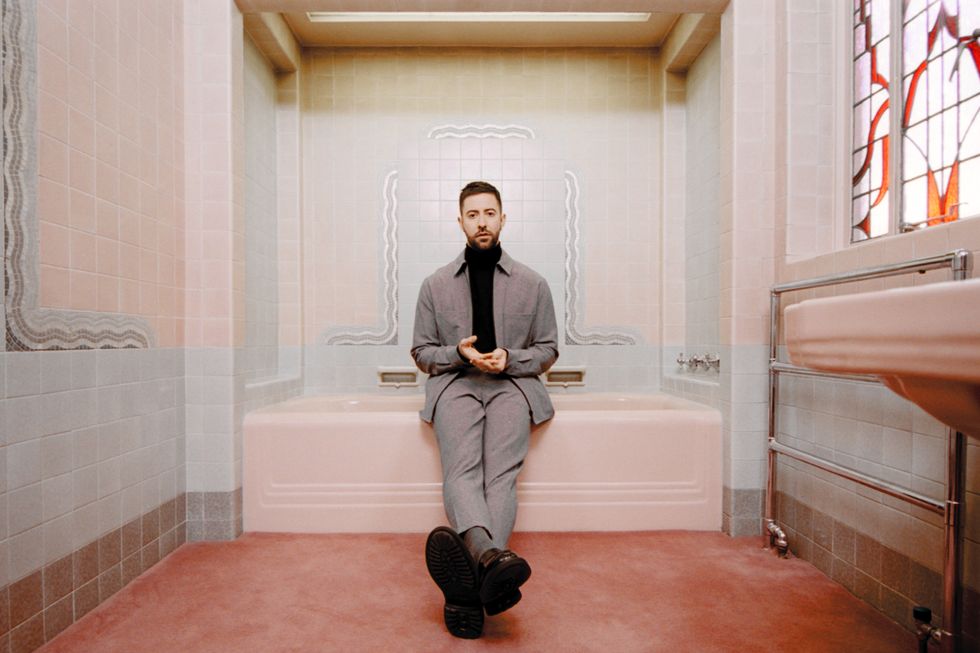 But now, Major is a pop star on the rise, and in the 18 months between projects, he was swamped with newfound responsibilities. To keep his mental state balanced was a full-time job. "When I get on stage I have to always be the strongest version of myself. Whether I'm tired or unwell, I have to close myself up emotionally and give 100%. I kinda became like a soldier in my head. But the opposite is true when I'm recording. You have to be so open and delicate. To turn the tap on and off like that during this creation process was challenging."

Was there a particular moment you found most challenging during the recording process?
I just have to be honest with myself. It's always the same for me. All the album is for me is a musical explanation, a diary for where I am in my life. It's about being able to look at yourself and give an honest appraisal, to not try to pretend you're something you're not or feel something [you're not feeling.]
Songs like "I'll Sleep When I'm Older" really revel in the beauty of life, but a lot of the experiences you listed have been taken away because of quarantine.
Yeah, you're right. That song is really written by someone who is young and in the prime of their life. They're trying to get done everything a young man has to get done: making money, getting your career together, all while realizing so much time is dedicated to just surviving.
But not really "living"?
Like f*ck, I wanna actually live! I wanna actually spend the time I have here experiencing things I want to do.
But now with COVID-19, those responsibilities have kinda stopped.
This is a crazy experience in itself. Not one that we would search for, but I do think there are lessons to be learned. I was in a park the other day, and I was staring at a tree, and I realized how beautiful this tree was. I just stared at it for ages and realized I'd never done that before because I'm always just thinking about myself and what I need to do.
It's true, and I feel like the next step is taking these appreciations and reimplementing that mindset back into our regular life. Maybe we can all come back from this with a new-found appreciation for life.
Yeah, man. I had such an intense period after making my first album. It took me a year to make that album, then I went straight on tour and basically toured the whole time. I only had two weeks off over Christmas. After I finished To Let a Good Thing Die I was meant to go straight back into touring again.
It's so easy to be wrapped up in everything.
It's just amazing that we have opportunities all the time that we [say yes to]: "Yeah I wanna perform there, yes I'll fly there, yes i'll do this and that," and to be honest, I was already burnt out. This time has given me the opportunity to recalibrate my mind. I feel guilty saying i've had a nice time because of how awful this is, but I have had a nice time. I'm very grateful."
Listen to To Let a Good Thing Die below.
To Let A Good Thing Die