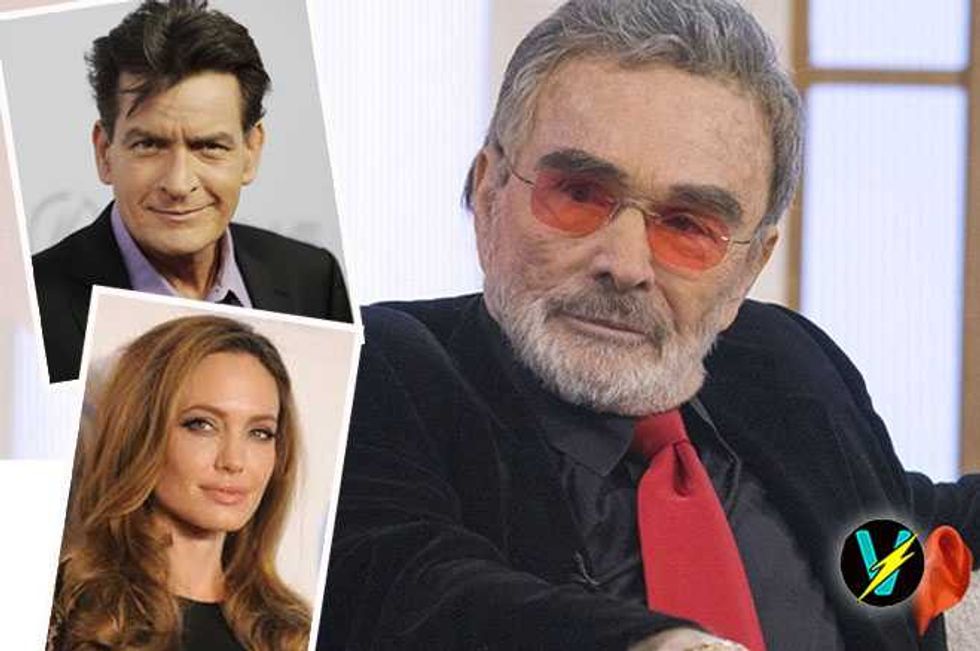 Burt Reynolds Charlie Sheen Angelina Jolie
Burt Reynolds appeared on Loose Women today, which is the British equivalent of The View, and had a whole heap to say about his fellow Hollywood actors.
Watch This Morning's Truly Tragic David Cassidy Drunk Bankruptcy Interview
The 79 year old certainly didn't hold back when talking about Charlie Sheen and his recent revelation that he is HIV positive.  Interviewer Ruth Langsford had mentioned the rumors that were running rife in the 1980s about Reynolds' frail appearance and health, and asked if the Boogie Nights actor felt sympathy for what Sheen is going through now.  It's fair to say that she and the live studio audience were fairly stunned by his response.
"He deserves it.  He misbehaved badly.  Very badly.  But you know when you're that age, it's tough.  All those things are coming at you and it's difficult."
Daniel Craig Is NOT Going To Do His Bond Pout This Morning—So Just Stop Asking
Reynolds was at great pains to stress what a decent guy Martin Sheen, Charlie's father is, and what good friends they are—but he certainly did not reserve any sympathy for Charlie.
"He's getting what he deserves.  If you're going to misbehave like that, they're going to get you."
Wow!  To be honest, generally he is just voicing a fair proportion of the public's viewpoint—that Charlie played with fire and got burned, but it sounded pretty heartless the way Burt said it.  There's also a slight element of that old adage, "people in glass houses....".  Is Reynolds as unsympathetic and brutally frank about his own spiral into addiction, bad investments, debts, wife-beating, divorce and bankruptcy?
Burt Reynolds Charlie Sheen Angelina Jolie
It was a pretty awkward moment to say the least, but Burt was on a roll. He then went on to discuss his good friend Jon Voight's relationship with his daughter Angelina Jolie and said that Jon doesn't deserve the way Jolie has treated him.
Bearing in mind how notoriously private 40 year old Jolie is about her relationship with her father, she must have been thrilled to hear Reynolds repeat an anecdote about when she was just ten years old. Apparently she said and did something in front of Reynolds that was so shocking, he warned Voight that "you're in big trouble, she is going to be wild".
Angelina Jolie On Druggie Wild Child To Mom Evolution—Brad Pitt Wedding Plans
He seems to completely overlook the years of humanitarian work and the philanthropy of the more mature Jolie. Co-host Coleen Nolan pointed out that she thought father and daughter had reconciled now, but indiscreet Burt said "she still has moments".
It was certainly a weird, stilted, awkward interview that never recovered from the Sheen statements.  As one audience member told The Sun;
"The insensitivity of the man was unbelievable, and several people in the audience were sure his remarks would be edited out."
NeNe Leakes Throws Major Shade At The View After Super Awkward Interview
Well they weren't, so I guess that's two less Christmas cards Burt will be getting this year.
Burt Reynolds Charlie Sheen Angelina Jolie
Burt Reynolds Charlie Sheen Angelina Jolie