Top Stories
"Have you heard the good news of our lord and savior, Sauron?" is making a comeback
'Bus Stop Ringwraith' memes are making a big comeback
The image of a Nazgûl at a bus stop can be traced back to a five year old Reddit post titled "I think I'll take the next one..."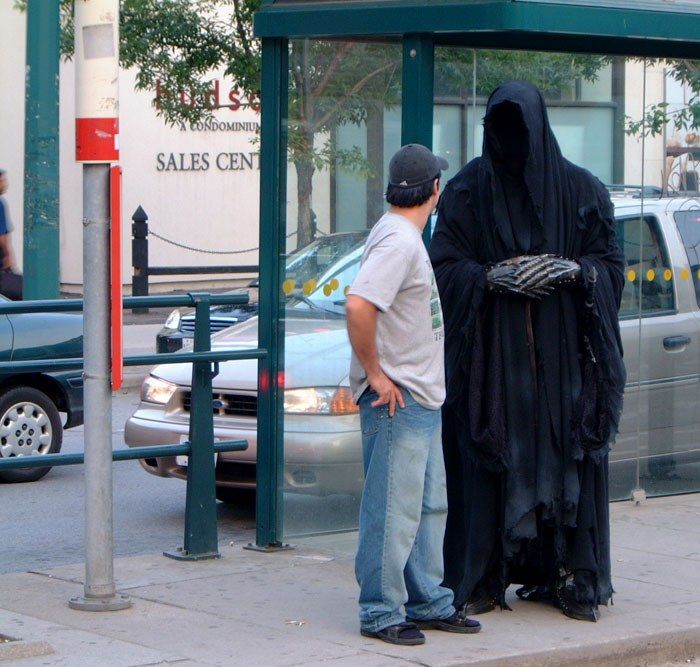 For those who are out of the loop, the Nazgûl (aka Ringwraiths or Black Riders) are ancillary minions of Sauron in JRR Tolkien's Lord of the Rings trilogy; nine once-humans who succumbed to the evil of the One Ring.
After being reposted to r/FiveYearsAgoOnReddit earlier this month, the picture made a resurgence in a handful of new, hilarious memes that meme authority knowyourmeme is (sickeningly) calling 'Grim Reaper' (when there are so many better names for it). A particularly hilarious collection shared by comedian/YouTuber AfricanoBOi is on the rise in the meme markets (so buy now before it peaks!).
AfricanoBOi's 'Bus Stop Ringwraith' meme collection (22 images) has been shared over 37,000 times in the last three days and is particularly funny for combining the original image with non-Tolkien humor. While "Excuse me sir, do you have a moment to talk about our lord and savior, Sauron?" is funny to people who paid to sit through three installments of The Hobbit (which could have easily been one movie), the repurposing of the Bus Stop Nazgûl with things that are universally funny makes this meme one to watch. Favorites include the Little Uzi Vert and 'deadass New York' meme variations.

Check out the whole array of memes here:
How do 'Bus Stop Ringwraiths' rank in the memes of 2017?
Popdust's meme experts are seeing Bus Stop Nazgûl popping up everywhere, but they haven't even broken the surface yet in terms of trends. Projections are showing that Bus Stop Ringwraiths will rank somewhere between Trash Doves and Sound Grip in terms of overall popularity. We'll know for sure that this meme has made it when we get a Totoro bus stop parody out of it.
Follow Popdust on Facebook and Twitter for more meme reports!