FILM & TV
Honestly, this movie is required viewing for every queer person alive right now.
WARNING: THIS ARTICLE CONTAINS MAJOR SPOILERS
I remember reading André Aciman's classic, Call Me By Your Name for the first time earlier this year. I'm a huge consumer of queer literature, and I had been desperate for more after finishing Benjamin Alire Sáenz's Aristotle and Dante Discover the Secrets of the Universe. A friend of mine from work suggested it - so I made the Amazon order, and a few weeks later I was lost in the world of this intensely erotic, touching story of a short lived but passionate summer romance.
In Call Me By Your Name, you watch the summer fling of Elio, the seventeen year old son of an archeology professor, and the American grad student, Oliver, who comes to stay with the family for the summer. Throughout this story, we see Elio grow into his sexuality and fall in love for the first time - only to have that love end as quickly as it began. It's a sensual journey that's told with an honesty that I haven't seen in a queer movie before.
[rebelmouse-proxy-image https://media.rbl.ms/image?u=/images/M/MV5BNjkwZWFlNTktODc1Yi00MThjLTljOGUtY2JjMmJiZDU5NjM0XkEyXkFqcGdeQXVyNjI0NzY4OTE@._V1_SY1000_CR0,0,1333,1000_AL_.jpg&ho=https://images-na.ssl-images-amazon.com&s=575&h=b65211e01c231a6d07b14bdd9b5c71ce9fd98cb5247d7b5328f86313941f71c0&size=980x&c=2748863662 image-library="0" caption="Elio, played by Timoth\u00e9e Chalamet. (images-na.ssl-images-amazon.com)" pin_description="" photo_credit_src="https://media.rbl.ms/image?u=%2Fimages%2FM%2FMV5BNjkwZWFlNTktODc1Yi00MThjLTljOGUtY2JjMmJiZDU5NjM0XkEyXkFqcGdeQXVyNjI0NzY4OTE%40._V1_SY1000_CR0%2C0%2C1333%2C1000_AL_.jpg&ho=https%3A%2F%2Fimages-na.ssl-images-amazon.com&s=575&h=b65211e01c231a6d07b14bdd9b5c71ce9fd98cb5247d7b5328f86313941f71c0&size=980x&c=2748863662" crop_info="%7B%22image%22%3A%20%22https%3A//media.rbl.ms/image%3Fu%3D/images/M/MV5BNjkwZWFlNTktODc1Yi00MThjLTljOGUtY2JjMmJiZDU5NjM0XkEyXkFqcGdeQXVyNjI0NzY4OTE%40._V1_SY1000_CR0%2C0%2C1333%2C1000_AL_.jpg%26ho%3Dhttps%3A//images-na.ssl-images-amazon.com%26s%3D575%26h%3Db65211e01c231a6d07b14bdd9b5c71ce9fd98cb5247d7b5328f86313941f71c0%26size%3D980x%26c%3D2748863662%22%7D" expand=1 photo_credit=""] Elio, played by Timothée Chalamet. (images-na.ssl-images-amazon.com)
And by honesty, I mean, this is one of the first movies I've watched that's shown a bisexual teenager's struggle with sexuality and love in a way that's not overdone or melodramatic. Elio is dramatic, sure, but as any normal teenager would be. He loves fiercely, and Chalamet shows that in every move he makes. Every time Elio is in a scene with Oliver, you can see him change. You see the want in his eyes, and you can feel the energy that Chalamet worked into the character so well. There's never a moment of "That's fake," or "That's not what gay teens do," because it totally was.
Oliver, his love interest, is also such an interesting character. He's an American who visits over the summer. He falls for Elio, but he knows what that means in the world they live in, but that's not what stops him. He only ever hesitates, because he worries Elio doesn't want him. And when they finally make love, he's scared that he's hurt Elio, because he remembers the regret he felt his first time. Oliver is not a character that hates himself, he just loves Elio. And that's so crazy to see in a film nowadays.
I found myself relating to these two in ways that I'd never related to other queer characters before, because the love they felt was so genuine. And so did the heartbreak. As I watched Elio pine for Oliver, and demand him, and eventually have a relationship with him - I saw the boys in my life. As I watched Oliver worry about Elio and care for him so much - I saw someone I haven't seen in queer cinema.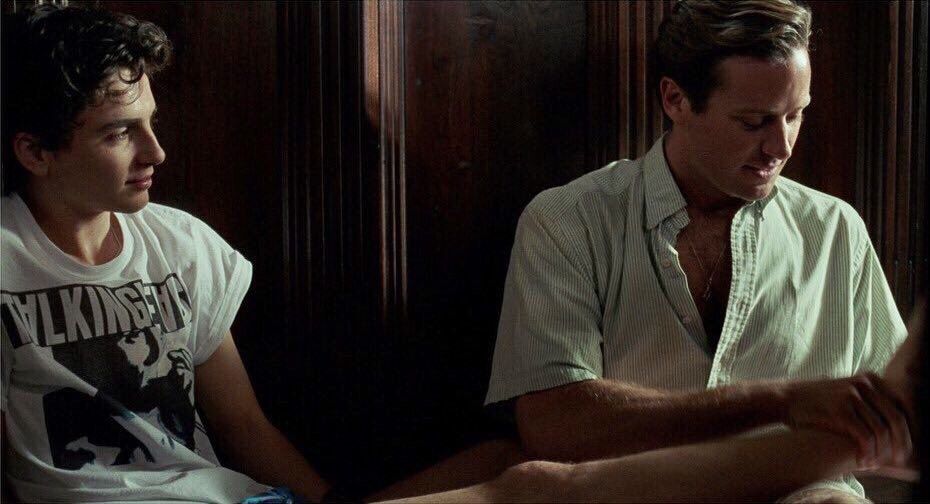 Elio (left) and Oliver (right) sharing an intimate moment. (images-na.ssl-images-amazon.com)
Why is that?
Most queer movies, even the overrated Brokeback Mountain, are told from outside looking in. As a queer person, you don't feel connected to the characters, because most of the time the stories aren't being told for you. This is usually because queer people don't make these movies. Queer directors are few and far between, and most of the time, they aren't able to make movies about their experiences. It's insufferable, and why this movie is such a breath of fresh air.
This movie also avoid the tropes that usually plague popular queer films. There's no melodramatic suicide attempt, or parents who hate their children. The romance in this movie happens, and Elio goes through a certain kind of self-hate, sure, but that's because of his Jewish heritage (and the fact that this movie takes place in 1983). And he gets over it, and goes right back to being in love for the first time. The only heartbreak he ever feels is when he has to tell his love good bye - and it's done in such an understated way.
Even Elio's parents are so different from the parents that you usually see in these movies. They are loving and they care about Elio so, so much, and even go out of their way to say that they understand what Elio goes through. Close to the end of the movie, Elio's father tells him that he's lucky to have found the love that he found with Oliver. Elio is lucky to have found queer love. Queer love is a good thing, and a parent is saying that in one of the most honest and tear-jerking monologues you'll ever hear in a film.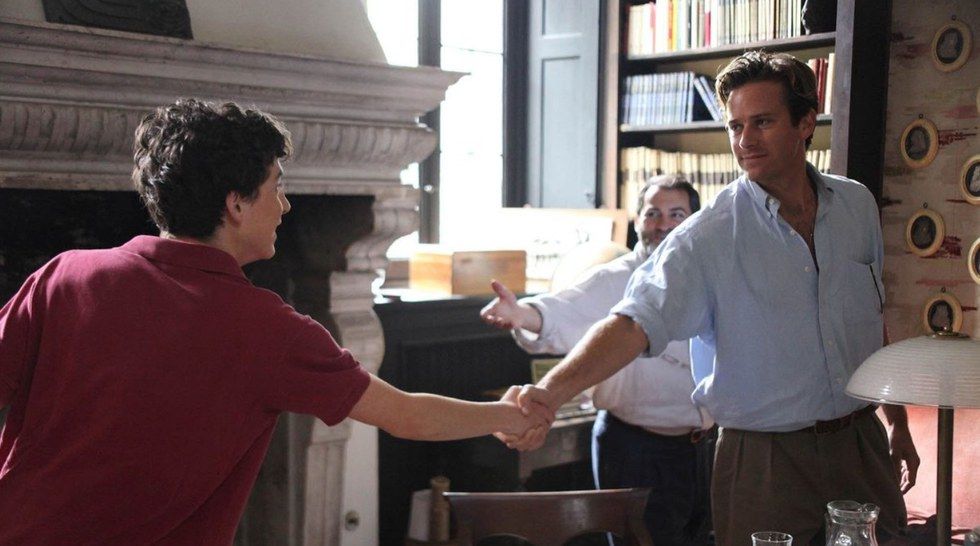 Elio and Oliver first meeting. (images-na.ssl-images-amazon.com)
The only "bad" part of Elio's journey is that his love doesn't last - and that's so true. You're first love almost never lasts - it comes and goes and you have to accept it for what it is. That's something that's usually reserved for straight dramas, about young girls who experience sexuality for the first time. Queer people either kills themselves, get beat up, or have saccharine sweet happy endings. We don't get endings that are simply endings. Not happy, not sad - heartbreaking sure, but real. We don't get to be real!
So why is Call Me By Your Name so important?
We get to see what real queer characters go through. We see their lives, their lust, their heartache in a way that feels inherently personal. If you don't relate to everything, you relate to something. You relate to Elio's self-loathing after his first time. You relate to Oliver's anxiety when Elio avoids him. You relate to Elio's nervous lust for this older boy. You'll relate to something! And that's a lot more than I can say for Brokeback Mountain or that dumb Kevin Kline movie from the 90s.
You will watch this movie and constantly talk about it for days afterwords, because there's just so much that you see and feel so much. And honestly, I can't think of a single queer film that has that effect - not yet.
---
Shann Smith is a freelance writer, screenwriter, playwright, gamer, and film/TV lover. When he's not working on his columns for Popdust, he's doing his best to create and consume as much media as he can!
---
POP⚡ DUST | Read More…
WTWD? | Questions on Season Eight of The Walking Dead: Episode 7
RELEASE RADAR | Legends Collective Soul and Pitbull and The Stereotypes both drop music this week
REVIEW | What "Riverdale" Says About Teen Relationships
BOX OFFICE BREAKDOWN | What's coming to theaters this weekend?
---