Arts
The New Natives and FRIGID New York present a new play about love, loss, and marijuana
Photo: Katelyn Rose Landis
Camel is a timely play to review in this, the 4/20 season. It follows small-time pot dealer Gus (Anthony Severance) and his psychotropic quest to reclaim the memory of a high-school fling. Subject of said fling, Louie (Jillian Geurts), has recently died and begun appearing in his dreams. He sells to his main regular Eddy (Joel Brady) in order to finance buying pot from fellow dealer Ezme (Karen Johal). She sells him an expensive experimental brand called 'Camel' that supposedly allows the user to relive memories. Through this he delves in to the murky realms of his psyche. Gus tries to recapture, and then pick apart, his time with Louie, but will he ultimately find the solace he is looking for?

This play, by relatively new playwright Charly Clive (Previous works include the well-received On Prosperity, and Britney), is at once a memory play and an immediate dystopian-nostalgia piece. Its concerns are hard to pin down neatly. It is not a play about the tragedy of the burnout or the horrors of drug-abuse, though it touches on the subject every now and again. It is a play about the small American town and its inhabitants, but you would never call that its thesis. In its simplest, it is a fascinating slice-of-life, looking at loss and the relationship of the millennial generation to drugs. Interestingly, the play neither condemns nor condones drug use. The character of Gus is probably using unwisely, however we clearly see him having the spiritual experience he craves. His problem is not drugs, per se, but his longing for a feeling or place that does not exist, and perhaps could never have existed. This feeling of not knowing is what drives him forward trying to capture the unknowable, and wreaks havoc on his emotional stability.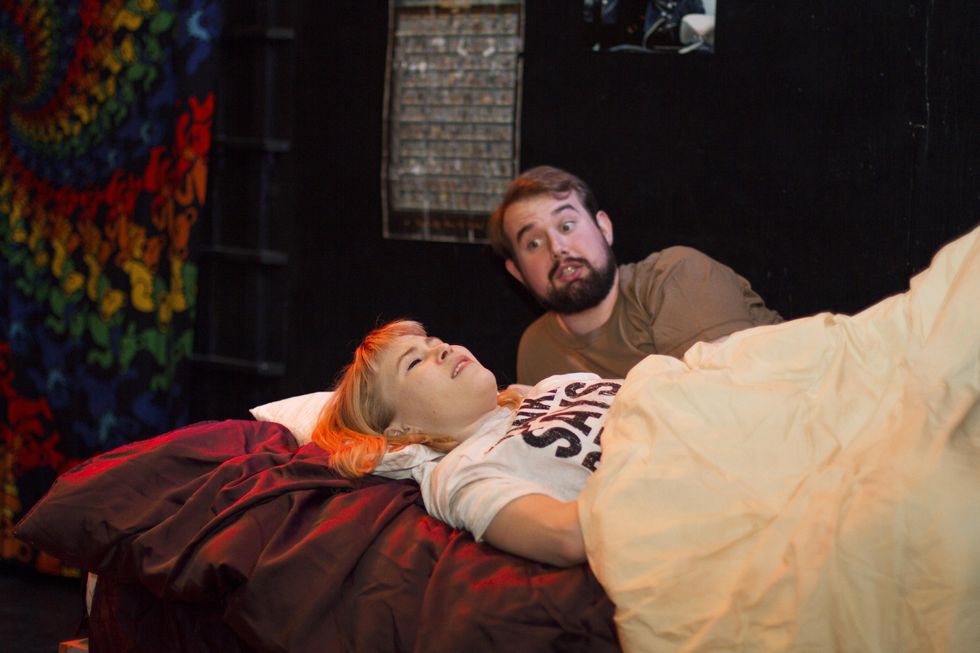 Photo: Katelyn Rose Landis
Anthony Severance is the MVP of this production. He is onstage for practically the whole show, and his character's decline is masterful to watch. By the time he gets feverish the audience is ready to watch him be so, and they are prepared to tune in to whatever borderline insanity he might churn out. Karen Johal is, like her character, an expert in throwing back whatever is thrown at her. Absolutely necessary when dealing with Gus. Joel Brady is a wonderfully lovable small town nobody, and is faultless in his simplicity. Jillian Geurts is a marvelous memory, and, if anything, the only crime she commits is not being on stage more often. Director Michael Bradshaw Flynn has made excellent use of his cast.
Where the play falls into trouble is length and pacing. The first act feels unnecessarily padded. So much is said about the characters that feels redundant, or has already been shown elsewhere, and it stalls the plot, preventing us from getting to the meat of play sooner. In contrast, the play's climax and denouement all seem to happen at once. This is interesting stylistically, but prevents the play from drawing a palpable conclusion, or leaving the audience with a distinct emotion to go home with. Camel toes the line with regard to conventional structure. It never becomes overly problematic, but it is occasionally distracting to an audience member.
The New Natives and FRIGID New York have put together something special here. The cast are strong, the writing is funny, the direction is excellent, and the final product an edible delight. Clive's voice as a playwright is one that will likely be heard often in the coming years. You would be wise to start listening now. Catch Camel while you still can.
From Your Site Articles
Related Articles Around the Web