camel toe prevention
Camel toe is the problem that no-one used to mention, but that now everyone is talking about.
There are many wardrobe malfunctions a lady can experience, but of them all, nothing is more embarrassing to most of us than realizing our camel toe is out and proud and leading us into the party.
Khloe Kardashian Flaunts Ginormous Camel Toe
There are some ladies who are perfectly comfortable with rocking a camel toe and good for them, but most of us want to 'camelflage', or as Khloe Kardashian (repeat CT offender) puts it, "conceal the camel".
Luckily there are a number of ways to avoid a fashion disaster and here are our top three.
1. Surgery camel toe prevention
A growing number of women are signing up for a labiaplasy procedure to reduce the size of their lady bits. Ladies want to enhance their appearance down below, especially when they are wearing tight fitting clothes like lycra workout gear. According to Dr Michael Edwards of the American Society for Aesthetic Surgery, there has been a massive increase recently in women seeking this procedure. He says; "More women are pursuing labiaplasty to correct labia-related issues that are interfering with their ability to perform sexually, to perform daily tasks such as exercise, or are merely causing discomfort." Ouch!
2. Purpose Made Products camel toe prevention
There are a number of camel toe prevention products on the market to help you disguise your front wedgie. They are pretty much all variations on a reusable liner that you stick to your underwear lining . They are are shaped slightly to contain your oversized lips and are similar to a male cup (although if your labia are the size of a dick and balls we're thinking Option 1 may be more appropriate).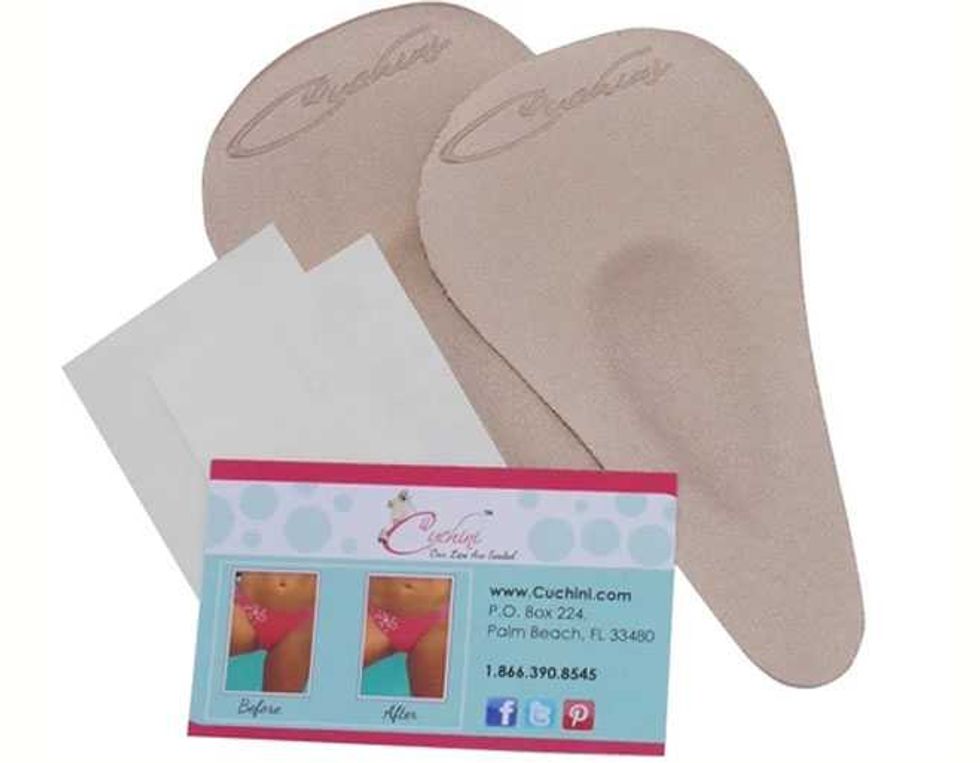 The Cuchini—a reusable camel toe prevention that sticks to your underwear.
Kate Hudson Sports A HUGE Camel Toe!
3. The Quick Fix camel toe prevention
What do you do when you're all ready for a night out and you check out your look in the mirror and horror of horrors! An uninvited guest has appeared in the form of a pesky camel toe. Don't worry, something can be done—grab a panty liner and fix it in your underwear a little further forward than you usually would. No panty liners to hand? As an emergency fix get a few sheets of toilet paper (quite a few) and make a little home made pad to put in your undies and you're good to go.
NOTE: You need to be wearing a pair of undies and pants that will keep this in place. You really don't want a homemade-pad-falling-out-of-your-pant-leg situation.
So there you have it. Camel toe prevention is available to us all. Good luck with winning the war on your camel toe!
camel toe prevention