Joseph Oberhansley will go on trial in Indiana later this year for stabbing his ex-girlfriend, Tammy Jo Blanton, to death, then eating her lungs, brain and heart—a crime he confessed to last year.
However, the prosecution contends that the 34-year-old also raped her, as there were significant signs indicating sexual trauma—and, here is where Oberhansley is putting his foot down—insisting that he's way too good looking to have to force himself on anybody.
According to court documents, during his police interview, Oberhansley admitted to breaking in to Blanton's home, and, "killing her with a knife, then using an electric jigsaw to cut open her skull before eating parts of her brain, heart and a lung."
The 46-year-old suffered fatal injuries to her head, neck and torso. Her skull had been crushed, and tissue from her body was found in a garbage can. A plate and cooking utensils—covered in blood and bone—were also found near the body.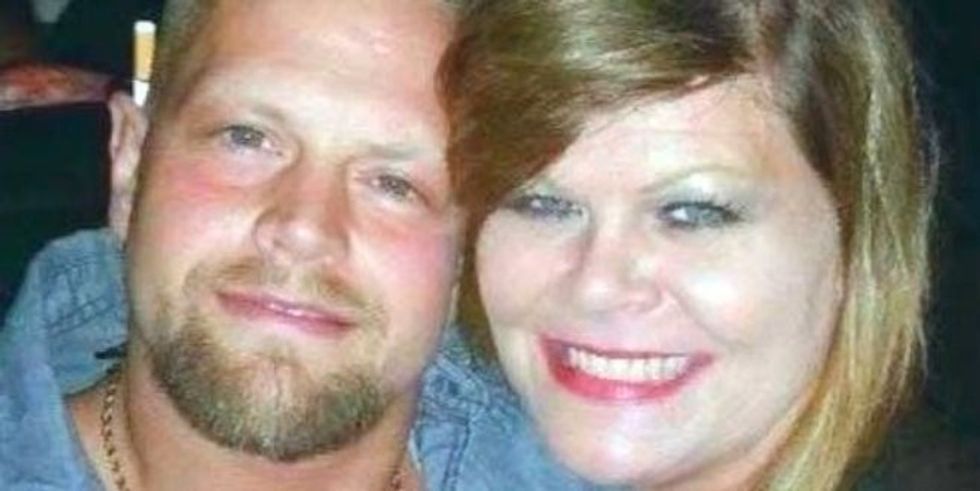 Joseph Oberhansley and Tammy Jo Blanton
As Popdust previously reported, Oberhansley was still inside the property at the time Blanton's remains were discovered and had to be restrained by officers. He was subsequently charged with murder, dismemberment and burglary, and is now facing the death penalty.
Homicide? Yes! Cannibalism? You betcha! But, rape? Rape?!!! How VERY dare you?!!!
Oberhanlsey is taking exception to the highly offensive charge, testifying in court to being a "righteous" man, who is "too handsome" to commit rape.
"I've never seen such bullshit!" Oberhansley yelled when the judge read out the rape statue last week. "Excuse my language. They keep falsifying shit!"
He also spent a portion of his testimony talking about how he is Lance Armstrong, "the man who landed on the moon" (presumably not on steroids)—so, it's clear that in addition to his other hobbies, Oberhansley enjoys a good non-sequitur.
Since his arrest in September, Oberhansley has been held in 23-hour-a-day solitary confinement within a maximum security cell—Judge Carmichael denied the defense motion to move Oberhansley into general population—which is probably a smart move, as going by his past history, dude's clearly got a few unresolved anger issues—to say the least.
In 1998, Oberhansley fatally shot his 17-year-old girlfriend, Sabrina Elder, who'd recently given birth to their son. He was convicted of manslaughter, and later attempted to take his own life.
He was released from jail in 2012 however, and was still on parole at the time of Blanton's murder—in addition to being out on bail following two other incidents he's been charged with—a cross-state police car chase, and allegedly nearly choking a man to death during an argument.
Meanwhile, towards the end of last week's hearing, Oberhansley made it clear how he feels about this damn bullshit court penal system malarky....
"This whole thing is completely wrong. It's preposterous," he yelled at the judge.
Trial date has been set for August 2.