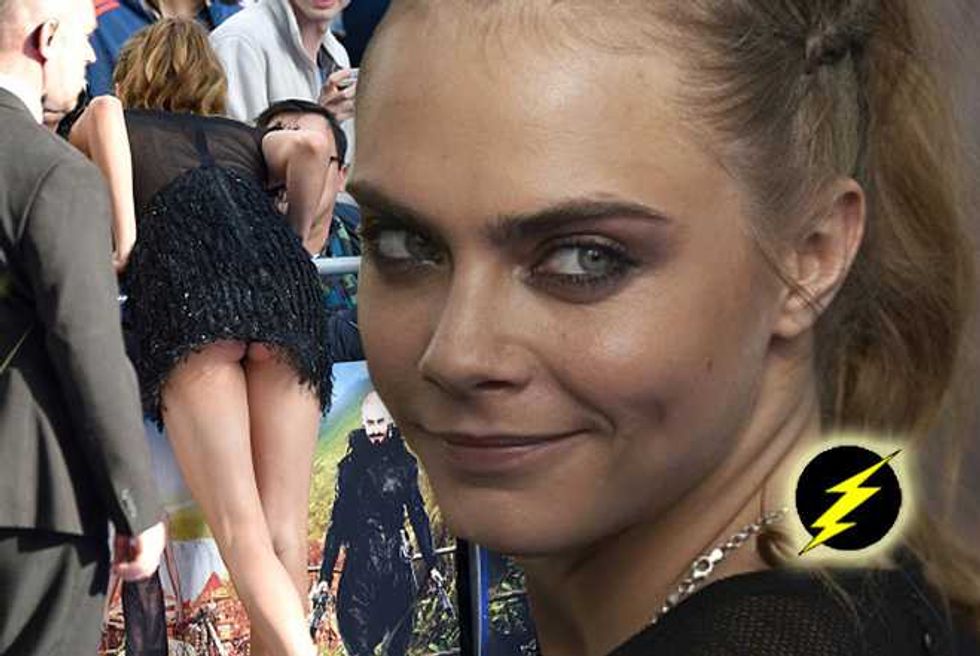 Cara Delevingne somehow manages to look utterly flawless, even whilst accidentally flashing her ass to the world.
Take note, Lindsay Lohan, Paris Hilton and Britney Spears, this is how you do a wardrobe malfunction.
Cringe! Cara Delevingne Gives The Most Awkward Interview Ever
Mind you, it has to be said, it definitely helps in the classy stakes if your malfunction is actually accidental, rather than occurring while you're exiting a car, legs akimbo, no knickers in place, fully aware that a sea of paparazzi, snapping away, will be awaiting your arrival.
It also helps if the butt you flash during your wardrobe malfunction is like the Loch Ness Monster—mysterious….and sought after—to quote Ron Burgundy in Anchorman 2.
Nicki Minaj Suffers Nip Slip During Interview About Past Nip Slips
SIDE NOTE: Having never watched either of the Anchorman movies, that quote happened to pop up on Google when I searched "you have an ass like quotes" …. and apparently, at least according to Google, ass appreciation is quite the common theme throughout Anchorman 2, as Burgundy also apparently says, "When you've got an ass like the North Star, wise men are going to follow it."
And, that's quite believable when it comes to Delevingne's impossibly pert and perfect posterior—although, given the 23-year-old's much rumored sexual proclivity, good luck with that dudes.
Mariah Carey's Train Wreck Performance—Wardrobe Malfunctions and Tears!
Anyway, back to the subject at hand—Cara looked absolutely stunning, clad in a teeny-tiny flapper-style feather layered black mini dress by British fashion label, Burberry, paired with cage high heels—hair pulled back and up in a semi-corn rolled, high pony tail, as she walked the red carpet for the Pan premiere in London.
Delevingne's butt-baring snafu occurred when she leaned up and over the security fence to pose for a photo with a fan—unwittingly exposing her black thong clad backside.
Watch Cara Delevingne Eat It At The GQ Awards
Based on the books by J.M.Barrie, Pan is a fantasy action/adventure Peter Pan prequel, that tells the story of 12-year-old orphan Peter, who is whisked away to the magical world of Neverland where he makes some unlikely friends.
Cara play a luminous mermaid in the movie, alongside Hugh Jackman, who plays Blackbeard, Garett Hedlund, who plays Hook, 12-year-old Levi Miller, who plays Peter, and Rooney Mara, who plays Tiger Lily.
Pan hits U.S. theaters on October 8.