Top Stories
Listen to the latest drop since the summer's "Bodak Yellow"
Cardi B's new single, "Bartier Cardi", features 21 Savage and a boastful attitude about her cars, her coins, and the diamond rock on her finger - and you know what? She's earned it.
The highly anticipated follow-up to the Grammy award-nominated "Bodak Yellow" goes just as hard - it's a fast-paced, unforgiving trap beat that the Bronx rapper spits bars over as if she could do it in her sleep. The truth is, she probably can. Cardi has earned her right to flex as hard as she does, rapping lines like "Your bitch wanna party with Cardi / Cartier Bardi in a 'Rari / Diamonds all over my body / 'Shinin' all over my body / Cardi got your bitch on molly" and "Cardi took your man, you upset, uh / Cardi got rich, they upset, yeah / Cardi put the pussy on Offset, yeah" in the same breath. Even the cover art, which features Cardi lounging on a quilted chaise with diamonds and silks, is worth more than a thousand words.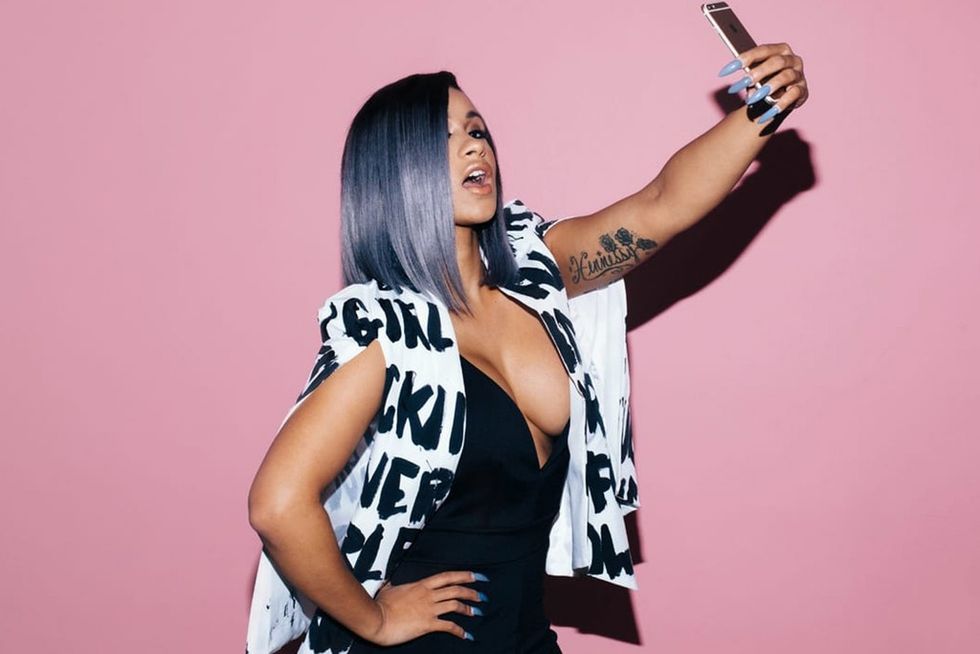 The triple-platinum hit "Bodak Yellow" was the song of the summer, which earned two Grammy nods for Best Rap Performance and Best Rap Song. It became the first single from a female rapper to top the Billboard 100 since Lauryn Hill's "Doo Wop (That Thing)" in 1998. It makes it all the more thrilling that "Bartier Cardi" is presumably the first taste off Cardi's upcoming debut record, with rumors swirling that it's due out in early 2018.
Even though her debut album is still in the works, Cardi's kept herself busy with numerous projects in the past year. She just released a collaborative hit with Puerto Rican singer Ozuna "La Modelo", as well as featured on tracks with Nicki Minaj and Migos ("MotorSport"), G-Eazy ("No Limit"), and Juicy J ("Kamasutra"). She even teamed up with fiancee Offset to bring us "Um Yea." Cardi landed herself a Rolling Stone cover story that went in depth into her stripper-to-riches story. If there's one thing to take away from it, it's that her debut record is never far from her mind. "I got six, seven solid songs that I like, but I wonder if a month from now, I'm going to change my mind," she says. "It's not as fun to do music. My mind doesn't flow as free 'cause I have so much on my mind."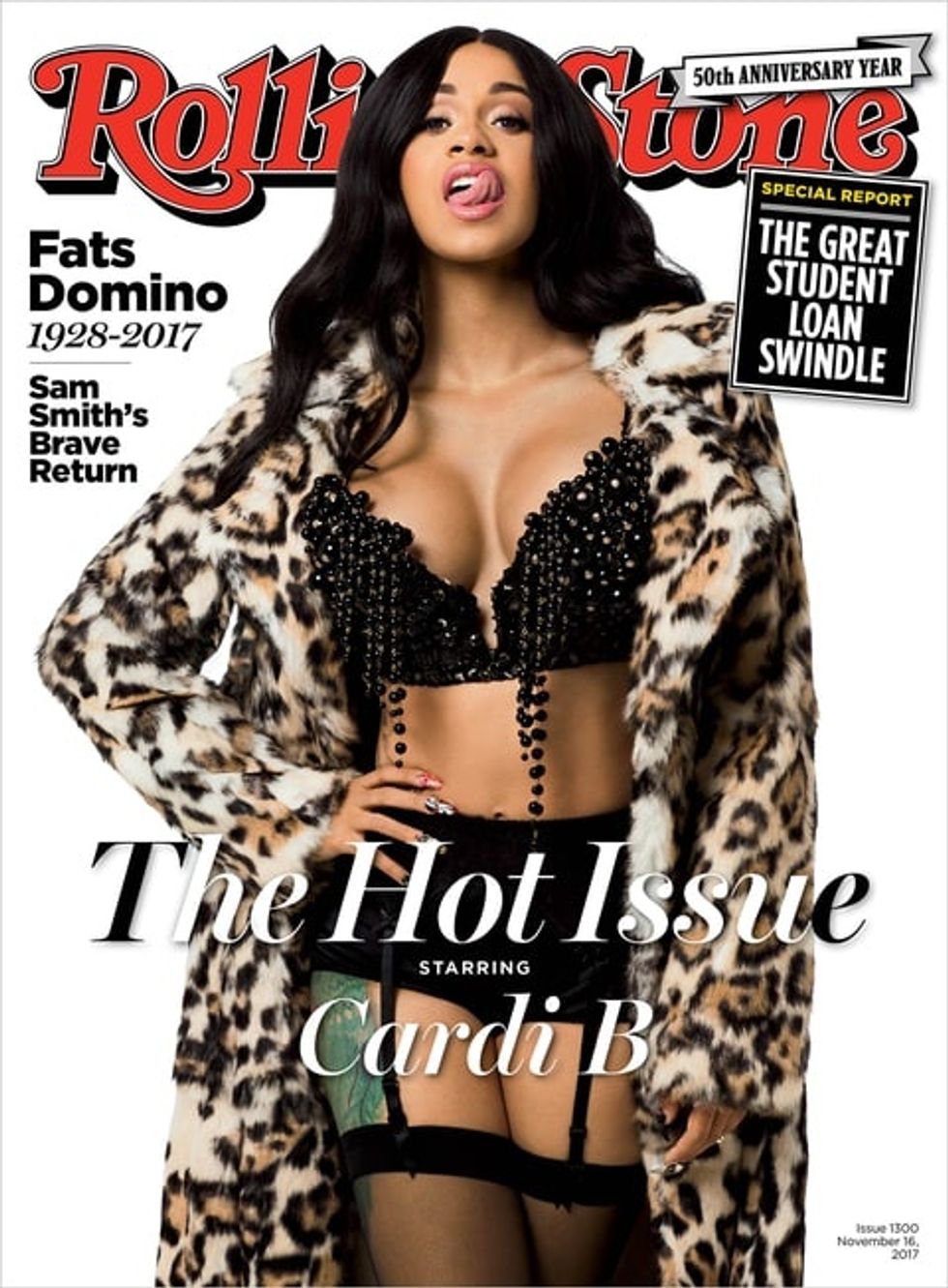 courtesy of Rolling Stone
"Bartier Cardi" is a solid effort from a solid rapper who's worth being taken seriously. No matter your thoughts on Cardi B, she's been making moves up the chart - and this track is sure to follow. "Bartier Cardi featuring 21 Savage builds on the momentum and promise of its predecessor, full of the same controlled aggression and unflappable slick talk. Her words crack and wallop, imposing her will, as she settles comfortably into the lap of luxury. Every stride she takes is an emphatic one," writes Pitchfork. It may not be as memorable as "Bodak Yellow", but it is still going to be on repeat for weeks on end here at Popdust.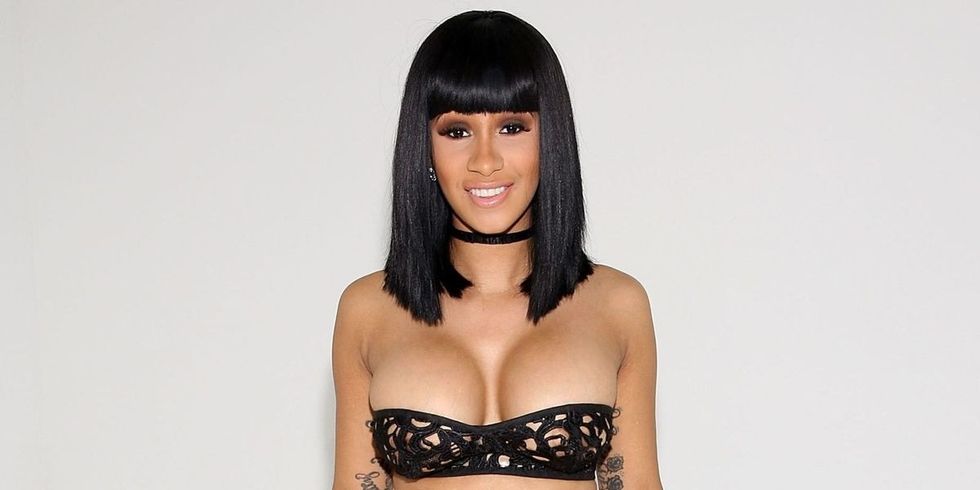 ---
Vanessa is a music and culture writer. Follow her on twitter.
---