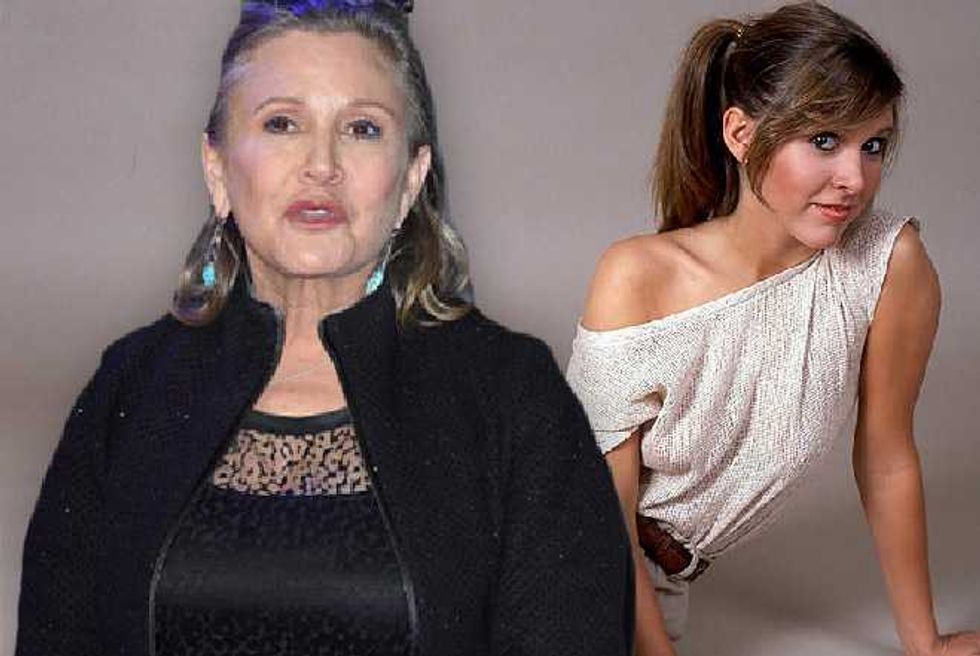 carrie fisher body aged well
Carrie Fisher has committed the ultimate Hollywood sin for a woman—she's dared to age.
GASP! How VERY dare she?!!!
The 59-year-old has been mercilessly hounded by all the inevitable, body beautiful trolls, pulling her to pieces over her appearance, criticizing her figure, and debating whether she has "aged well" or not.
Dakota Johnson Talks Ageism In 'Fucking Brutal' Hollywood
In true Carrie Fisher style she's not taking it laying down though, and she's hit back at all the body shamers via a series of tweets
Please stop debating about whether OR not I aged well. Unfortunately it hurts all 3 of my feelings. My BODY hasn't aged as well as I have. Blow us.

My body is my brain bag, it hauls me around to those places and in front of faces where there's something to say or see.

Youth&BeautyR/NOT ACCOMPLISHMENTS,theyre theTEMPORARY happy/BiProducts/of Time&/or DNA/Dont Hold yourBreath4either/ifUmust holdAir/takeGarys
Money Monday—How Much Is Jessica Alba Really Worth?
She also retweeted one of her followers' wise words
Men don't age better than women, they're just allowed to age.
So true.
Fisher has been under fire over her 59-year-old body right from the Star Wars Force Awakens get go—disclosing in an interview with Good Housekeeping that she was pressured to lose more than 35 pounds before filming started.
LAX Plans VIP Terminal So Celebs Can Avoid Regular People
"They don't want to hire all of me – only about three-quarters!" Fisher quipped. "Nothing changes, it's an appearance-driven thing. I'm in a business where the only thing that matters is weight and appearance. That is so messed up. They might as well say get younger, because that's how easy it is."
However, being the true pro that she is, the actress bowed to the pressure, and dropped the requested amount of weight—and she did it the good old fashioned—i.e.: the hard—way.
Relax…Please…It's Only Armpit Hair!
"I did it the same way everybody has to—don't eat and exercise more!" She shared.
"There is no other way to do it. I have a harder time eating properly than I do exercising. It's easier for me to add an activity than to deny myself something. And when I do lose the weight, I don't like that it makes me feel good about myself. It's not who I am. My problem is they talk to me like an actress, but I hear them like a writer."
Maggie Gyllenhaal, 37, Told She's Too Old To Play Opposite 55-Year-Old Man!
Fisher went on to talk further about Hollywood's obsession with women's looks and weight.
"We treat beauty like an accomplishment, and that is insane," she observed. "Everyone in LA says, 'Oh you look good,' and you listen for them to say you've lost weight. It's never 'How are you?' or 'You seem happy!'"
Kiran Gandhi Defends Running London Marathon While Period Free Flowing
Meanwhile, after struggling through years of substance abuse problems, and debilitating bouts of depression, it appears Fisher has finally found her zen—and it seems a lot of that is down to her four legged best friend.
"The most important things in my life now are my mother, my daughter, my friends and my dog, Gary," she said. "He travels everywhere with me! I love that saying: make me become the person my animal thinks I am. If I am who Gary thinks I am, I'm fantastic!"
Hollywood's Biggest Dicks, In No Particular Order
We do too Ms Fisher....absolutely fucking fabulous.
For more entertainment, world, music and pop culture updates and news, follow Max Page on Twitter