To celebrate the New England Patriots' glorious Super Bowl win last night (Feb. 2), comedian and late-night talk show host Jimmy Fallon enlisted a slew of superstar singers for a rousing a capella rendition of Queen's sweeping anthem We are the Champions. Blocked out Brady Bunch-style, practically every genre of music was represented, kicked off by Fallon and joined by country powerhouse Carrie Underwood. Later, Ariana Grande and Christina Aguilera doused the clip with their signature vocal runs, with Sam Smith smoothing the edges with his signature soulfulness.
Pop group One Direction, R&B stylist Usher and Hot 100 hit-maker Meghan Trainor then joined in, with another country superstar Blake Shelton bringing his goofy charm to the performance. While Fallon was the resident head-banger, in-house musicians The Roots supplied ample arrangement.
One Direction is about to go on tour, with the first stop taking place in Australia.  According to Queen of Tickets, 1D tickets are available for just $75 for the opening shows, one of the cheaper options for the tour.
In another hilarious segment, comedians and actors Will Ferrell and Kevin Hart faced off against Fallon for an epic lip sync battle. They took on such pop hits as Beyonce's Drunk in Love, John Legend's All of Me, Kelly Clarkson's Since U Been Gone and Dirty Dancing's Time of My Life.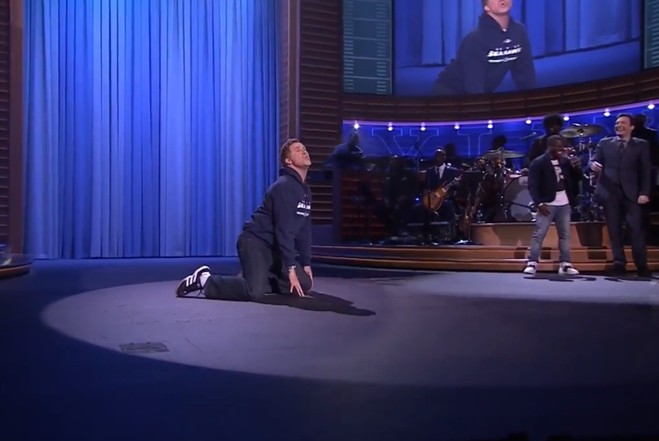 Stay tuned for updates. Be sure to follow @Popdust and @JasonTheScott on Twitter!