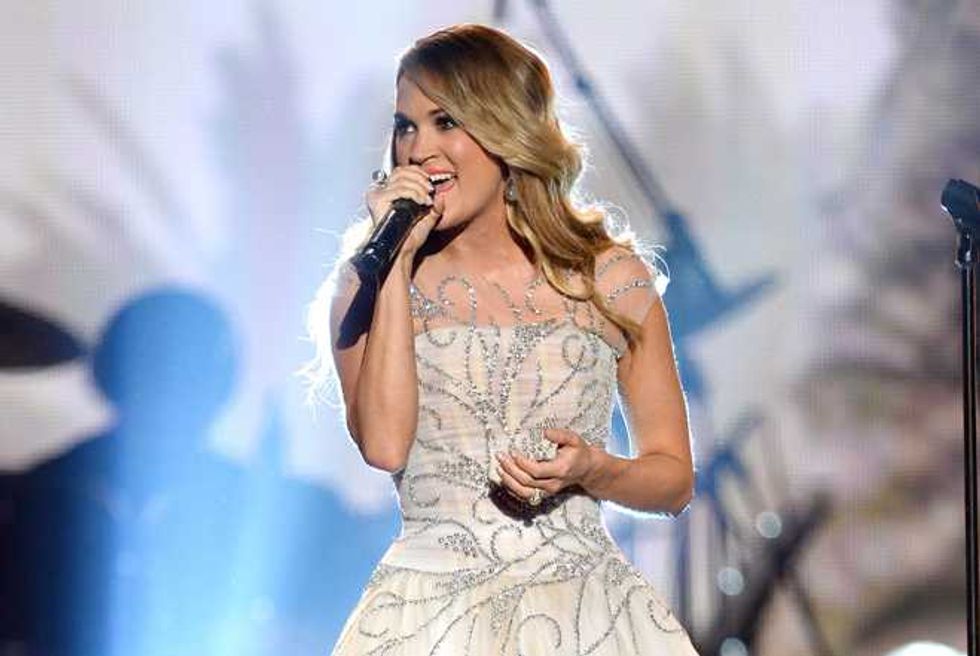 We always knew Carrie Underwood had a remarkable voice, but she's taken it to a completely new level. How do you perfect perfection? During last night's (April 8) taping of ACM Presents: An All-Star Salute To The Troops, the blonde bombshell whipped out a brand new track, a searing faith-driven ballad titled "Keep Us Safe." Co-written along with Hillary Lindsey (Taylor Swift's "Fearless"), Shane McAnally (Hunter Hayes' "Light Me Up," Kelly Clarkson's "Tie It Up") and Luke Laird, (Lady Antebellum's "Downtown," Little Big Town's "Pontoon") the sweeping track speaks directly to Underwood's religious roots.
On the verses, the American Idol alum is tender, delivering the lyrics with sincere grit and passion. When the chorus kicks in, she bounds to the skies, sending precisely crafted power notes to penetrate even the coldest of hearts. "Oh God, keep us safe on our way," she sweetly sings on the chorus. "Keep our eyes on the heavens."
The other performers of the evening were The Band Perry ("If I Die Young"), Kellie Pickler ("Red High Heels"), Luke Bryan ("Drink A Beeer"), Toby Keith ("Call A Marine," "American Soldier"), Rascal Flatts, Lady Antebellum ("Compass"), Florida Georgia Line ("This Is For My People Back Home"), Dierks Bentley ("I Hold On"), Hunter Hayes ("On Top Of The World" by Imagine Dragons), Lee Brice ("I Drive Your Truck") and Tim McGraw ("Keep On").
Miranda Lambert and Blake Shelton were not present during the live Las Vegas filming, but a previously recorded duet of "Over You" was featured prominently.
LL Cool J and Chris O'Donnell were on hand to co-host the night, a wondrous celebration honoring the brave men and women of the armed forces. Such a terrific cause!
Underwood's "Keep Us Safe" (not an official single from an album) will hit iTunes May 20--the same day the ACM sponsored event will air on the CBS Network at 8/7c. Proceeds will benefit the ACM Lifting Lives charity.
Update: CBS and Dick Clark Productions have flagged the video for removal.
You can head over to this fan page to watch the performance.