Carrie Underwood, Miranda Lambert Are 'Dames Of Throne' For Country Weekly Cover
We've got a feelin' somethin' bad about to happen. And that would be Carrie Underwood and Miranda Lambert's stunning beauty on the brand new Country Weekly cover. With "Girl Power" emblazoned across the front, the two powerhouse singers are snapped on stage at the recent CMA Music Festival at Nashville's LP Field. With a video intro that featured Beyonce's "Run The World (Girls)," the electrifying performance solidified exactly why the singers are country music's leading ladies, and certainly gave the men a run for their (beer) money.
Within the magazine's pages, Lambert and Underwood tell all about their glamorous lifestyles, ranging from personal topics to superstardom. They also open up about their music and current artistic images.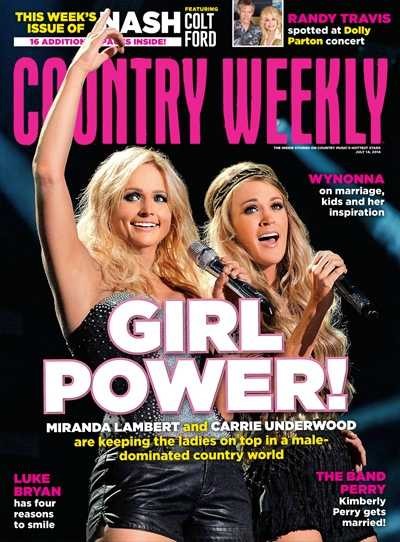 Following the release of the song's official music video (shot in action-movie trailer-style), "Somethin' Bad" charged 18-1 on Billboard's Hot Country Songs, a multi-tiered mechanism that incorporates airplay, streaming and sales data. With an 86 percent gain, the track sold 60,000 digital downloads, as of the end of tracking week on Sun. (June 19). Remarkably, the collaboration is only the third all-female venture to hit No. 1 on the tally, following Dolly Parton, Linda Ronstadt and Emmylou Harris on "To Know Him Is To Love Him" (1987) and Reba McEntire and Linda Davis on "Does He Love You" (1993).
This marks Underwood's 13th leader on Hot Country Songs and Lambert's fifth.
"Somethin' Bad" is the second official single from Lambert's No. 1 bowing Platinum disc, which arrived with 180,000 units on the Billboard 200. This summer, she will embark on a tour (of the same name).
Lambert and Underwood's CW cover is out now. Grab your copy today!
Get "Somethin' Bad" on iTunes!
Stay tuned to Popdust.com for updates. Follow @Popdust and JasonTheScott on Twitter!
For the best deals on Carrie Underwood tickets visit TiqIQ.com