Carrie Underwood Reinvents Dolly Parton's Iconic 'I Will Always Love You'
When you put Carrie Underwood in charge of reinventing a song, you better believe she'll do it justice. Even on Dolly Parton's signature ballad "I Will Always Love You," the powerhouse singer more than holds her own against the original. During last night's (May 6) All 4 The Hall benefit concert, headed by Keith Urban and Vince Gill, in downtown Nashville, Underwood performed a two-song set in flaming red pants.
Of course, many of you pop fans might remember Whitney Houston's version (which features an a capella into and a soaring crescendo) from the 1992 film The Bodyguard. Underwood did not perform that particular arrangement, but stayed relatively true to Parton's original, which is far more stripped down, with less bravado.
"I know I'm supposed to talk about songs, but talking is actually a weak point of mine," Underwood joked moments before launching into the song--the evening's theme was "Songtellers," an intimate evening. "I'd rather just sing."
She added, "But I will tell a story about this next song that I'm going to do.  You guys have heard of Dolly Parton, right? That's a name that I literally heard in my life since birth. Normally, I don't want to meet people that I absolutely love because I'm afraid that I'm going to find out they're human."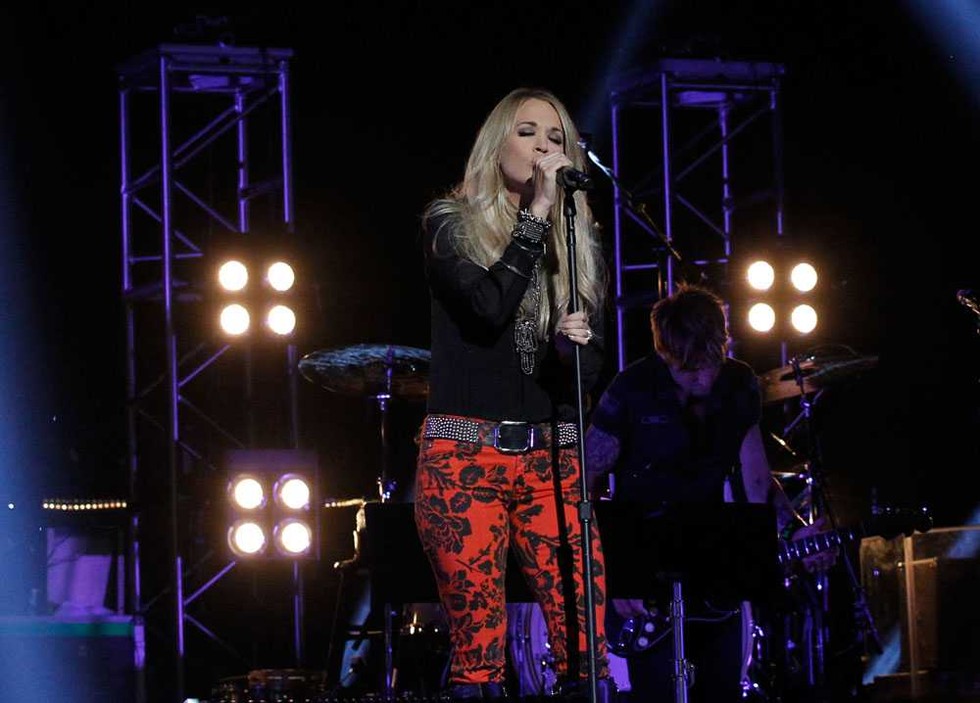 "I actually got the chance to sing this next song with Dolly herself, and she's just on another super awesome planet of awesomeness that I could never tough," she said. "I couldn't believe I was breathing the same air as her, let alone getting to sing with her. She is somebody that met every expectation and exceeded every expectation that I could ever have of her. She's just one of the most amazing women ever."
And, of course, Underwood didn't even think her talent was enough to get her by, "I will not be doing this song any justice, but I'm doing it anyway."
Underwood also performed her No. 1 hit "Last Name" (from 2007's Carnival Ride) and later joined Darius Rucker (and all the other artists present) during the closing performance of his "Wagon Wheel" cover.
Other performers included Urban, Gill, Reba McEntire, Kacey Musgraves, Brantley Gilbert, Brett Eldrege, Lee Ann Womack, Kip Moore and Deana Carter, among others.
Check out Underwood's stunning performances:
"I Will Always Love You"
"Last Name"
"Wagon Wheel"
For more Carrie Underwood updates, stay tuned to Popdust.com and follow @Popdust on Twitter!
For all things entertainment, feel free to follow JasonTheScott.