She's back.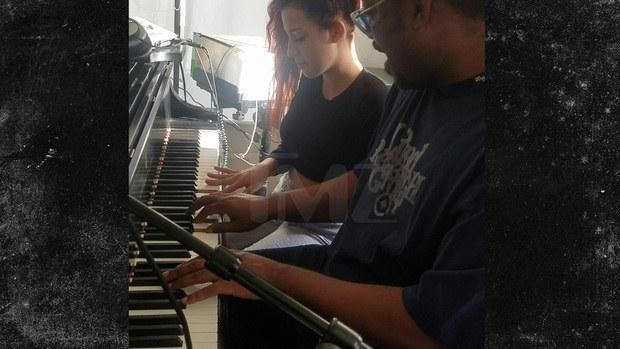 TMZPlease click here to watch the video
This video of Danielle Bregoli, the "Cash Me Outside" girl, trying to play the piano is hysterical. I couldn't help but laugh as she attempts to get through a simple lesson. Her reaction was less than enthusiastic. After less than a minute of only playing 3 notes repeatedly, Danielle replies, "This is f-ing boring." If she is being groomed for stardom, we are all in trouble.
"I WANNA BE LIKE BEYONCE... Or Maybe Alicia Keys," says Danielle Bregoli, the 13-year-old girl who came to fame after telling a Dr. Phil audience member to "Cash Me Outside." Her famous catchphrase has already made waves in the music world: first, it appeared in a Kodak Black video, then in a collaboration with Stitches. It was also sampled on a single that "cracked Billboard's Hot 100." Now TMZ reports that she "connected with big-time producers Mark Batson and Che Pope for some career coaching and a piano lesson. Mutual friends in Florida suggested the meeting. We're told multiple record companies have contacted Danielle, so she was looking for some advice, but also walked away with a free piano lesson from Mark. He's produced for Beyonce and Alicia Keys, so not too shabby"… although why bother teaching the obviously talentless adolescent?
Accomplished producers Mark & Che will never get that time back. Batson won Grammys for his work with Eminem, Alicia Keys, and Bey's "Dangerously in Love," and has also produced for Jay Z and Dr. Dre. Pope has also worked with Eminem. He got his start producing solo hits for all three Fugees, and was the president of Kanye West's G.O.O.D. during the music era of Cruel Summer and Yeezus.
PG/Bauer-Griffin/GC ImagesDanielle Bregoli is seen at Catch LA on March 17, 2017 in Los Angeles.
Will it be another flop like "Saturday" by Rebecca Black? The follow up to "Friday" was less impressive and confirmed her steam had run out. At least Rebecca could sing! I believe this is a sad attempt by record companies to profit on someone who has been popular for all the wrong reasons. In a time of free and streaming music, they are grasping at straws to keep a foot hold and stay relevant. This, I think is destined to fail. The only redemption that could be had is if her upcoming song was so bad, we would watch that train-wreck over and over. Here's to hoping.