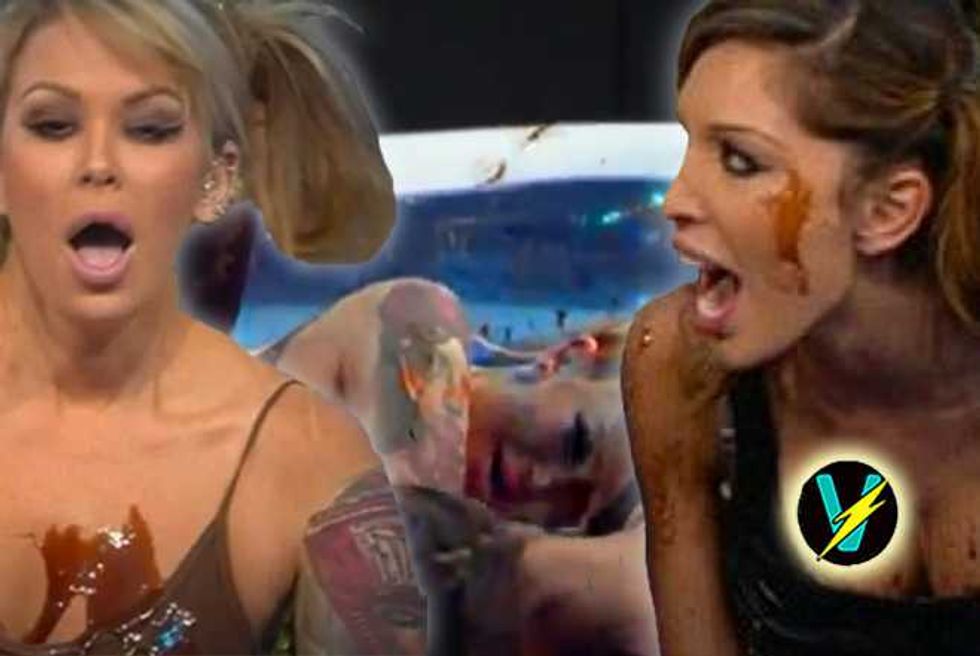 Jenna Jameson and Farrah Abraham put on a simulated sex show for their lucky Celebrity Big Brother housemates last night—and it was every bit as revolting as you would imagine.
The only thing missing was a donkey, but the gruesome twosome made the best of it anyway, writhing around in a chocolate sauce filled paddling pool, simulating anal sex, vanilla sex and some good old fashioned scissoring—and you can watch video of their performance right here on Popdust.
The Most Famous Celebrity Sex Tapes Of All Time—A Ranked List
As previously reported, Abraham and Jameson are currently across the pond wreaking havoc day in, day out, in the name of reality television, making for, what can only be described as, glorious train wreck TV.
Jenna and Farrah took a break from their past few weeks of non-stop cray cray, bitching, fighting, confrontation and just general all round insanity, in order to showcase their natural talents in a segment titled Celebrity Show Off.
Tila Tequila Wins AVN Award For Best Celebrity Sex Tape Over Farrah Abraham And Mimi Faust
And, show off they did, with not one, not two, but three separate sexi-times themed performances, kicking off with Jameson reading some self-penned erotic literature (don't give up the day job love), followed by Farrah delivering a sexual health seminar, and culminating in the sex show.
E.L. James would likely hang up her 50 Shades of Grey pen if she had the chance to catch Jameson's literary masterpiece, which she read aloud, over a soundtrack of heavy breathing.
Jenna Jameson 'Battling Addiction To Pills'—Friends Urging Her To Go To Rehab
"As soon as I entered the CBB house I knew it would be a sexual odyssey," Jameson began. "I could feel the sexual tension immediately as I noticed James undress Farrah with his eyes."
"Before long I felt a pain deep in my loins for Gail, while Sherri was taken from behind by Bobby. Janice then reached sexual ecstasy with Natasha, before Scoop charmed Chloe-Jasmine.
"Eventually, all the housemates enjoyed a romp that was tighter than a pair of James' underwear."
Jenna Jameson Is Faking Couples Therapy Relationship For The $$
Next up, Abraham—acting decidedly more Coquettish Farrah than the Insane Bitch Farrah that we've come to know and love so well.
Sporting a pair of Sarah Palin-esque glasses, the 24-year-old treated us all to a lesson in how to effectively use a condom (something she obviously came to later in life, given her Teen Mom status).
Abraham's penis stand-in prop of a banana, allowed for a slew of nod, nod, wink, wink, size quips, worthy of the great Bobby Davro himself, who looked on appreciatively.
Couples Therapy Dr. Jenn Fakes Shock At Jenna Jameson 'Suck A Cock' Advice
And then, the pièce de résistance….
After slipping in to something a little more comfortable—i.e.: skin tight jumpsuits—and arranging their hair into school girl style bunches, the toxic twosome got down to business.
Warming up by squirting each other with chocolate sauce amid squeals and laughter, the two progressed to showing off their best porn star moves—with Jenna taking the lead, appropriately, given her veteran status.
Miley Cyrus' Interview Mag Photos Are Basically Flat-Out Porn (And NSFW DUH!)
Farrah was soon back to her usual crazy self again though, following her performance with Jameson, as she boasted about her sex tape, claiming (incorrectly) that her cinematic masterpiece, the beautifully titled Backdoor Teen Mom, outsold Kim Kardashian's.
(Vivid Video's Steve Hirsch debunked her bullshit—telling TMZ sister site, Fishwrapper that although Abraham's tape initially got more hits than Kardashians, the latter has actually outsold the former by 100 to 1.)
Meanwhile, as Jenna and Farrah toned down their Mean Girls act, it seemed the rest of the housemates were ramping up the cray cray—courtesy Janice Dickinson.
Sex Tape Star Farrah Abraham Is Too Demure To Actually Say The Word 'Sex'
The self-titled original supermodel is driving everyone around her to the brink of insanity, as her crazy loud snoring is leading to serious sleep deprivation.
Austin Armacost is taking the insomnnia-fueled fury lead, tearing into Chloe-Jasmine Whichello once again over her "disrespectful" alcohol avoidance techniques.
Not surprisingly, the X Factor loser was left in floods of tears (as per usual) whilst fiance Stevi Ritchie gave his very best Incredible Hulk impression, warning Austin not to get him angry…because, oh shit son, "I'm like Hulk when I'm on fire."
Teen Mom Porn Star Farrah Abraham Writing Christian Parenting Book
"I don't want to get into any arguments ... I'm just a chilled fucking guy," Stevi vowed. "I respected Austin's night the other night. I totally get what you say but I've got to stick up for my girlfriend."
And so, the insanity continues….