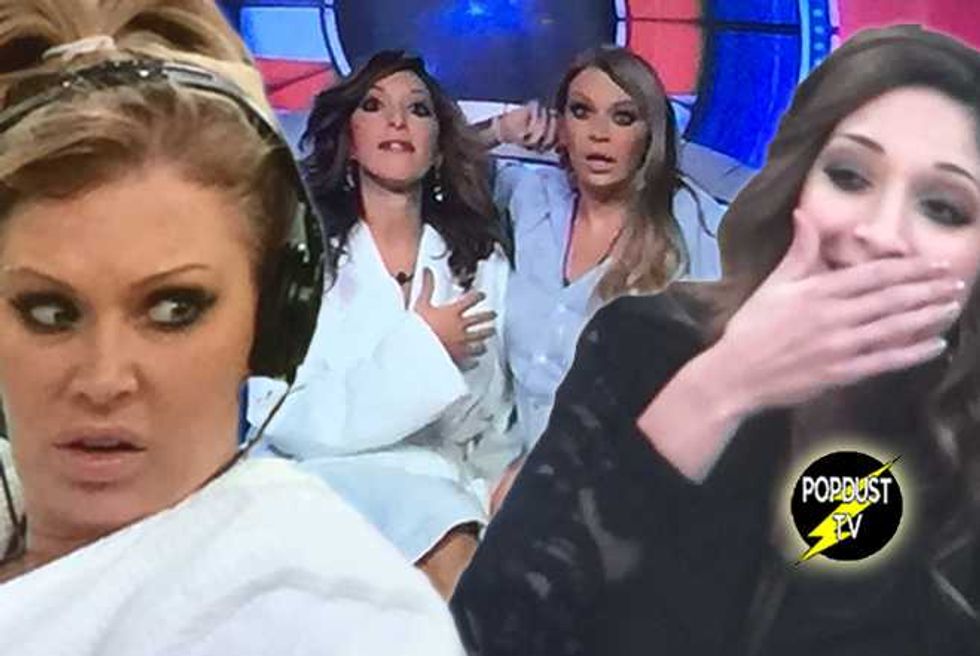 Jenna Jameson and Farrah Abraham are turning out to be the most insane and deranged double act to terrorize England since Fred and Rosemary West.
As Popdust previously reported, Jameson and Abraham are currently taking part in the British reality train wreck, Celebrity Big Brother—and the level of their conceit, self-obsession and delusion beggars belief.
Jenna Jameson Claims Rotten Cheese Is The Worst Thing She's Had In Her Vagina
The toxic twosome has done an absolutely sterling job of isolating themselves from the rest of the CBB cast with their insane, screaming, confrontational profanity-laced Mean Girls behavior—but, for some utterly unfathomable reason they truly seem to believe they have the moral upper hand over their cast mates.
Adding yet further to the delusional insanity, Jameson and Abraham, also seem to believe they are also morally superior to the rest of the cast—with Jameson, who has starred in 178 porn flicks, branding Natasha Hamilton a "whore" for having had four kids from four different men.
Jenna Jameson 'Battling Addiction To Pills'—Friends Urging Her To Go To Rehab
In fact, at some point they've called pretty much all of their female cast mates whores, in addition to accusing all of the males and females of being "fake" "phony" "two faced" and "backstabbing"…. without even a hint of irony.
Things were taken to a whole new level of glorious delusion on Sunday night though, when Jameson and Abraham unwittingly (and oh so appropriately, given their humungous fake asses) became the butt of the joke.
'Pill Popping' Jenna Jameson Is Faking Couples Therapy Relationship For The $$$
The cackling cronies are currently squirreled away in a private luxurious room inside the house, believing they have been voted there by the great British public, because, presumably, the great British public loves them both so damn much.
And, let's face it, what's NOT to love?
Jameson and Abraham have been afforded the opportunity to spy on their cast mates, who believe the toxic twosome has been evicted from the house, and have been celebrating their departure accordingly.
Tess Holliday Is Big Beautiful And Boldly Buck Naked—Deal With It Fat Shamers
Jenna and Farrah's faces were an absolute picture when they looked on in indignant, horrified disgust as their cast mates danced around with joy and jumped up and down on Farrah's bed, singing Ding Dong the Witch is Dead.
Then there was Chloe-Jasmine and Stevi Ritchie discussing the possibility of selling the discarded underwear that Jenna had left behind.
"Men would pay a fortune for her old G strings," Chloe-Jasmine observed, prompting a furious Jenna to fume and bitch, as if it was the most insulting and disgusting suggestion she could possibly ever imagine, being the bastion of morality that she is.
Farrah Abraham Wants To Boost Her Backdoor With Butt Implants
But shit got real real when Jameson and Abraham were told by Big Brother that they would get to secretly judge a talent show featuring their cast mates and would have the power to choose the least and most talented performers.
Now, if there's one thing these two love even more than themselves, it's power…. so, not surprisingly, they were delighted by the announcement.
"I love that WE finally get to judge THEM," a smug looking Jenna declared, as she and Farrah settled down in their chairs, plastering on yet more make-up.
Tila Tequila Wins AVN Award For Best Celebrity Sex Tape Over Farrah Abraham And Mimi Faust
First up was Farrah's most hated adversary, Natasha, who belted out the Atomic Kitten hit, Whole Again.
"That song is crap," Jenna opined.
"I don't know, I'm not digging it," Farrah sniffed.
"She can sing," Jenna admitted begrudgingly, "I'm glad she has some talent because her personality is shit."
Sex Tape Star Farrah Abraham Is Too Demure To Actually Say The Word 'Sex'
Next up was James Hill, sharing tips on how to be a successful businessman.
"I'm the most least talented in this room," the former Apprentice contestant kicked off. "Biggest things to becoming a successful businessman are knowing who you are.. what you're good at…"
"He failed at being an entrepreneur, he failed here," Farrah opined, "All he can do is suck off people."
"Then there's my physique of a Greek God.." James quipped, prompting Farrah to observe, "He's not even Greek…"
Not Even Farrah Abraham's Porn Company Likes Her Anymore
Chloe-Jasmine and Stevi took to the stage for a truly terrible performance of (I've Had) The Time of My Life, complete with really bad dancing.
"They are terrible….. what the fuck! What is happening?" Jenna wailed. "Train wreck like I said… they need to be voted off just because of this. That was awkward and made me very uncomfortable."
Next up, Austin Armacost, who stripped down to his undies and threw some catwalk shapes.
"He said that I don't have talent, that's fucking no talent," Farrah fumed.
"He's completely embarrassing himself…. cheers to your epic, untalented ass," Jenna bitched.
The Most Famous Celebrity Sex Tapes Of All Time—A Ranked List
Sherri Hewson managed to escape pretty lightly after giving a dramatic reading of Hamlet, which is more than can be said for poor Janice Dickinson, whose talk about her life as a supermodel was met with disdain and derision by the terrible twosome.
"Shut the fuck up…we're rejecting your ass right now," Jenna snapped.
But, it was Bobby Davro who really ramped up the dramarama with his impressions of the CBB housemates.
"Look, he's going to be crappy to us, watch," Jenna (correctly) predicted.
"I feel like I'm going to throw up," Farrah announced.
Farrah Abraham Suffers Truly Dreadful Lip Implant Disaster
Davro's impression of Abraham, which involved a huge pregnant stomach, was met with a frosty silence by his secret critics, before a stony-faced Farrah decreed, "That was, like, an epic fail."
However, the Teen Mom quickly regained her sense of humor when it came to Davro's impression of Jameson, which incorporated a red do rag round the head and a gigantic pillow stuffed down the back of his pants….
Farrah openly sniggered as a furious Jenna looked on in disbelief.
"So, he's just like attacking me and my whole appearance?" Jameson fumed.
Not surprisingly, Fatman Scoop performed In the Club, which has received more playtime during this season of CBB than the 11 years since its release combined.
Farrah Abraham's Healthy Frozen Food Buffet Opens This October
And, not surprisingly once again—given that he's remained more neutral than Switzerland throughout the show so far, and is the only cast member that's managed not to piss off the toxic twosome—Jenna and Farrah raved about his performance.
Leading to—not surprisingly—Jenna and Farrah decreeing Scoop to be "Most Talented" and, Bobby Davro, "Least Talented"... along with a brief personality assassination of the British comic.
Farrah, "He's such a pathetic…."
Jenna, "loser…."
Farrah, "jealous…..scumbag…"
Jenna, "Pervert psychopath…"
Farrah, "I feel sorry for his family…"
Jenna, "I would be ashamed…… that's all he could think to describe me.. is to put a pillow in his butt… I like to think I'm a little more rounded than that….."
Just So You Know, Farrah Abraham Is Making a Fortune Off Her Sex Tapes
In addition to their judging privileges, Jameson and Abraham also got to nominate three housemates for eviction—and their choices were every bit as predictable as their Mean Girls schtick.
First: Austin—because he's "heartless."
Second: Natasha—for her "lying behavior" and because "she's cruel and rude and nasty"
"We do not backstab people," Jenna declared. "We're the heroes."
Third: Bobby, because:
"He is an evil man, he is cruel, he is judgmental, he doesn't care about others' feelings on any level…I can not say enough hateful shit towards that man," Jameson ranted.
"He is a darkness, he is an evil person, I think the example is when he was just laying in on me… saying untrue things about myself… it was unbelievably satanic," Abraham decreed.
"And going in on me about my physical appearance….like, if that's all that he has…I'm sorry to the public out there… to girls who are voluptuous," Jameson fumed. "It's evil and gross and I hope that he goes to hell.….. that may be harsh, but ….sorry."
"I know, he's a bad person," Abraham sniffed.
"Hashtag losers," Jenna chimed in.
"Hashtag we win," Farrah concluded.
Ode To Florida—Sunshine State's Very Best Criminal Nut Jobs And Wackos
Their winning streak was short lived however, as the cast mates were filled in on what's been going down, and told that Jameson and Abraham had actually not been evicted.
In fact—the cast mates were informed—the fake eviction, was actually a fake, fake eviction, with the joke being on the toxic two—the three cast mates they had nominated for eviction actually now have immunity and it's up to the rest of the cast to get themselves "evicted" by landing themselves on Abraham and Jameson's ever increasing shit list.
"Big Brother will warn you when Farrah and Jenna are watching…. and the only way to save yourself is to disgrace yourself," the cast were told.
Meanwhile, Abraham and Jameson remained blissfully unaware of the shock twist, thinking they still had the upper hand, crowing about their great fortune, plotting their triumphant return to the house and continuing to tear their housemates limb from limb.
Adventures In Dating—Spotlight On Sea Captain Date
"Dumb asshole" Farrah sniped about Sherri Hewson, before declaring Natasha to be a, "Fake ass bitch."
"We had conversation and you still talk shit….with your McDonalds eyebrows," Jenna railed as the camera panned in on Natasha.
"I've made history on TV, decreased teen pregnancy," Farrah declared after James slammed her for having no talent during a discussion on the difference between being a reality TV star and appearing on a "credible" show like the Apprentice.
"You lost on the credible business show, you fuck, idiot…" Farrah fumed, prompting Jenna to jump in, "Shut up James."
"Fuck you James," Farrah railed.
"If [Farrah] was here today what would she have done?" Austin pondered aloud. "You can't mold your vagina on stage…"
"I'm famous for my vagina," Jameson declared.
"Yeah, we are famous for that...and God bless us," Farrah agreed.
"God bless my beautiful vagina," Jenna decreed.
"You ugly little bitches," Farrah concluded.