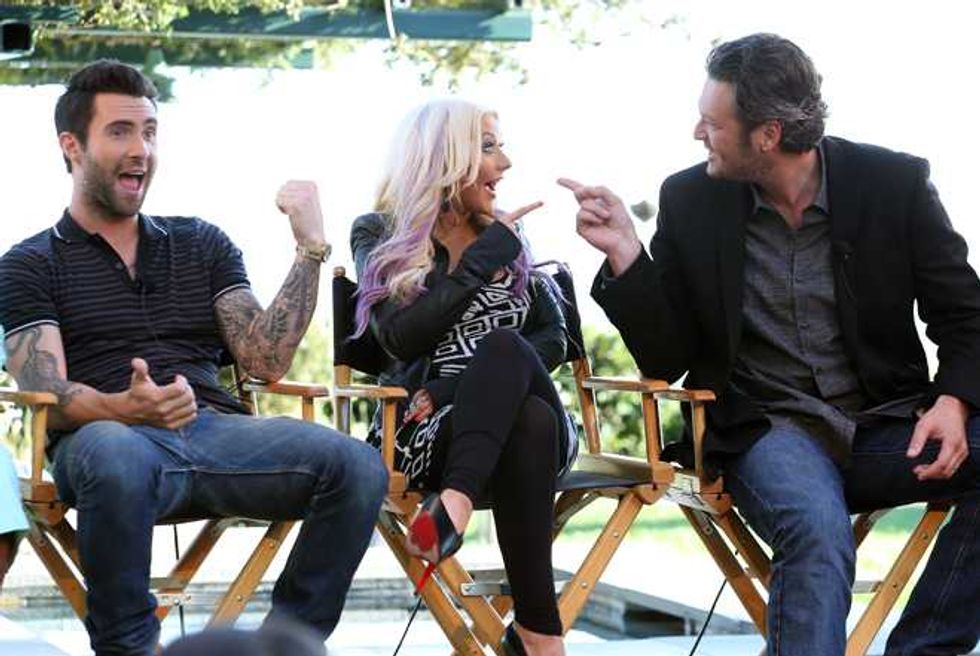 After yesterday's initial report that Usher and Shakira are joining The Voice as judges, the reality competition show's current lineup has shed some light on their status with the program. Both Cee Lo and Christina Aguilera have confirmed their exits for season four, to premiere in 2013 and kick-off back-to-back seasons of swivel chairs and shrieking hopefuls. Each has left the possibility of a return to the show in the fall, citing impending projects that require their immediate attention as the reason for their departure. "First, thank you NBC for supporting my decision to take this season four hiatus!" Green explained. "Being a coach on The Voice is a wonderful experience and the relationship amongst us all is like an extended family," Aguilera added.
Given the fact that they hired judges with active music careers, producers realize and support this desire for their talent to constantly be working on other things. "Having award-winning artists as coaches means they need to be able to tour. Whether in the red chair or on tour, our coaches have their chairs for life," said executive producer Mark Burnett. "This is exactly why, after three seasons, we needed to allow them to rotate out so they can get on the road amongst their fan."
But with Usher and Shakira saddling up for work in the new year, what will these swivel chair inhabitants do with their time off? Here are two detailed—and shameless—statements on their Voice departures and future plans, courtesy of EW:
Cee Lo
It says that I'm seen and respected as a complete artist and not just a cast member. I'm highly enthusiastic about focusing my undivided attention on my additional endeavors and interests like my upcoming solo album, new Goodie Mob album, Las Vegas residency Loberace, new memoir, and new NBC comedy. It's great to also give a host of other talent the chance to experience what a joy it is to be part of what is truly the best show of them all, The Voice! I will return for season five and will be watching season four. NBC is home and as far as Usher and Shakira are concerned – "mi casa su casa."
Christina Aguilera:
I am so proud of being part of the show from the beginning, all the work we've done, and proud of what the show stands for as a whole. As I have expressed since day one of the show, that I am a singer and performer first and I am so excited to get back to that love. Since this year NBC and The Voice have decided to tape back-to-back seasons, requiring a full-year commitment, it is important for me to take season four off, allowing me to support my music that my fans have been waiting for — with the release of my new album Lotus on November 13. By pursuing my first passion of music during the break, I am also able to come back and offer even more to my team on The Voice in the future.
To recap, here's a tally of what the duo have on deck, combined:
Albums: 3
Memoirs: 1
Las Vegas residencies: 1
TV shows: 1
Fragrances: 0
Cruises: 0
Alcohol lines: 0
The last three might not be on the docket as of now, but there's still time. Also, these official statements aren't even close to the brilliance of Steven Tyler's American Idol exit, but we're not sure anything will ever compare. Ever. Ermahgerd!