Last night was time for the latest live eviction in the Celebrity Big Brother house. Perez Hilton woke up in his secret room and gave the cameras himself a pep talk….yawn. There was a bit of hostility between Cami Li and Katie Price (The Pricey). Cami correctly suspected that The Pricey had nominated her and was being a little frosty. The Pricey faced up to her saying:
"I can feel you being off with me. If you have something to say, say it face to face not behind my back."
Cami backed down totally which was a good idea—neither of them need a full on bitch fight. Perez was given the chance by Big Brother to grill another housemate under the guise of 'viewer questions'. He of course chose Katie Hopkins and used his questions as an attempt to make her look foolish. He didn't accomplish his aim though—she just came across as articulate, funny and a good sport. Perez was then allowed out into the garden for some fresh air whilst the other housemates were locked in the house and the windows blacked. He took the opportunity to dance around singing his Its The Perez Show song (which doesn't have many lines other than "Its The Perez Show"). Having yet another discussion with himself, Perez claimed he has been enlightened by what he has seen while he's been locked away. He has apparently learned a lot from his time in the house and is really pleased with his behavior (he hasn't learned much then). Time for the live eviction show and fairly predictably Patsy Kensit was voted out. Patsy really hasn't brought anything to the party and her exit interview with Emma Willis was actually the most we had heard her speak. She did say it was the most stressful time of her life so far—and bearing in mind she was married to Liam Gallagher that's saying something! After the eviction it was time for Perez to re-enter the house. The screen in the house flickered into life for the housemates to view footage of Perez being given his secret mission and then clips of what he has been up to in the secret room—including his reactions to some of their conversations.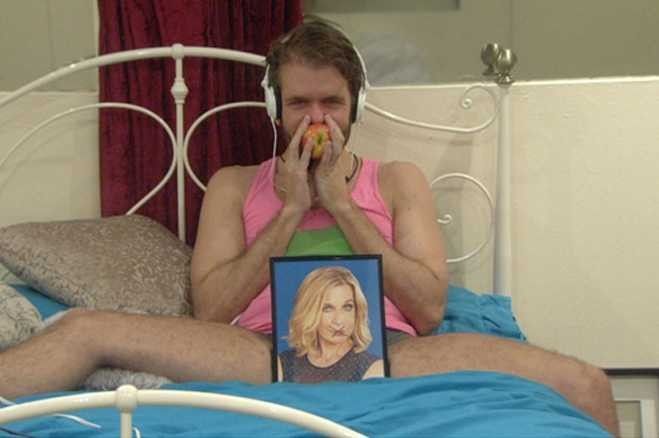 They all looked fairly horrified—some of them had suspected it was a task. Poor Katie did not look happy AT ALL. Needless to say Perez made a grand and dramatic entrance down the stairs and proceeded to hold court, regaling them with his experiences (shame about his clearly visible sweaty pits though). Emma then revealed a further twist (which must surely be the producer's response to the online outrage at Perez's final three guarantee.) There had been an online poll for the last couple of days where viewers could vote Perez to go straight to the final or to curse him with eternal nomination, ie he would be up for every eviction to come. Luckily the British public are a savvy bunch and his fate was sealed—he is up for every nomination. How is he going to cope being back in the house? How will Katie cope with him being back in the house? Will Nadia Sawalha be happy with having to babysit again? Keep coming back to Popdust to find out!