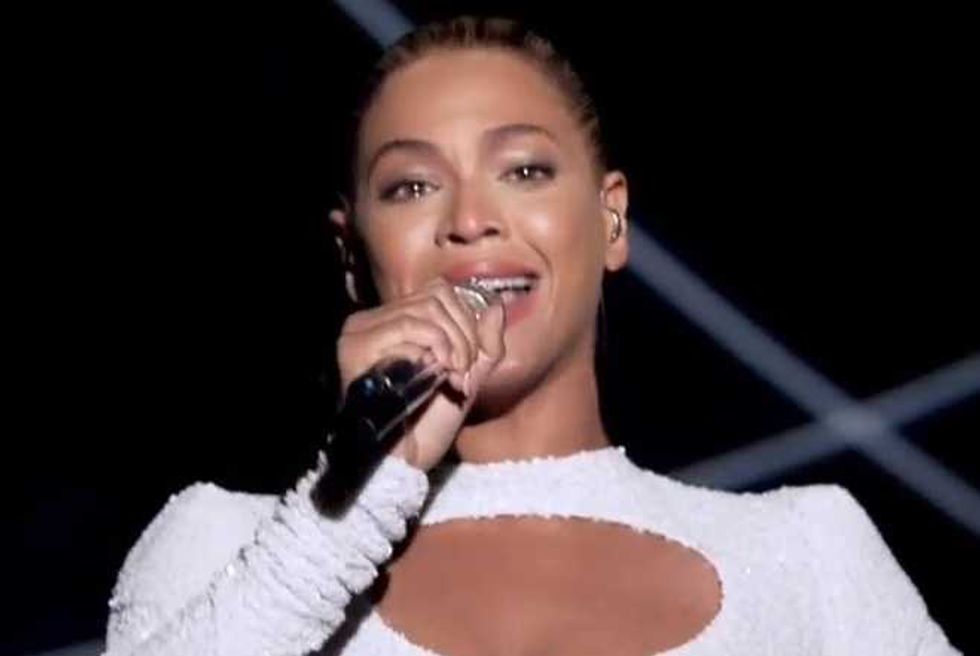 As a track initially released on her 2011 album, 4, Beyoncé's "I Was Here" has transitioned from being representative of her life, and what she's achieved personally and professionally, to become an anthem for people all over the world to give back and help others. The singer recently announced a partnership with the United Nations for its annual World Humanitarian Day, happening today, August 19, and promised a new performance video of the Diane Warren ballad, to be filmed at the global organization's New York headquarters. Early rehearsal footage revealed that Bey's sands of time would also span the galaxy, with celestial imagery transporting those within the UN's General Assembly to all different corners of the globe.
In the final cut which premiered this morning, an all-white Beyoncé stands alone onstage, singing to a crowd of enthusiastic supporters, as photos displaying acts of human bravery, struggle, compassion, and survival move across the screen. As she's known to do in her live act, Beyoncé no less than kills it, expertly controlling her emotions to include watery eyes and stray tears, lest you think she needed to place more emphasis on the importance of the task at hand.
Because of their partnership, the UN and Beyoncé hope the fourth-annual day of service and recognition will attract over 1 billion people this year, asking for further awareness through the sharing of various acts of goodness on social networks. Whether it's baking a cake for someone you love or volunteering act your local shelter, we suggest you make today count. You wouldn't want to let your queen down, would you?