MUSIC
These stars have publicized their support for Bernie Sanders.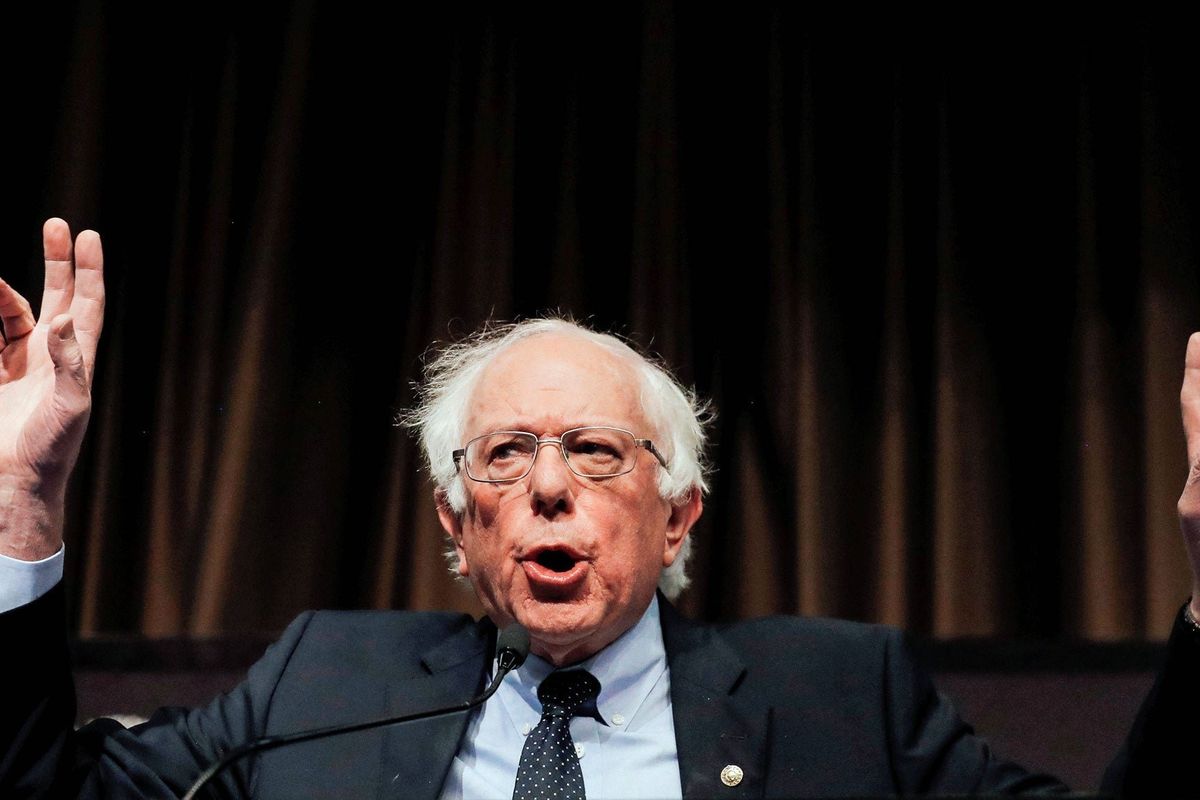 Recently, Twitter was gifted with visual documentation of Ariana Grande's biggest smile ever.
It occurred when the ponytailed pop princess met Democratic presidential candidate Bernie Sanders, who attended Grande's Atlanta show in a delightful cable knit sweater. "MY GUY," read Grande's caption, essentially solidifying her endorsement in the 2020 election.
This is only the most recent example on a long list of celebrities declaring their love for Senator Sanders. Below, we're sharing just a few well-known stars and Internet personalities who have declared that they're feeling the Bern.
Weyes Blood
https://t.co/YxvhiUZ4J8

— Weyes Blood (@Weyes Blood) 1579628827.0
The musician Weyes Blood—whose incredible album Titanic Rising we named one of last year's best—started 2020 by meeting her candidate of choice. The singer-songwriter, real name Natalie Mering, shared a photo of herself and Sanders, publicizing her decision for the 2020 race.
Cardi B
"I been reading about Bernie Sanders and I'm really sad how we let him down in 2016," the "Bodak Yellow" rapper tweeted over the summer, emphasizing that improving the country has been a proven passion of his and "not a new front for a campaign." In August, the unlikely friends appeared in a campaign video together, in which Cardi interviewed Sanders about social issues especially relevant to his platform, including police brutality, DACA, and the student debt crisis—from a nail salon, naturally.
John Mulaney
Though Mulaney once subtly compared Donald Trump in the White House to a horse in a hospital, the Big Mouth comedian keeps his political opinions separate from his jokes. It might be surprising, then, to know that Mulaney donated at least $1,250 to Sanders' 2016 campaign. "I have a problem with 'Comedians are really brave and we need them now more than ever,'" he told Esquire this year. "It's like, we're not congressmen. We're court jesters." In that case, Mulaney's the most generous court jester we know.
Shailene Woodley
Today at 7pm ET I'll talk about why I'm ready for the political revolution and all in for @BernieSanders. Register… https://t.co/wwGyLZiJay

— Shailene Woodley (@Shailene Woodley) 1560446013.0
Woodley made headlines in 2016 after being arrested while protesting the Dakota Access Pipeline, but it didn't put a damper on her political activism. "I'm ready for the political revolution and all in it for Bernie Sanders," the Fault In Our Stars actress tweeted in June.
Mark Ruffalo
On a Late Show With Stephen Colbert appearance this month, Ruffalo explained that he's been feeling the Bern since the 2016 election. "The rest of the United States is just finally caught up to what [Sanders] has been doing his entire career. And you know that when he gets into office, he's going to be fighting for us," the Avengers: Endgame actor said.

Jaboukie Young-White
im a bernie bro https://t.co/29rO1RCTqG

— giabuchi lastrassi (@giabuchi lastrassi) 1572143245.0
As a comedian and "actual young person" on The Daily Show, Twitter has become a major outlet for Young-White, so it makes sense that that's where he'd declare his endorsement. He kept it simple in the caption of a mirror selfie, in which he's wearing a Bernie t-shirt: "im a bernie bro."
Anthony Fantano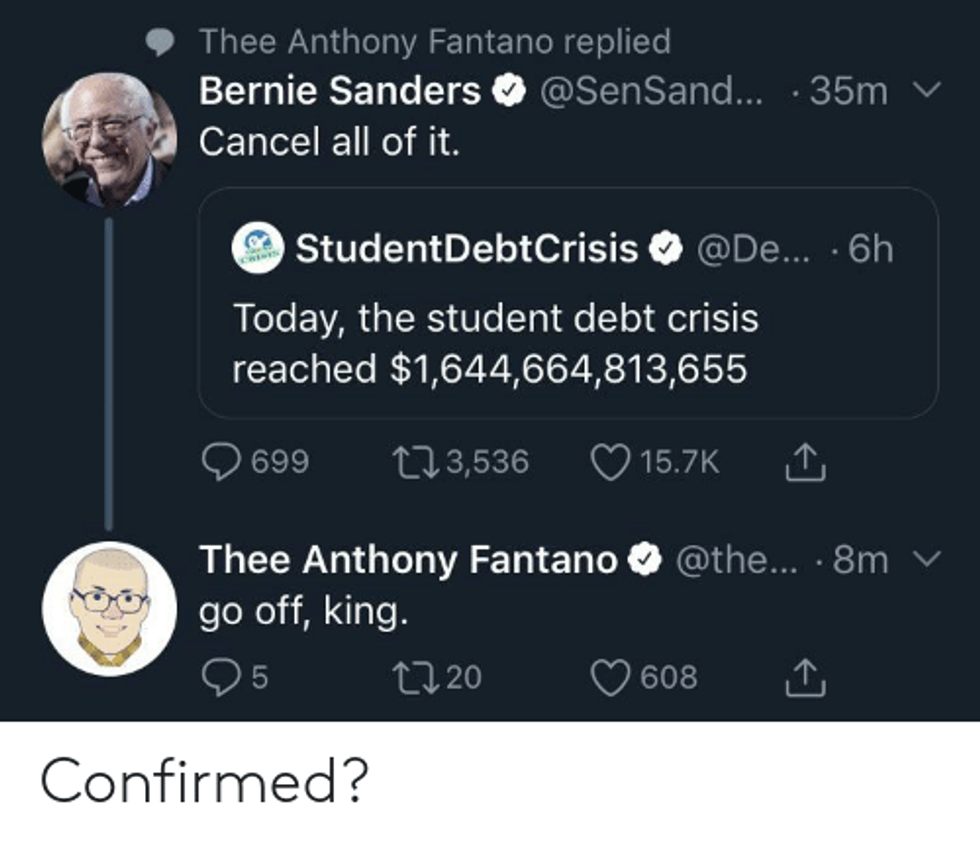 On his YouTube channel theneedledrop, Anthony Fantano has made a name for himself divulging his divisive opinions on music. But he has firm opinions on politics, too: "[Joe Biden's] brain is MELTING, and winning the primary will only lead to an inevitable implosion," the Internet personality tweeted after a Democratic debate in September. "Stop messing around with this fool and support other candidates—preferably Bernie."
Ezra Koenig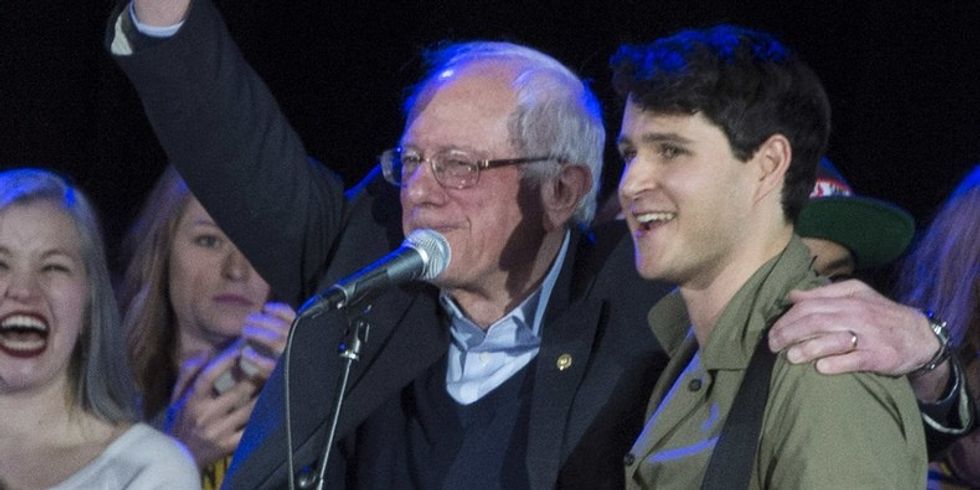 Koenig also supported Sanders in 2016, and said his band Vampire Weekend would like to "help out" the candidate in the 2020 election, too. But it's hard to match the energy of Sanders' first run: "I like to believe he's less of a sociopath than a lot of people who want to be president, but it's hard to be as excited as I was in 2016," Koenig told The Times. "That was the first time I felt deeply about a candidate."
Noname
Noname is no stranger to supporting a good cause—she started her own book club this year—and publicizing her endorsement of Sanders is only the latest on her to-do list of deeds. She simply tweeted the candidate's name with a green check mark emoji.
Miley Cyrus
.@MileyCyrus in @BernieSanders IG @iamcardib post 👀   https://t.co/NQE9ZdKvCV https://t.co/dcwHl9Z8lF

— People for Bernie (@People for Bernie) 1563298890.0
Cyrus can also add activist to her resume, having founded the Happy Hippie Foundation to help trans and LGBTQ+ youth. It's no surprise that her views are in line with Sanders. When the senator shared Cardi B's tweet, he shared it on Instagram, to which the edgy pop star replied "True!"
Lil Yachty
Let's gooooooo https://t.co/2NPGQGck2k

— stealth level boat (@stealth level boat) 1550693207.0
Sanders fans were thrilled when the senator announced he was running for president again in February, and Lil Yachty was one of them. The red-dreadlocked rapper retweeted Sanders' campaign video with a straight-to-the-point "Let's gooooo" in solidarity.
Eric Andre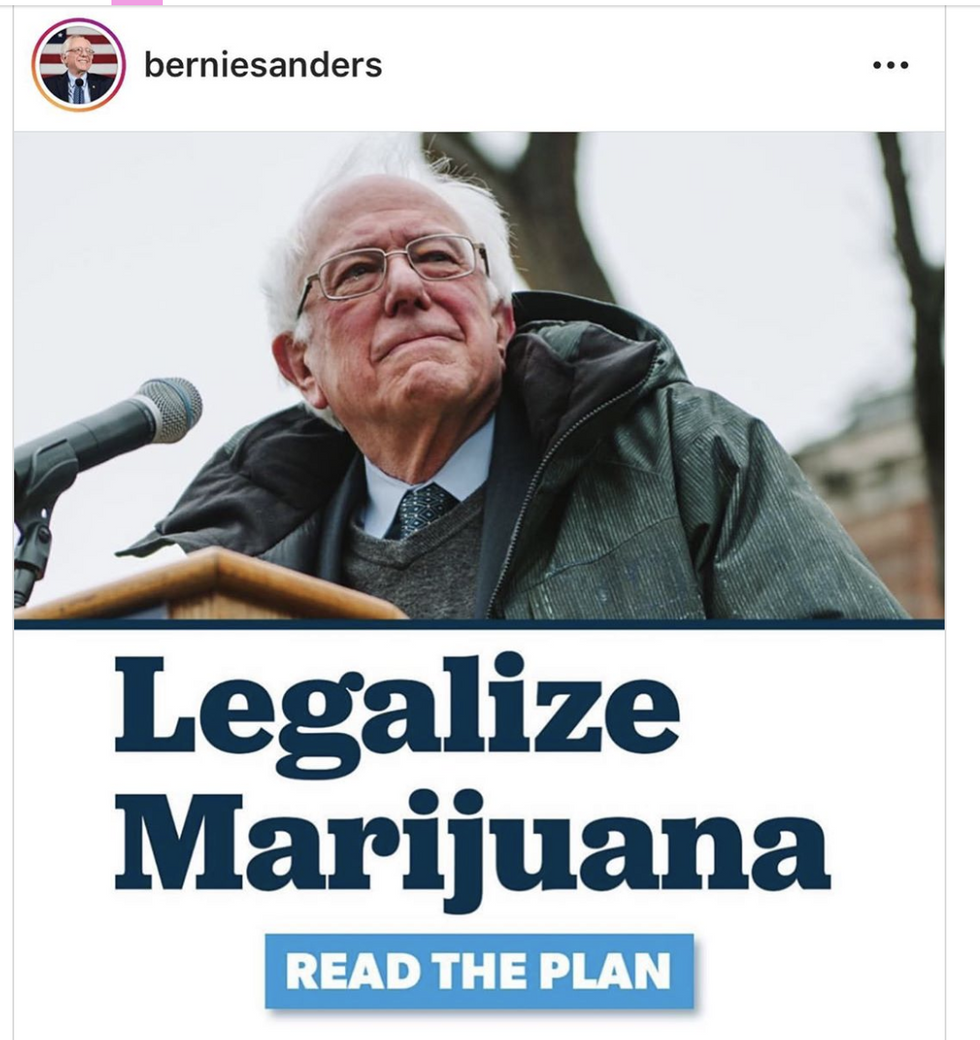 Sanders has long been vocal about legalizing marijuana, evidently a selling point for Eric Andre. "Can we please give this guy the keys to the whitehouse already?" the comedian implored on Instagram, captioning a photo promoting Sanders' plan for legalization.
Kim Gordon
Gordon, founding member of the iconic rock band Sonic Youth, used an adorable photo of her dog to share her endorsement: "Go Bernie!" she captioned an Instagram photo of her dog pawing a Bernie pin.