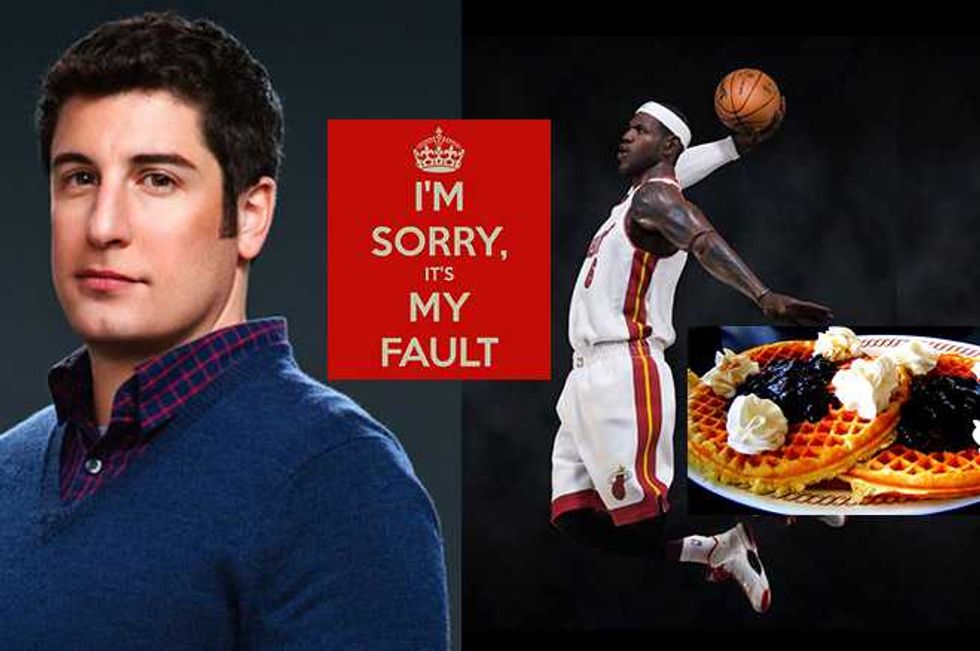 It's been a slow week for apologies, but let's start with Jason Biggs, star of Orange Is The New Black.
After dissing Tara Reid during his appearance on Joan Rivers' web show, Biggs took to Twitter to post a series of apologies for commenting on Reid's not-so-impressive figure. Despite his flurry of apologies, trying to blame 'the media,' let us not forget that Biggs dissed Tara a month ago on Bravo TV's Watch What Happens Live, calling her a 'hot mess.'
Just shut yer pie-hole, Jason, okay?
In politics, Missouri State Representative Mark Parkinson had to apologize for posting a picture of a giant penis on his official Twitter account. Parkinson was quick to blame a hacker but come on, politics and penises go hand in hand, as we know all too well.
In sports-related apologies, Gatorade apologized for snarky tweets about LeBron James, who has an endorsement deal with a rival sports drink.
Finally, in waffle-related news, Raleigh Waffle House restaurants apologized Tuesday for taking a Raleigh waitress' $1,000 tip and refunding it to the customer, promising to review its policy. The company issued a statement on its Facebook page after the generous customer learned what happened and sent the waitress a check for the confiscated tip.
The big-tipper chose to remain nameless but if he's reading this, Hi, I would like to serve you a waffle ASAP, at your convenience.
That's it for now, Stay tuned for next week's Celebrity Apology Round-Up!™
Read more here: http://www.charlotteobserver.com/2014/06/10/4968506/waffle-house-apologizes-for-taking.html#.U6I9eCh8o_c#storylink=cpy