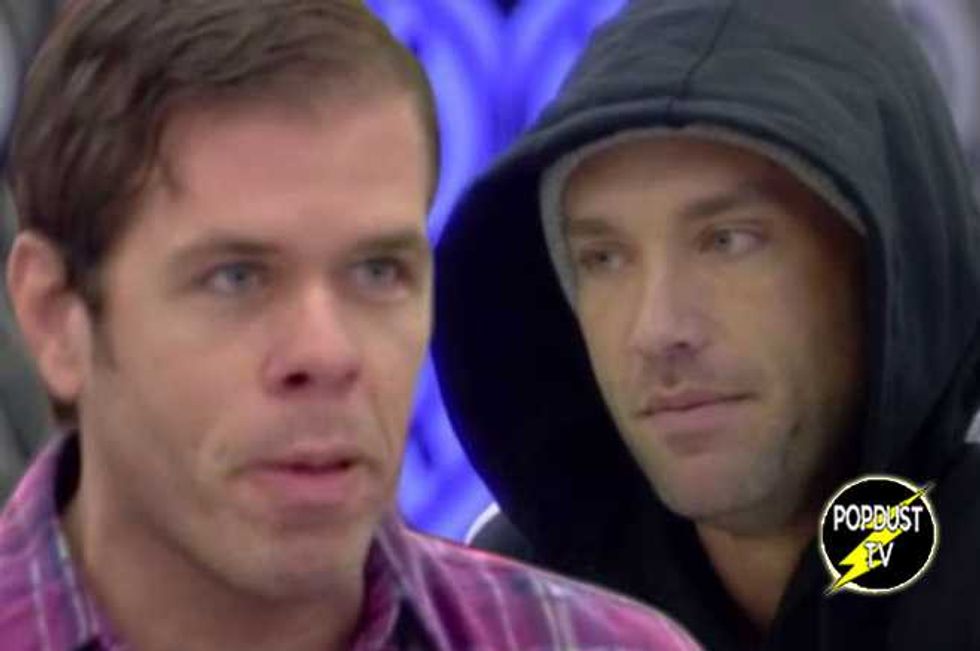 It was the lead up to the live eviction show on Celebrity Big Brother and how they can all manage to sit on the same sofa after the shocking events of the day, is staggering.
All the housemates woke up looking a little bleary eyed after the party the night before (Katie Hopkins' hair was enormous, not sure what's happening there).
Kavana was hanging and couldn't remember too much of the evening but thinks he had fun! He wonders if he overshadowed Perez Hilton for once which he thought was long overdue (could also explain why Perez was in the kitchen bitching about his drinking).
Katie took issue with Perez and Keith Chegwin remarking on Kav's drinking – she said he's just having fun unlike some other grumpy bastards!
Keith was unhappy with this comment and followed her to prove he doesn't just sit on the fence the whole time and can get involved. She whinged at Keith for his constant moaning about everything and Keith shouted that he was fed up with her having arguments and having a go at everyone to promote her column in The Sun and her brand (brand bitch).
Perez, unsurprisingly, LOVED it.
Calum Best tried to keep the peace and Perez jumped all over him telling him not to – Calum eventually told Perez to shut his mouth and the argument then somehow escalated into an full on row about Calum turning the lights off at night!
Perez really lost it shouting at Calum 'don't tell me to shut up' and Calum retorted '
"Don't start with me you dick"
To which Perez disgracefully responded (several times);
"I'll shove my huge dick up your ass!!!"
Now I think we all agree this crosses a line and everyone looked suitably shocked.
Nadia Sawalha of course blamed Katie for the whole thing and Calum was called to the Diary Room to calm down, which he managed admirably. He said he did not want one little prick to ruin his time in the house so he would try to stay calm.
Big Brother then called Perez to the Diary Room to give him a 'final warning' for unacceptable language and threatening behavior. (We don't seem to remember Jeremy Jackson or Ken Morley getting THREE formal warnings!).
Perez claimed not to care if he gets thrown out and maintains he is desperate to leave. LIAR LIAR LIAR.
They all seemed to be getting on better when Big Brother gave them a team task. They had to correctly guess the order of housemates from most to least in several polls voted on by the public.
Nadia was shocked to be voted the Most Disappointing (the way she is on British TV screen we think the public are amazed she has been taken in by Perez).
Perez was voted Most Vain and Biggest Game Player which came as no surprise to anyone.
It was then time for the live eviction footage and, as previously reported by Popdust, Perez was distraught to see Nadia go - Nadia on the other hand was ecstatic!
Michelle Visage advised Katie Price that Perez will be turning to her now – Kavana was also worried too that The Pricey would fall for his BS. The Pricey maintained that she won't change how she has been – she'll be friendly with everyone.
Katie took to the Diary Room and said that while she will miss Nadia, can't help but think that her eviction is some sort of triumph over Perez and that she can neither forgive….or forget what he's done.
Will The Pricey be next on board the Perez train?
Keep coming back to Popdust to find out.