Saying celebrities are fit is an understatement. From personal trainers to special diets, maintaining a star-studded physique can require hours of effort and thousands of dollars. If you're like us and can't shell out a month's worth of rent on fitness, you can always mix up once or twice a week by taking class. With so many studios offering first-timer specials and different apps that give you access to discounted classes, there's no reason to feel bored at your next sweat sesh. Take your favorite celeb's hint and get your endorphins going with one of these famous classes!
Indoor cycling
Cycling is an amazing cardio workout that moves through different resistance levels and choreography. A 45-minute class can burn up to 700 calories, and some are even rumored to change lives. The ever-infamous SoulCycle is attended by the likes of Lea Michele, Selena Gomez, Ellie Kemper, and Vanessa Hudgens. Because cycling classes are also offered at gyms across the nation there's no excuse not to give this trend a try!
Barre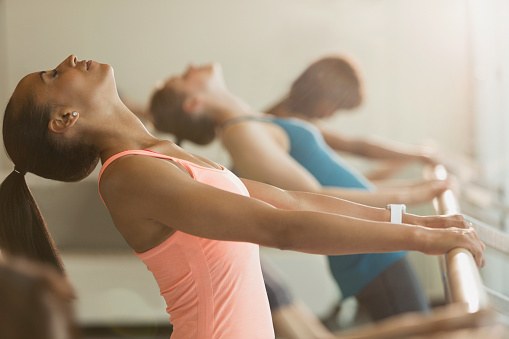 Caiaimage/Justin Pumfrev
Designed to tone long and lean muscles, this dance-inspired workout is an ideal next step for mat pilates lovers and those looking to cross-train. Mindy Kaling loves following up a run with Pop Physique, a barre workout that is as sexy as it is effective. Chrissy Tiegen opts for Physique 57, a studio that also offers online classes for those looking to get their model-inspired fix.
Boxing
Gigi Hadid, Kendall Jenner, and Gina Rodriguez all jab it out in the ring. Boxing is a full-body workout, so it's no wonder these ladies are able to maintain some serious musculature whether they're on the runway or the red carpet.
Pilates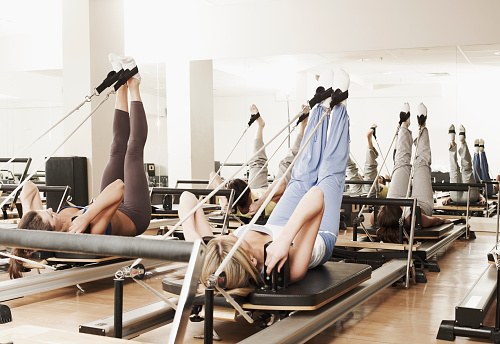 Sergei Kozak
Like barre, pilates builds lean and toned muscles. Many also reports its benefits on posture and general well-being. Stars like Jemima Kirke and Hilary Duff love reformer pilates. If you're looking to test drive what all the fuss is about, you can also tuck your way to a perfect rear in a mat pilates class!
Dance cardio
Jenna Dewan Tatum and EJ Johnson both love to shake it out on the dance floor. Dance cardio is super fun, and with Zumba classes popping up everywhere you look there's somewhere to get your grapevine on!

Whatever celeb's footsteps you decide to follow in, committing to a new class or routine is an amazing way to stay in shape and feel red carpet ready even if you're just stepping out to get the mail.